Branching Out
Thursday, April 5th, 2012
---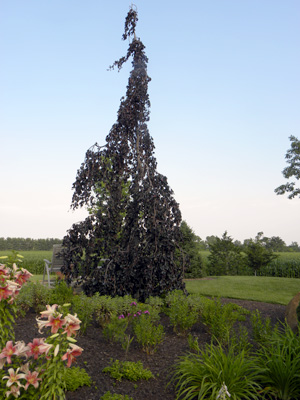 The time to plant a tree was twenty years ago. I remember years ago when I was young (Okay so it was a LONG time ago) an older couple came in to buy a tree. When my dad, Walter Small, told them how much the tree they wanted would cost in the size they wanted the wife began to cry. They both said they wish they had planted their tree twenty years before and they would have had a big beautiful tree that day.
As designers and landscapers we are always looking for new and interesting trees to supplement our native variety. We have an extensive collection of one-of-a-kind examples as well as more ordinary varieties all specifically chosen to highlight any location. One of the best parts about our profession is that we get to see unusual specimens almost every day. We have a passion for nature's innate beauty and a respect for man's desire to expand the palate available for us all to enjoy.
We are fortunate in this part of the country to boast many native forests and trees including Maples, Oaks, and Sassafras just to name a few. Who hasn't stopped in wonder at the awesome fall displays of these beauties or enjoyed the cooling shade under their branches in summer. Trees reduce the effects of the climate in our yards, support wildlife, and, of course, look good doing it. When we plant trees we are giving our land a sense of permanence. To plant a tree is to hope for a future beyond our own time.
---
---