Tuesday, June 28th, 2016
---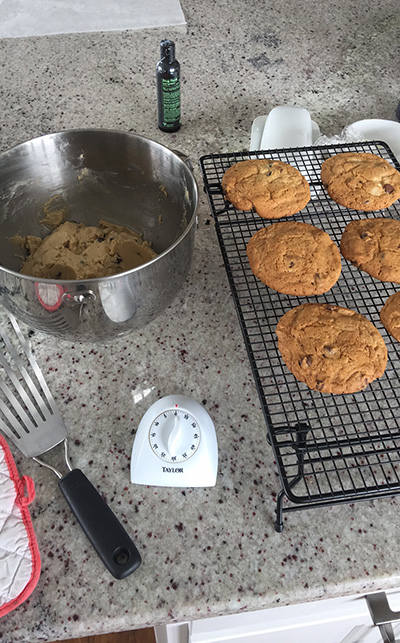 I have eaten thousands of these cookies. My mom used to make a couple batches a week when I was in high school. Between myself and my pals they didn't last long at all. They were typically paired with Tombstone pizzas and Mountain Dew! These are the cornerstones of any fine diet.
Mom(Nancy) used to mix these by hand until the great amounts of cookies required a mixer. She would say they taste better mixed by hand and she went back to hand mixing a couple years ago. You can do whatever you want. I use a mixer.
Mom also used Parkay Margarine. I have experimented with Parkay and Imperial and also butter. I like the butter taste best but the best texture seems to come from using margarine. I haven't mixed the two but if you are feeling frisky, go for it.
---
Monday, October 26th, 2015
---
I can't even believe Becky is letting this cat out of the bag. Becky has been having an annual pizza party as long as I can remember. I recall being a little kid and carving pumpkins in her living room while all the adults were eating pizza and maybe even enjoying an adult beverage or two. She makes pizzas non-stop for several hours as the cast of characters constantly changes with our friends and family catching up from the year's events. She typically has friends in from as far away as California with the longest journey being taken by some family in South Africa!
---
Wednesday, October 8th, 2014
---
Fall is upon us. Time for apple goodness. Give this one a whirl and let us know how it goes.
---
Wednesday, September 3rd, 2014
---
This is a newer recipe for the family. We had the opportunity to devour this delicacy at a couple of picnics at Becky's this summer. I know summer is winding down as I write this down, but all the more reason to drag summer along since it was a pretty short one anyway. Enjoy!
---
Monday, June 30th, 2014
---
One of our favorite ways to beat the heat is with a cool adult beverage. This one comes from the vault of our favorite bartender, Nick. This is not traditional sangria, but it is very easy to make, which goes a long way in our book. I usually make this in a big iced tea dispenser but whatever you have that's big should work fine. FYI this can be a bit strong so tread lightly and don't drink and drive.
---
Monday, June 2nd, 2014
---
Becky has been making this pie as long as I can remember. It is another easy recipe. Let us know how it goes for you and your family.
---
Thursday, May 1st, 2014
---
I don't really remember when this dressing came onto the scene at Smalls, but I know I have enjoyed it for quite a while. We usually make it in a mason jar because it is easy to shake it up really well.
---
Tuesday, April 1st, 2014
---
Okay, so this is a little pedestrian, but there are a couple small tweaks that can take a regular cosmo to a new level. If your bartender gives you one that looks like regular cranberry juice go to a new bar.
---
Monday, March 3rd, 2014
---
2 Cups Mayo
½ Cup Sour Cream
2 Tablespoons Dijon Mustard
2 Tablespoons Fresh Dill or Dill Weed
2 Tablespoons Lemon Juice
Combine and Chill
YUMMY!!! Great for dipping veggies or as a dressing! Keeps for a long time in the fridge too.
Becky makes it all the time!
---
Thursday, January 30th, 2014
---
This one was a bit of an accident. We discovered this wonderful combination in Arizona of all places; Necessity being the mother of innovation and all that. Best of all, this is super easy and delicious.
Heat up 6-8oz of your favorite cider.
Add 1.5oz of Captain Morgan Spiced Rum
Be careful. This one goes down smooth.
---