Tuesday, May 27th, 2014
---
Don't let box blight limit your plans to borrow garden design ideas from the renowned British event.
Smalls Landscaping hand-picked by Frank Organ, one of the Houzz writers, to be featured in an editorial ideabook on the homepage of Houzz.
---
Saturday, March 1st, 2014
---
Hardscape Showcase
By Mike Dahl, LC/DBM Editor
Landscape Contractor/DBM received many outstanding hardscape submissions for this issue and it was a difficult choice as to which ones to feature. So a showcase to highlight some of those not chosen was in order, and even that presented dilemmas. Ultimately, these projects were selected because they display a wide variety of styles, materials, and features from throughout the country (and one from Canada). You'll be seeing more of the remaining submissions in future issues.
---
Saturday, February 1st, 2014
---
The Components of Commercial Care
LC/DBM Staff Report
As the U.S economy continues its long climb out of the hole it nosedived into, companies and organizations will find themselves with more discretionary income, which is welcomed news for industries that provide service to commercial entities. Landscape companies are among the grateful.
According to Mike Dyck, the general manager of the equipment manufacturing company, Masco Sweepers, commercial service "is an area where the sky is the limit."
With that in mind, LC/DBM surveyed this particular landscape to help your business set up, or ramp up, commercial maintenance services.
---
Monday, July 1st, 2013
---
Perks and Recreation
Mike Dahl, LC/DBM editor
A growing corporate trend that is more than welcomed by the landscaping industry is an emphasis on creating green spaces, not just for appearances sake but specifically to enhance working conditions, which then helps improve a company's bottom line.
Studies bear this out. Employees with access to green areas reports more job satisfaction, less job pressure, even fewer headaches and other ailments than workers without green spaces to enjoy. And with this comes increased productivity.
Chicago decking, a steel erection company in Merrillville, Ind., was hoping for these results when they enlisted Smalls Landscaping to create a nature-rich, employee break area. The Valparaiso, Ind., firm was responsible for all aspects of the project: designing and building a fully landscaped area highlighted by a natural-looking waterfall and a fishpond.
---
Saturday, June 1st, 2013
---
Riverfront Backyard Makeover
Project by Small's Landscape
The family in the Dyer, Indiana, residence wanted to create a private backyard entertainment area with a pool, outdoor kitchen, fire pit, multiple seating areas, fishing pond and dramatic water features surrounded by lush, colorful landscaping areas. Crafting this design combined the needs and personal style of the client with streamlined function in a visually arresting space.
Challenges were many. The house sits on a long and narrow lot, with a single access to the rear yard. The septic system could not be relocated, forcing crews to work around it as well. An existing five-acre pond was too shallow to support fish, which the owners wanted to add. The front yard had a considerably low grade.
---
Friday, May 24th, 2013
---
By Gabrielle Gonzalez
Staff writer
219-326-3870, ext. 3870
[email protected]
La PORTE – With more than 30,000 different trees and varieties of flower species, Small's Landscaping isn't so small.
Originally established in La Porte, Small's now conducts business at their massive nursery at 310 North 325 East in Valparaiso.
Landscape designer Becky Whitacre and her sister, Nancy Marshall, recently received a high honor for their implementation of an elaborate landscape for a home. They were awarded as Total Landscaping Care Magazine's North American 2013 Landscaper of the Year.
---
Wednesday, February 13th, 2013
---
A Valparaiso family gets a new landscape that is inviting for people and wildlife.
Project Highlights:
Location: Valparaiso, IN
Property Size: 3 acres
Problem: The existing landscape didn't complement the beautiful brick home and the backyard was uninviting.
Solutions: Transform the property by creating a sense of symmetry and manipulating grades to create outdoor rooms.
---
Friday, February 1st, 2013
---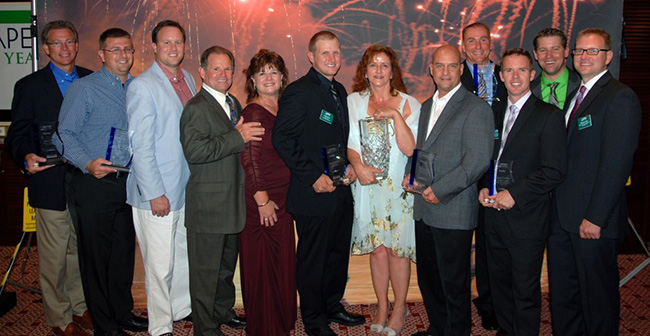 Business partners and sisters Nancy Marshall and Becky Whitacre, owners of Smalls Landscaping in Valparaiso, Indiana, were named the 2013 Landscaper of the Year by Total Landscape Care magazine.
During a cruise to the Bahamas, Nov. 9-12, the two were recognized from among 12 finalists at the gala banquet.
"We are pleased to honor Smalls Landscaping as this year's winner, and we congratulate the other finalists for their extremely unique projects."
---
Sunday, April 1st, 2012
---
Great Illumination
By Nancy Marshall, President
Small's Landscaping & Landscape Illumination
The contractor installed 13 lights in this area. The front of the house is illuminated using six Kichler 4.5-watt LED low-voltage directional spots. Lighting for the ground cover area comes from 4.5-watt "Hammered Roof" path-lights spaced 15 feet apart. Both lighting sets get their power from a 300-watt transformer located on the right side of the house. The large pots by the front walkway were accented with 4.5-watt, 60-degree directional LED spots. Workers planted Japanese Maples and Hicks yew hedges along the house, as well as Mazus Reptans ground cover and Hackonechloa Aureola grasses in the front yard.
---
Wednesday, February 1st, 2012
---
Open Space Becomes Hardscape Retreat
By Gregory Harris, LC/DBM
When the owners of Chicago Decking, Inc. wanted to provide their employees with a relaxing open space, they were fortunate to have a blank canvas to work with.
Nancy Marshall of Small's Landscaping and her team turned the open space into a private retreat complete with a waterfall, fire pit and extensive trees and colorful plantings.
---