Wednesday, April 12th, 2017
---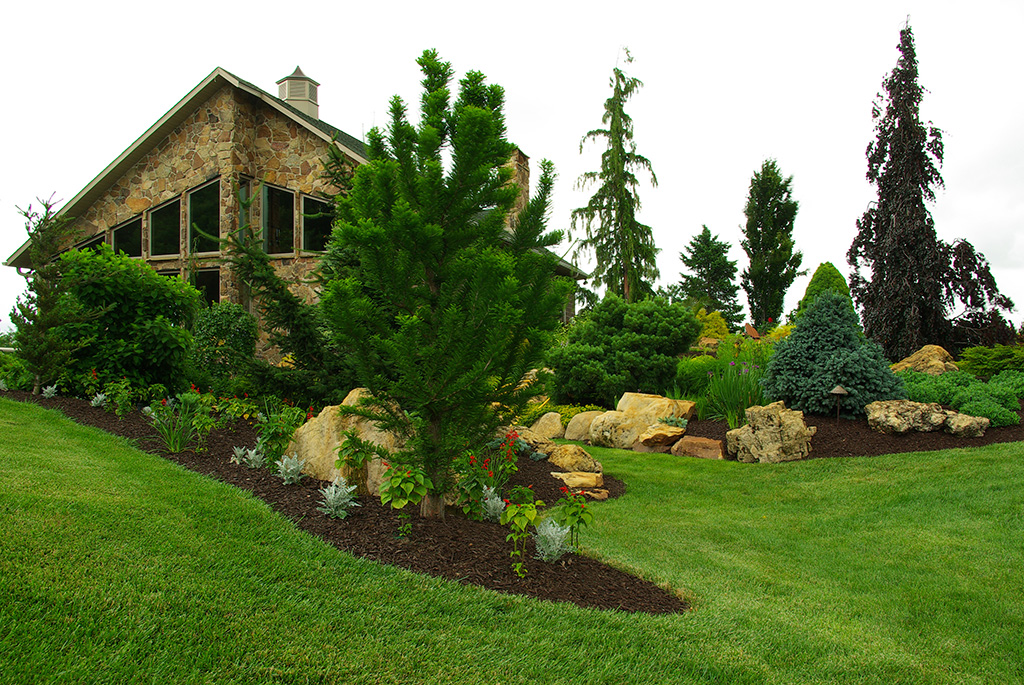 How often do you see right angles and straight lines in nature? Not often in my experience. Nature likes curves. Curves energize a landscape. Wide open curves free the mind with dramatic long views while tighter curves invite your eyes to pause and wonder what is in store around the next bend. Depending on your perspective (isn't that the secret to a well lived life) and distance curves can appear to change shape as you change position. You might notice something completely different whether you are coming or going. A bendable perspective doesn't just hold water in reference to planting beds. Sidewalks, arches, and accent containers all benefit from some bending and shaping.
---
Monday, March 21st, 2016
Ground CoverLandscapingPerennials
---
It's just too bad those old bell-bottom jeans don't fit anymore. Like clothing, landscaping styles change. There have been times when we couldn't keep enough perennials in stock because everybody and their mother wanted perennial gardens. The same happened with grass gardens for a few years. We have been in this long enough to see the perennials lead to grasses to rocks to mulch to low-maintenance evergreens and shrubs to more stone. Each time the stone comes out and the mulch goes in and the mulch comes out and we do the hokey pokey and we turn it all around. That's what it's all about.
---
Monday, June 30th, 2014
---
I cannot count how many times I have met with a client for the first time and their number one goal was maintenance free landscaping. Of course, I am a witty and charming person so my stock answer is "Well even if you use plastic plants they still need to be dusted." I am here to say it. There is no such thing as a no maintenance landscape.
---
Thursday, May 1st, 2014
---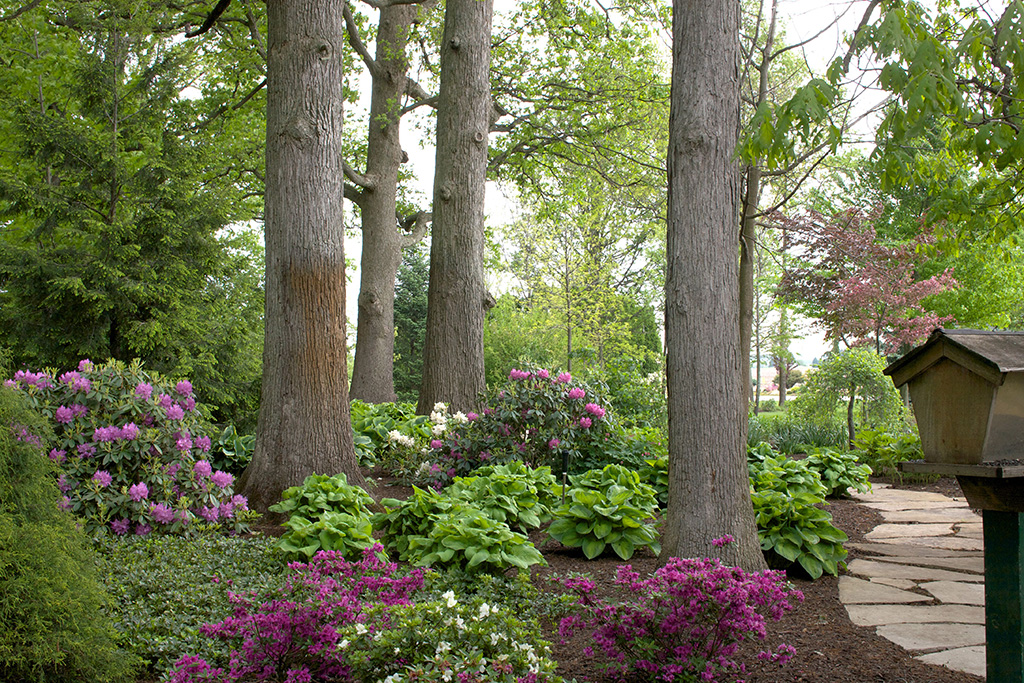 Nothing shouts Spring to me quite like the blooming of Azaleas and Rhododendron in May. Way back in our day (I don't care to say how long ago) our dad Walter Small had Rhododendrons imported from Holland as small baby plants. To this day a few of those old glorious beauties still alive in LaPorte.
When planted in masses, the flowering stalks can be breathtaking. Rhododendrons can also be utilized as foundation plantings. They can be a backdrop for perennials. Small groupings of Azaleas can have a similar effect with a different texture.
---
Tuesday, April 1st, 2014
CookingFire PitLandscapingWater Feature
---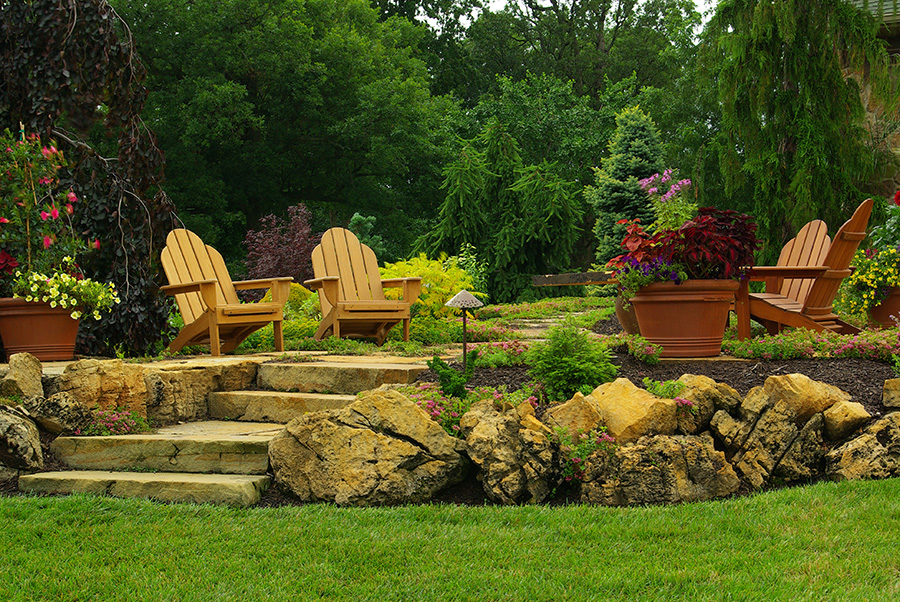 Big or small, inexpensive or extravagant; creating your outdoor space is an investment in your home and your peace of mind. The whole point of creating an outdoor space is to more easily spend time outside in the fresh air. There have been numerous studies depicting the health benefits of being outside. Not only are you getting healthy outdoors, but having a nice outdoor living area helps bring your friends and family together to socialize.
---
Tuesday, June 11th, 2013
Fire PitGround CoverHardscapesLandscapingTrees
---
This month we have a new case study for our readers. Many people want to know what Nancy's house looks likes. Well, here it is. This property won the 2012 Indiana Nursery and Landscape Association's Award of Excellence in Residential Landscape Design/Build category.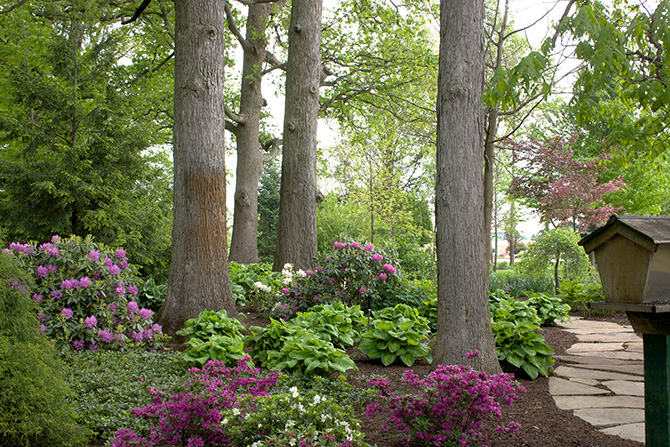 Where do we begin with this one? From the day ground was broken for the house over Twelve years ago this property was designed to be a landscaping marvel. The house is situated among hundred year old oak trees. During construction Nancy & Roger were adamant about large equipment encroaching upon the roots of the trees. The construction site was cordoned off to within 15′ of the house. This insured that there would be no construction equipment/traffic over the roots of the existing old growing trees. All but one survives to this day. In the shade of the large old growth trees live dozens of Hosta varieties. There are multiple flagstone paths leading from garden to garden as well as strips of green grass that form their own pathways around the acres of gardens. Nancy & Roger are both very passionate about plants and either one of them could discuss for hours the various intricacies from species to species and subspecies to subspecies.
---
Wednesday, May 1st, 2013
---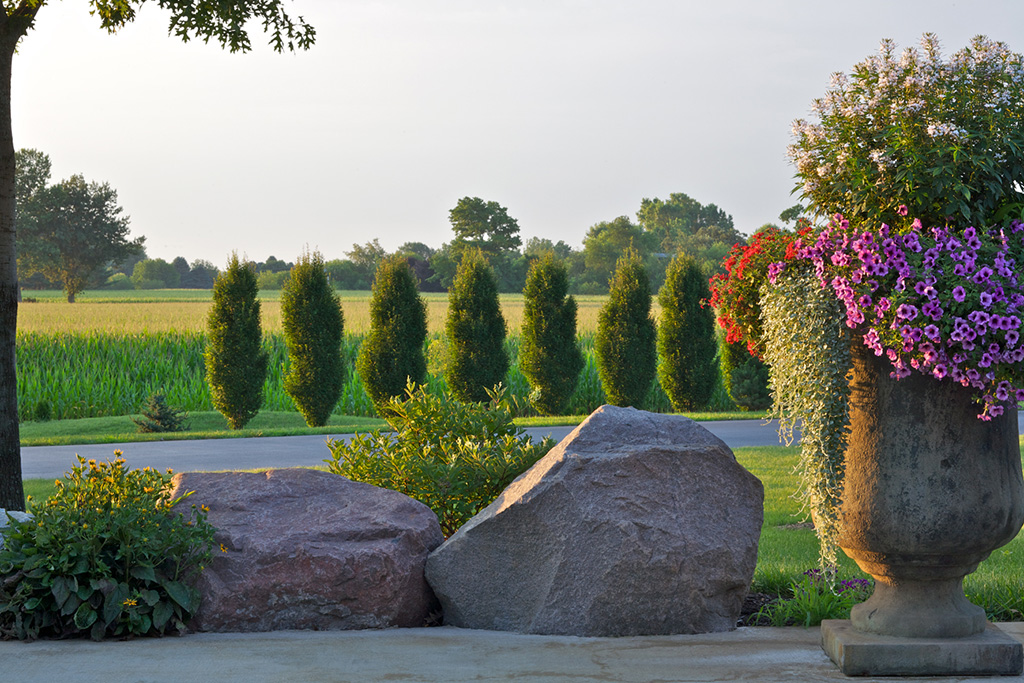 There is no question that the world is increasingly urban. As landscapers, this poses the question of; how do we landscape an apartment or a tiny patch of ground covered in concrete? The answer is a container garden. We have experienced fantastic growth in container gardening. A container garden is made up of hanging baskets and containers on the ground. They let you create attention-grabbing focal points with billowing blooms of color and greenery. Historically, containers were only planted in the summer with annuals. We have expanded into switching out the contents seasonally and using more and infinitely varied plants in the containers.
---
Tuesday, April 2nd, 2013
HardscapesLandscapingWater Feature
---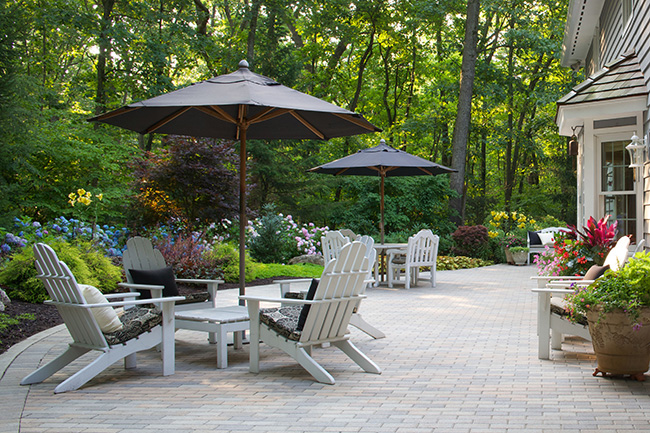 The not so twisted tale of Larry & Dot
Over the years I have had the pleasure of working with and getting to know thousands of wonderful people. While we are on the cutting edge of design, plant materials, and technique there eventually becomes a time when things need to be freshened up. A client that I have worked with since 1987 called for just such an update. They removed the deck in their yard and were looking to relandscape the area.
---
Monday, March 4th, 2013
---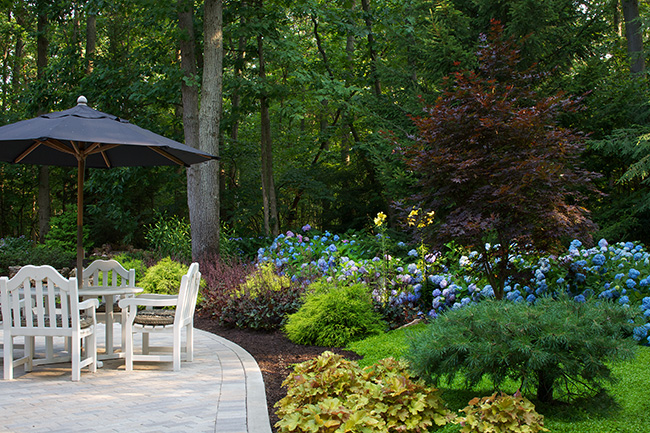 We are waiting for spring to show its lovely face so we can get back to work. After a long winter we are just waiting for some 50 and 60 degree days to shake off the cabin fever. What are you waiting for? Do you drive up to the house and wish it looked better? Have you been yearning for a new patio in the back yard? How are those neighbors doing? Maybe it's time to plant a hedge so they can stay in their own yard. Does your yard or basement flood every time it rains? What better time than now to start the journey to a beautiful landscape?
---
Monday, March 4th, 2013
---
Being located in Valparaiso we are less than thirty miles from both Illinois and Michigan. We commonly work out of state and have completed projects in California, Colorado, Tennessee, and, of course, Indiana, Illinois, and Michigan. When we do these out of state projects there are a lot more variables to consider. For example, we often have to find raw materials in other state simply because of variations in trucking laws. Thankfully we deal with these issues regularly so it is a matter of organization and orchestration.
While working in nearby states we can just use our crews, tools, plants, and materials. When we work on projects across the country we sometimes need to hire labor, rent tools and machinery, and find plants and materials. In Colorado, we brought two crews out to do the job and rented the machinery. In California we found everything there and completed the job by locating and selecting plants and stone materials from various wholesalers and using a local landscaper and excavator to install everything with Nancy's direction on site. When we are only designing we can just do the work on site using pencils and paper then convert it to digital back at the hotel.
---