Tuesday, April 1st, 2014
CookingFire PitLandscapingWater Feature
---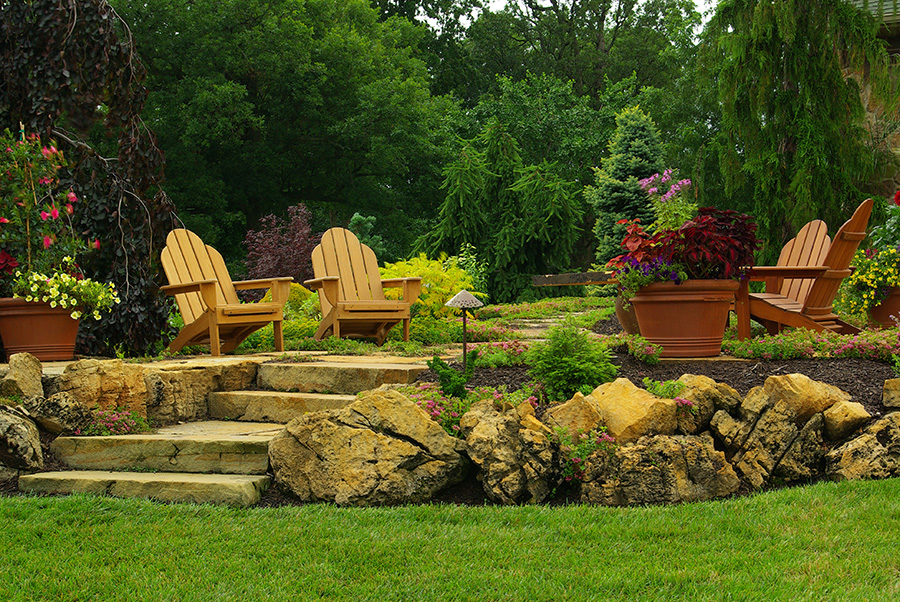 Big or small, inexpensive or extravagant; creating your outdoor space is an investment in your home and your peace of mind. The whole point of creating an outdoor space is to more easily spend time outside in the fresh air. There have been numerous studies depicting the health benefits of being outside. Not only are you getting healthy outdoors, but having a nice outdoor living area helps bring your friends and family together to socialize.
---
Tuesday, June 11th, 2013
Fire PitGround CoverHardscapesLandscapingTrees
---
This month we have a new case study for our readers. Many people want to know what Nancy's house looks likes. Well, here it is. This property won the 2012 Indiana Nursery and Landscape Association's Award of Excellence in Residential Landscape Design/Build category.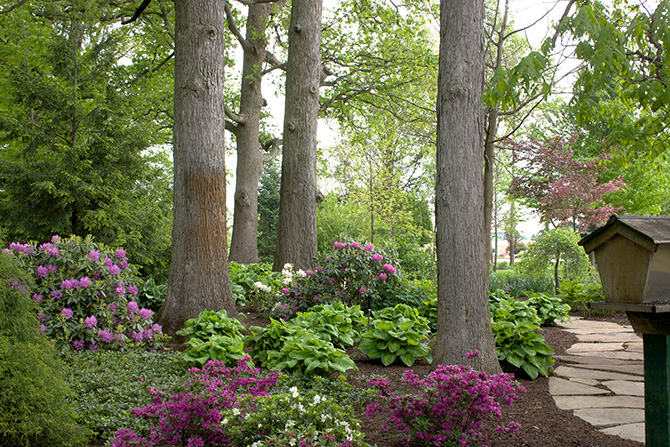 Where do we begin with this one? From the day ground was broken for the house over Twelve years ago this property was designed to be a landscaping marvel. The house is situated among hundred year old oak trees. During construction Nancy & Roger were adamant about large equipment encroaching upon the roots of the trees. The construction site was cordoned off to within 15′ of the house. This insured that there would be no construction equipment/traffic over the roots of the existing old growing trees. All but one survives to this day. In the shade of the large old growth trees live dozens of Hosta varieties. There are multiple flagstone paths leading from garden to garden as well as strips of green grass that form their own pathways around the acres of gardens. Nancy & Roger are both very passionate about plants and either one of them could discuss for hours the various intricacies from species to species and subspecies to subspecies.
---
Tuesday, April 2nd, 2013
---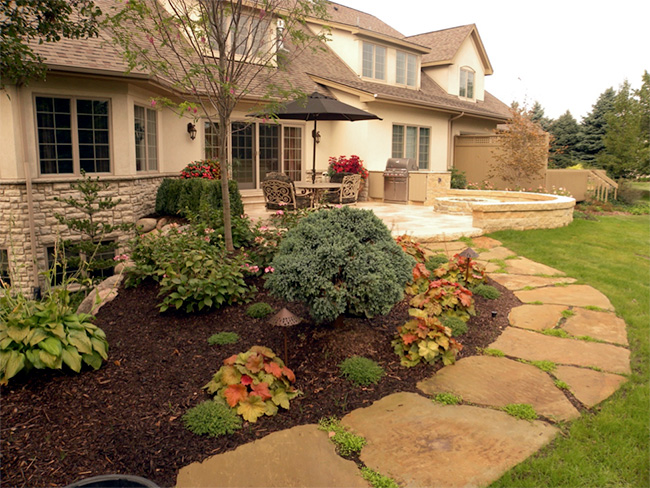 When it comes to hardscaping and stone work there are many steps that go into a successful design and installation. This is a step by step look at an award winning project in Chesterton, IN. This project won the Indiana Nursery & Landscape Association (INLA) 2012 Award of Excellence, Hardscape Installation category.
Wow Small's Landscaping. How did you do that?
Well, let me tell you.
---
Tuesday, April 2nd, 2013
---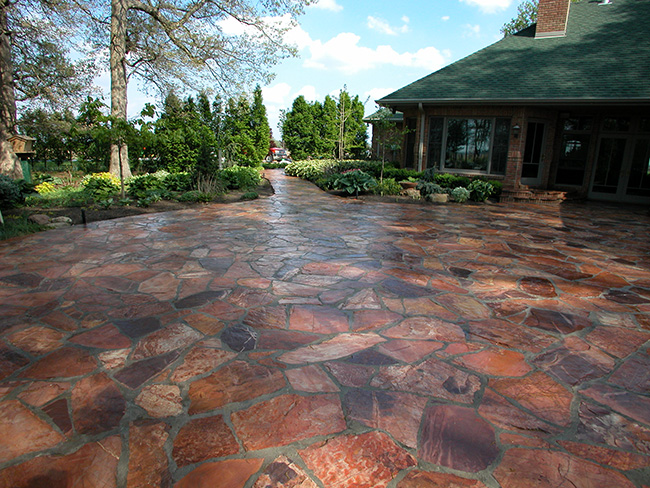 When you are talking about the size of your backyard patio bigger can be better, but not always. There are many variables to consider when figuring out how large you want your patio to be. Do you entertain often? If so, how many people typically come over? You might want a large area for people to mingle. On the other hand, if the patio is smaller the party will be more intimate and likely to bring people together.
---
Wednesday, March 7th, 2012
ArmagastsFire PitPoolWater Feature
---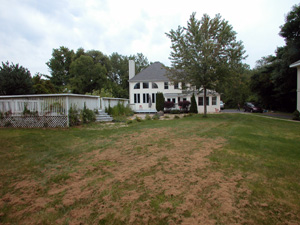 The owners wanted to create a backyard entertainment area for family and friends. Privacy, pool, outdoor kitchen, water features, fire pit, fishing, multiple seating areas and lush, colorful landscape areas were all very important. Crafting this design combined the needs and personal style of the client along with functionality in an aesthetically pleasing space.
Challenges were many. The house is situated on a 1300′ deep lot that is only 110′ wide, with one narrow access to the rear yard. The septic system could not be relocated forcing crews to work around it as well. An existing five acre pond was too shallow to support fish, which the owners wanted to add.
As project manager, we coordinated the installation of the pool, adding a new 400 amp electrical service, subpanels, and larger gas service. We buried thousands of feet of conduit, water lines, gas lines and drainage throughout the property. A gourmet, covered kitchen with built in heaters was built as a focal point to the backyard linking with the architecture of the home. Providing entertainment opportunities, a stereo system and lighting were also included.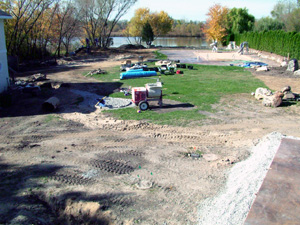 We began by clearing the front of the property. The existing edge of the pond in back was dug out. This provided a place for fish to be added. The clay removed from the pond was reused, by hauling it to the front to raise the grade by three feet. This eliminated the current drainage problem. In addition, 3000 yards of clay were hauled from the site.
The next challenge was to create a waterfall with views from three sides. The design was to have a 60,000 gallon waterfall flow towards the house and another 30,000 gallon waterfall flow to the pond in back. Smaller streams alongside were incorporated as offshoots to the main falls. This created a beautiful multi-sided view from the property, providing unity and balance converging as one.
Landscaping started with the installation of privacy hedges, creating an outdoor room atmosphere. Landscaping plantings were strategically placed to cover pool equipment and pumps used in the running of the waterfalls. Over 300 tons of moss covered boulders were utilized in this project. We also designed and built our own intake stand for the pump screen to keep them off the pond bottom. This prevented debris from entering the falls and streams.

Large evergreens and trees were than planted to create a mature landscape. Unusual specimens such as Sweet Sarah Fir, Walnut Glen Spruce and a variety of Parviflora Pines were used. Hundreds of Sedums filled the nooks and crannies of the boulders and along the stream. As we proceeded, the owners enjoyed each and every project after its completion, swimming in the pool, climbing the waterfall, fishing, volleyball, fires and more…
---
Wednesday, March 7th, 2012
---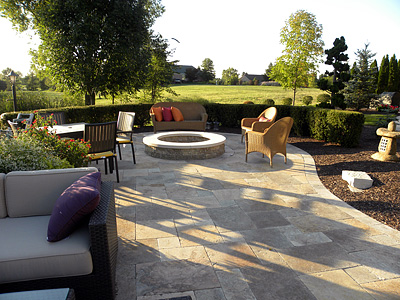 Imagine sitting around the fire on a wonderful spring evening enjoying the company of family and friends. Fire, like water, attracts all of us like bees to a hive. Often the combination changes a home from ordinary to being the "go to" house. The neighbors and their kids will always want to be over reminiscing of fun times and creating new memories. The best part is always knowing where your own children are. They are at home!
A proper firepit installation is designed according to the grade and space available. The fire pit and the patio around it can be made using natural stone, bricks, or dimensional cut stone. A wall can also be built around the pit to be used as a seating area or a place to set your beverage or snack. Often our clients choose to have a gas line installed for a simple key start for the fire. No more singed eyebrows and empty cans of gasoline.
Be sure to have ample snacks and drinks on hand and you will be sure to have plenty of guests for years to come. The draw of an outdoor oasis is enormous. The kids will enjoy being home more and even when they are rambunctious teens they will be right outside safe and sound.
Family, friends, and fire. What a joy!
---