Monday, October 24th, 2016
---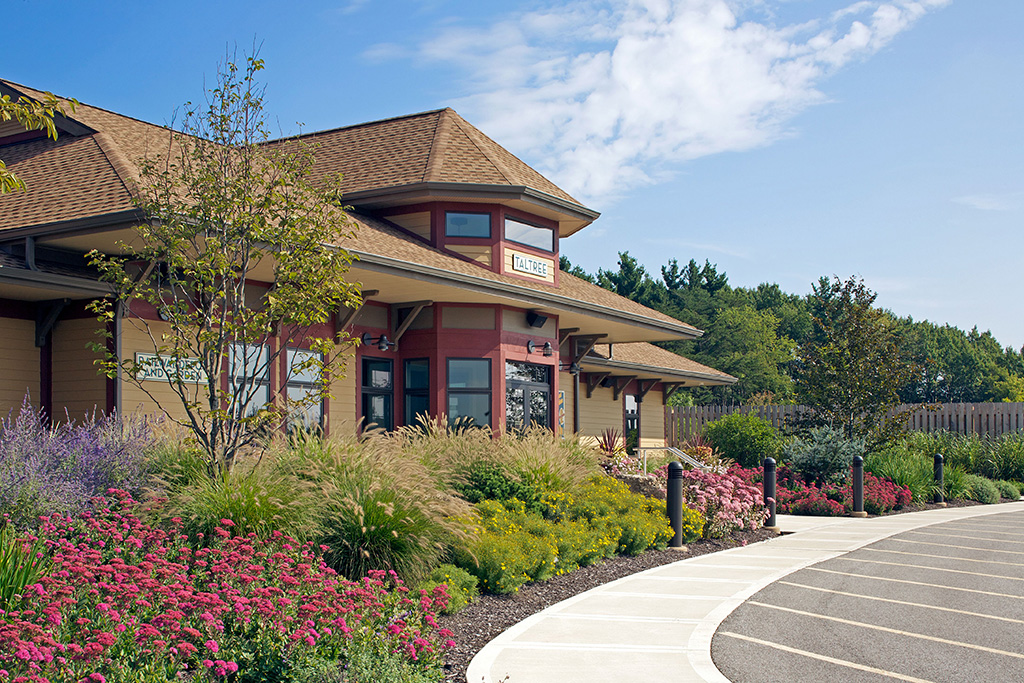 Bogey & McCall, Beer & Pretzels, Wine & Cheese: Perfect Pairings.
Plants too have perfect pairings. They can complement each other in color or contrast in shape, or they may just have the same environmental needs to thrive and grow. One of my favorite fall combinations includes 3 plants; Purple Love Grass, Russian Sage, and Aster. The way the blue of Russian Sage bounces off the Blues of Aster accentuated by the Purple love grass just shouts fall.
---
Monday, October 24th, 2016
---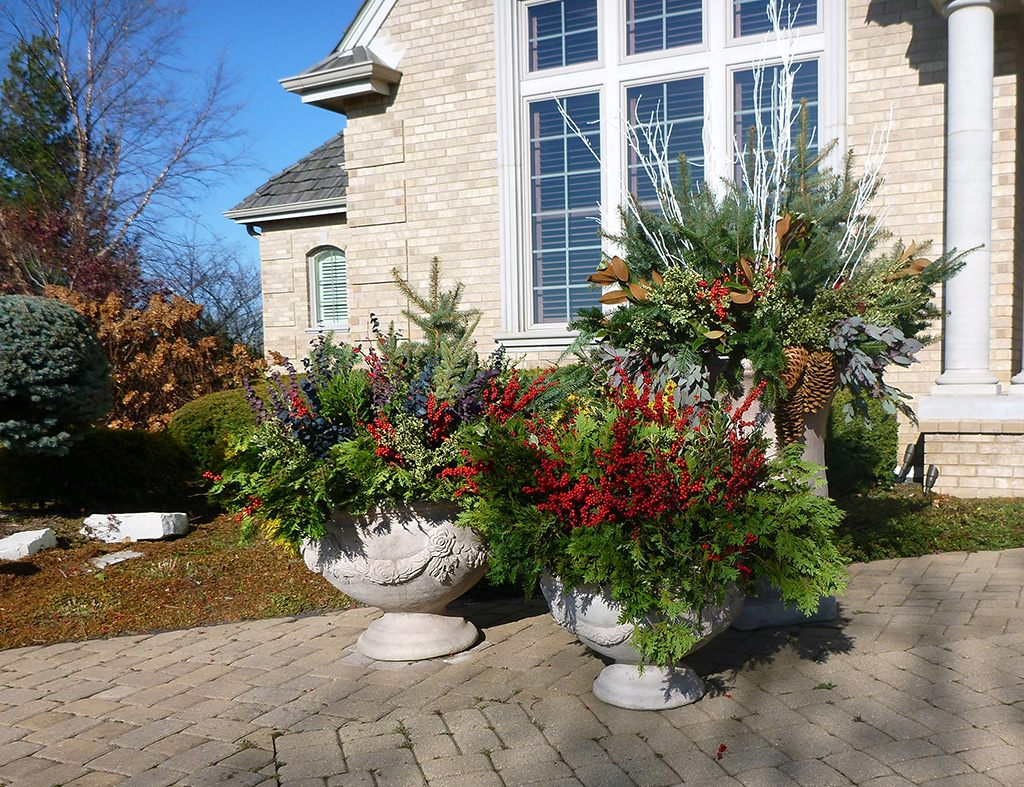 As I look out my window about half of the trees have transformed into gorgeous displays of oranges and reds. Rhonda just finished installing my fall container display and they look wonderful, as they always do. While I am the last person to start looking for the Christmas decorations (just ask my wife) I am actually looking forward to see what Becky and Rhonda come up with for the winter displays. Every year they get more interesting and unique while maintaining just enough tradition.
---
Monday, October 26th, 2015
---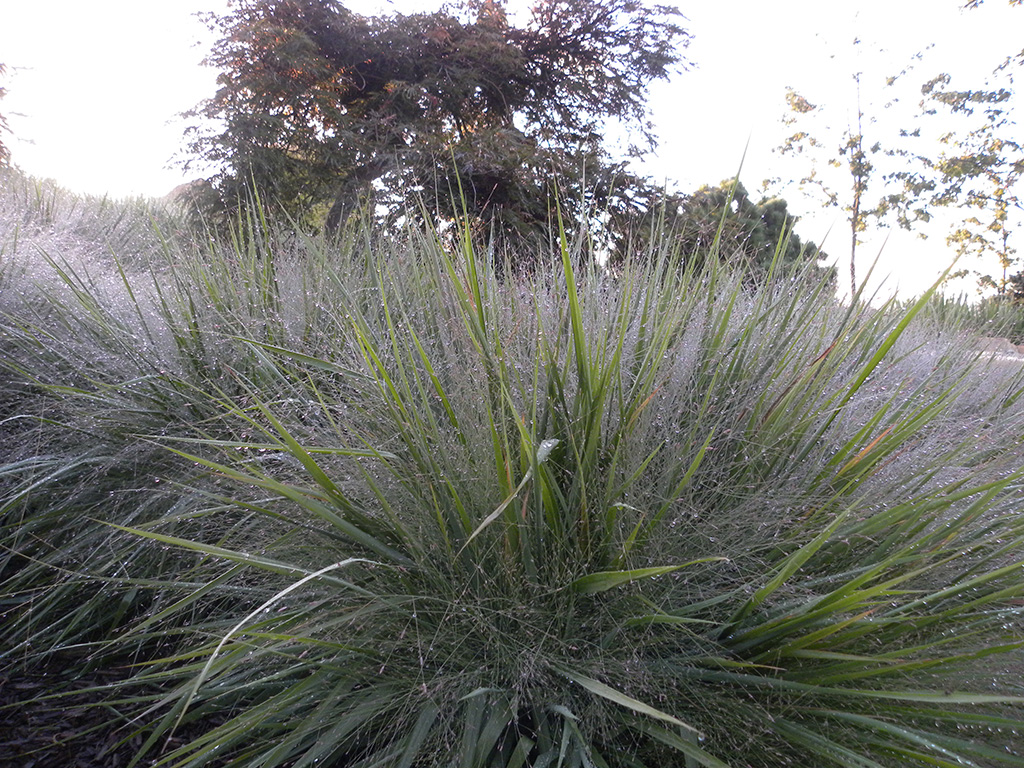 Grasses are great in the summer, but fall and winter are when they really shine. Grasses have wide variations in size, as well as blooms and color changing attributes which can begin in late summer and go through late fall. Here are some of our favorite grasses and they are legal in all fifty states!
---
Monday, October 26th, 2015
---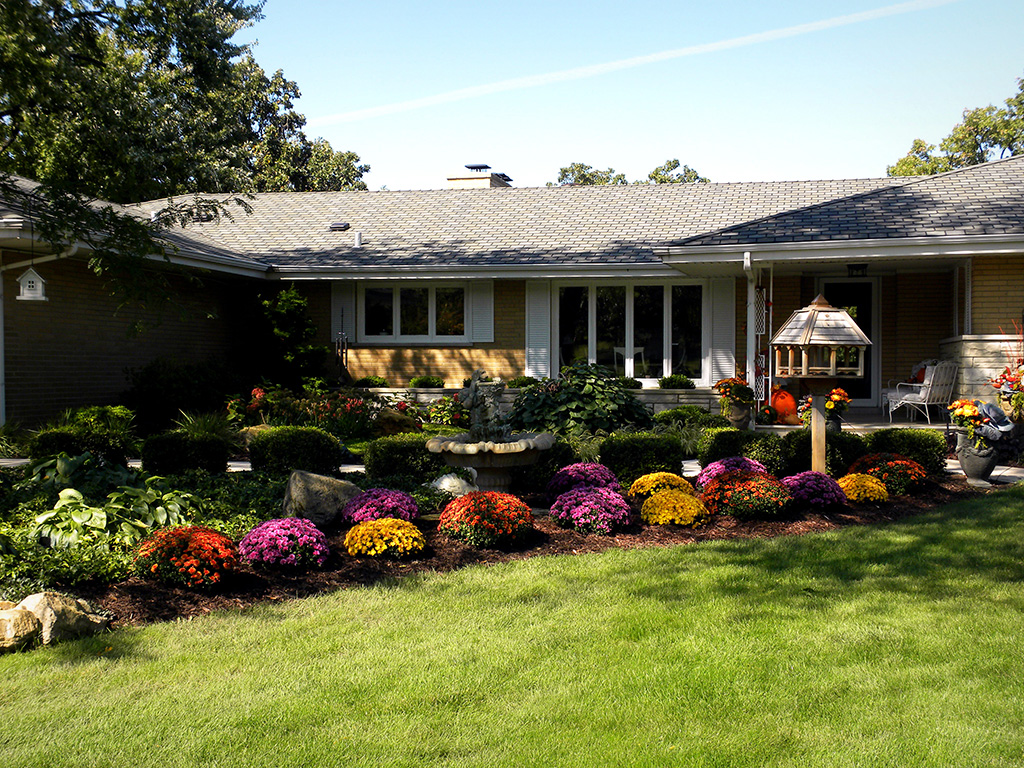 This has been an insane year around here. It seems like yesterday I was gearing up for spring and suddenly fall has appeared. The leaves are full transition and farmers are wrapping up the last of the harvest for the year. Here, at Smalls, we are working like crazy to finish this year's projects while taking on designs to finish out the year, gearing up for fall cleanups, and next year. With all that this season has to offer, don't forget to finish your garden maintenance before the snow flies. It is significantly more difficult beyond that point. Here is a brief checklist to get you started.
---
Wednesday, October 8th, 2014
---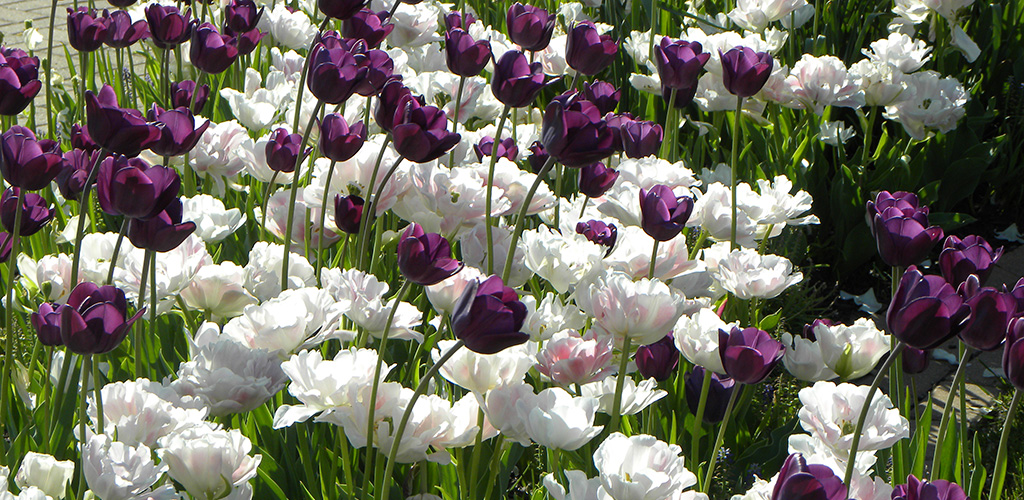 Last winter dragged on and on seemingly indefinitely. There was an audible sigh around the office when the first spring bulbs finally emerged from the bleak, cold winter. I really hope it doesn't happen, but if we have another excruciating winter wouldn't it be nice to have lots of colorful spring bulbs to cheer you up. Well, its too late in April to put those beauties in the ground.
---
Wednesday, October 8th, 2014
---
Did you know there is more to fall than leaves?
Callicarpia "Beauty Berry", also known as French Blueberry have some interesting attributes. In the early 20th century farmers would put the leaves under the harnesses of horses or rub the leaves on their clothing to repel mosquitos and biting flies. Native American tribes used the leaves, berries, and roots, for medicinal purposes. This day and age in the landscaping world Beauty Berry is a graceful plant with purple or lavender flowers in the summer and revealing bright purple berries after the foliage drops in the fall and which persist well into winter.
---
Wednesday, September 3rd, 2014
---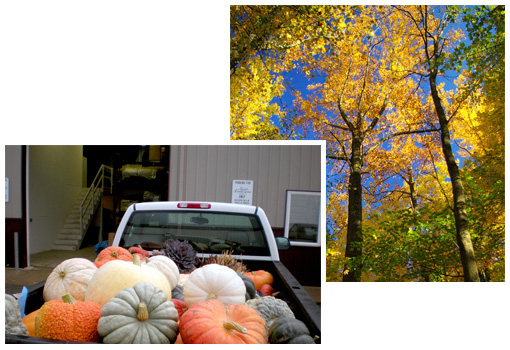 It is hard to believe September is upon us. It's time to break out the blankets and we barely had a chance to sweat this summer. Where did the summer go?
---
Wednesday, September 3rd, 2014
---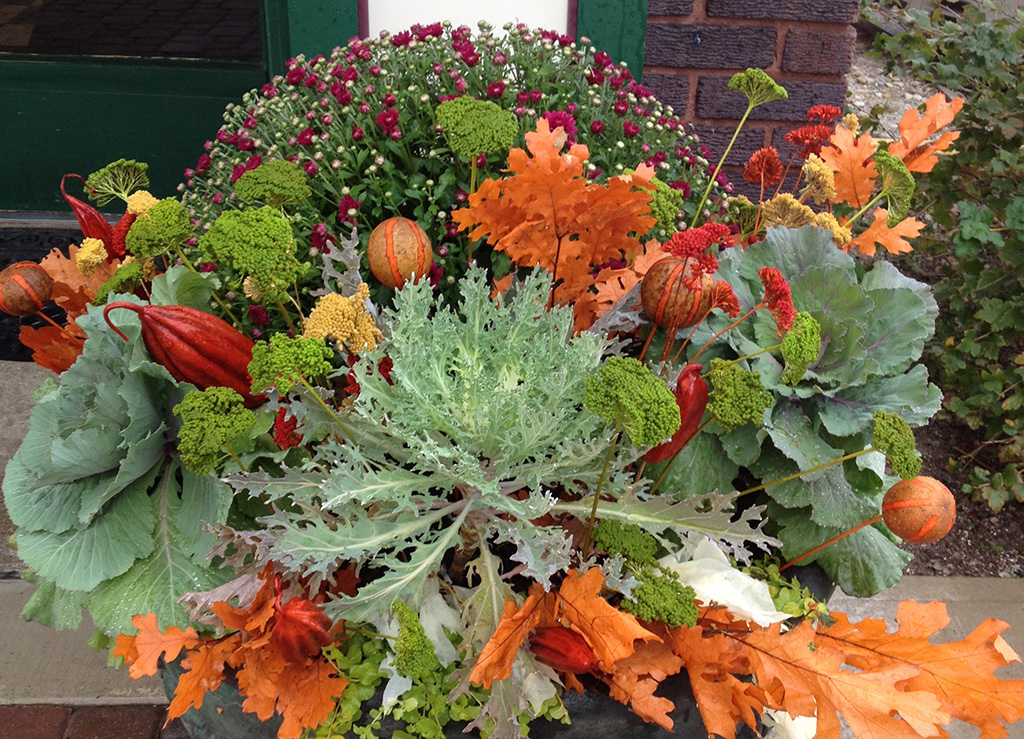 It is time for the color guard to change. As summer comes to an end it is time to start moving on to the next season, fall. As the summer blooms begin to lose their vibrancy and petals fall unceremoniously to the earth we can focus on the season to come with its own impressive pallet. Fall containers have their own identity and give a home a completely new feel.
---
Wednesday, September 3rd, 2014
---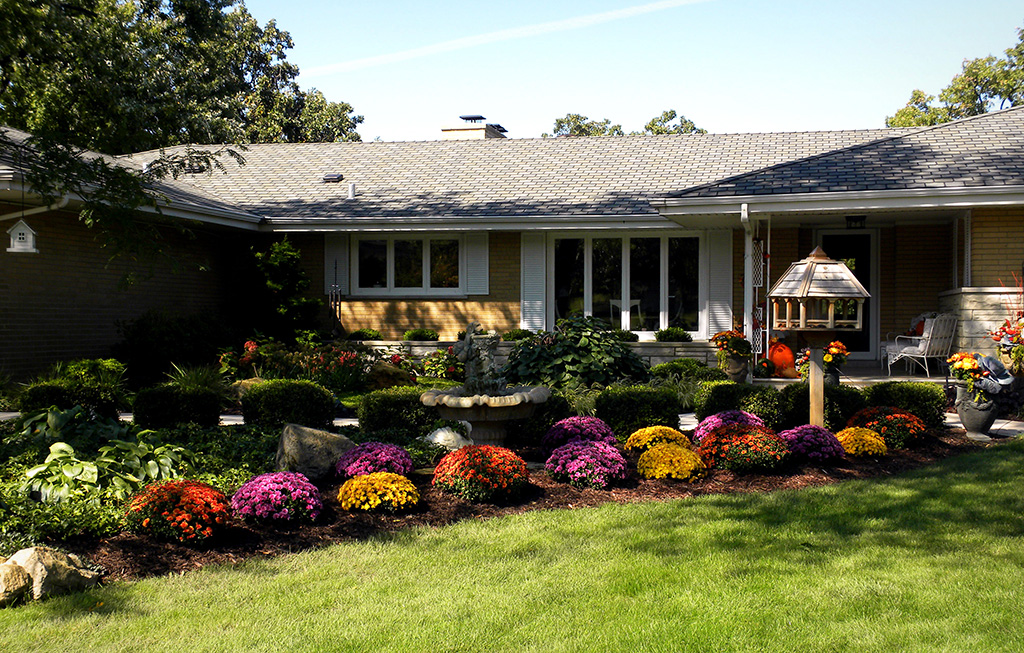 Fall is almost upon us. Our lovely bouquet of summer color is going to be losing its brilliance and now we are stuck with a bunch of mums, right? I think not! One of my all-time favorite fall flowers is Lespedeza, AKA Bush Clover. I just love this shrub. Lespedeza Gibraltar are easy to grow and like full sun. They get 4-5 feet tall and spread 5-10 feet and are covered blue-green leaflets. In fall they bloom with rosy, purple, pea-like flowers which are grouped in loose, pendulous flowers up to 2 feet long. This creates a arching fountain-like habit. With these in the yard everyone will be asking what they are.
---
Friday, November 1st, 2013
---
Winter is moments away. Fall cleanups will begin soon. This includes blowing leaves, cutting down perennials, and mulching when necessary. We can also empty your containers and install winter greens. We leave grasses up until spring so you have some winter height. If you are not on the list for this service give us a call. We do not begin fall cleanups until ALL of the leaves fall so if you are on the list we are waiting for that to happen. Our team of seasoned veterans will have your place looking tip top in no time.
---