Wednesday, October 8th, 2014
---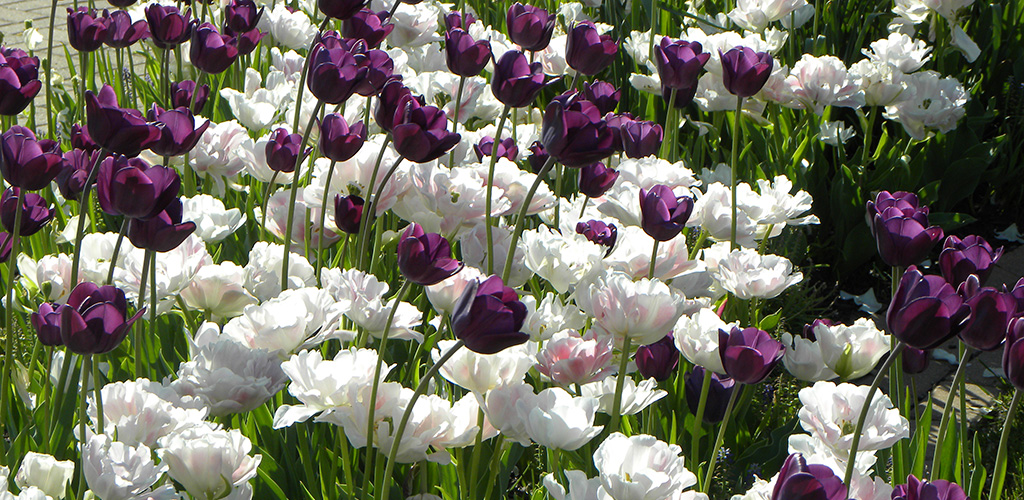 Last winter dragged on and on seemingly indefinitely. There was an audible sigh around the office when the first spring bulbs finally emerged from the bleak, cold winter. I really hope it doesn't happen, but if we have another excruciating winter wouldn't it be nice to have lots of colorful spring bulbs to cheer you up. Well, its too late in April to put those beauties in the ground.
---
Wednesday, September 3rd, 2014
---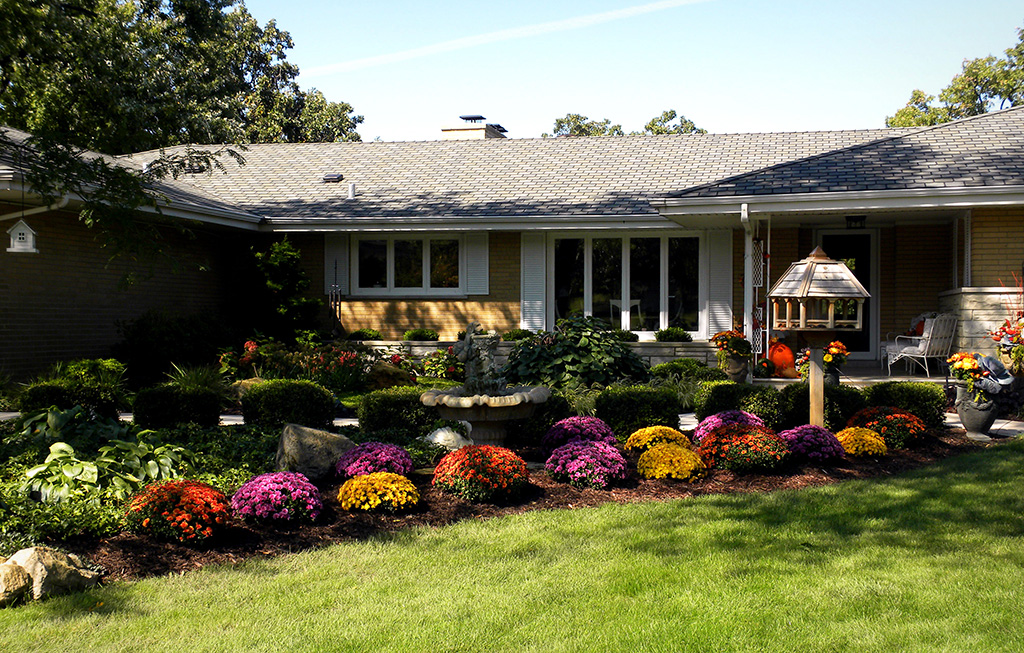 Fall is almost upon us. Our lovely bouquet of summer color is going to be losing its brilliance and now we are stuck with a bunch of mums, right? I think not! One of my all-time favorite fall flowers is Lespedeza, AKA Bush Clover. I just love this shrub. Lespedeza Gibraltar are easy to grow and like full sun. They get 4-5 feet tall and spread 5-10 feet and are covered blue-green leaflets. In fall they bloom with rosy, purple, pea-like flowers which are grouped in loose, pendulous flowers up to 2 feet long. This creates a arching fountain-like habit. With these in the yard everyone will be asking what they are.
---
Thursday, January 30th, 2014
---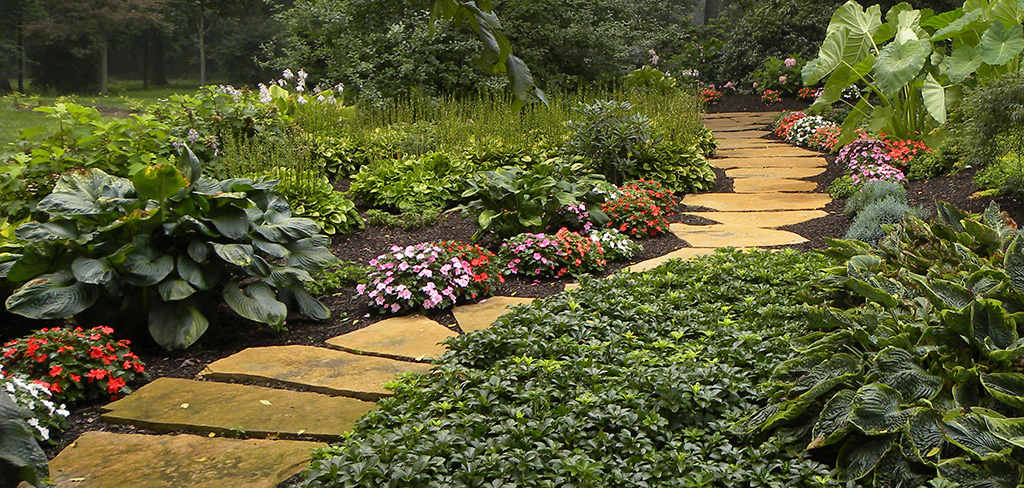 We don't like bad news, but here it is. Impatiens have been a part of our annuals program as long as we can remember. This year though, there will be a change. Downy Mildew, a parasite that kills impatiens, has taken hold so many of the usual impatiens are no longer viable. Several new varieties will be available next year, but in the meantime we will be replacing many impatiens with begonias. We would also like to warn you to be very careful if you choose to buy impatiens from retailers. Downy Mildew will certainly kill any plants that are not specifically tolerant to it.
---
Thursday, July 11th, 2013
---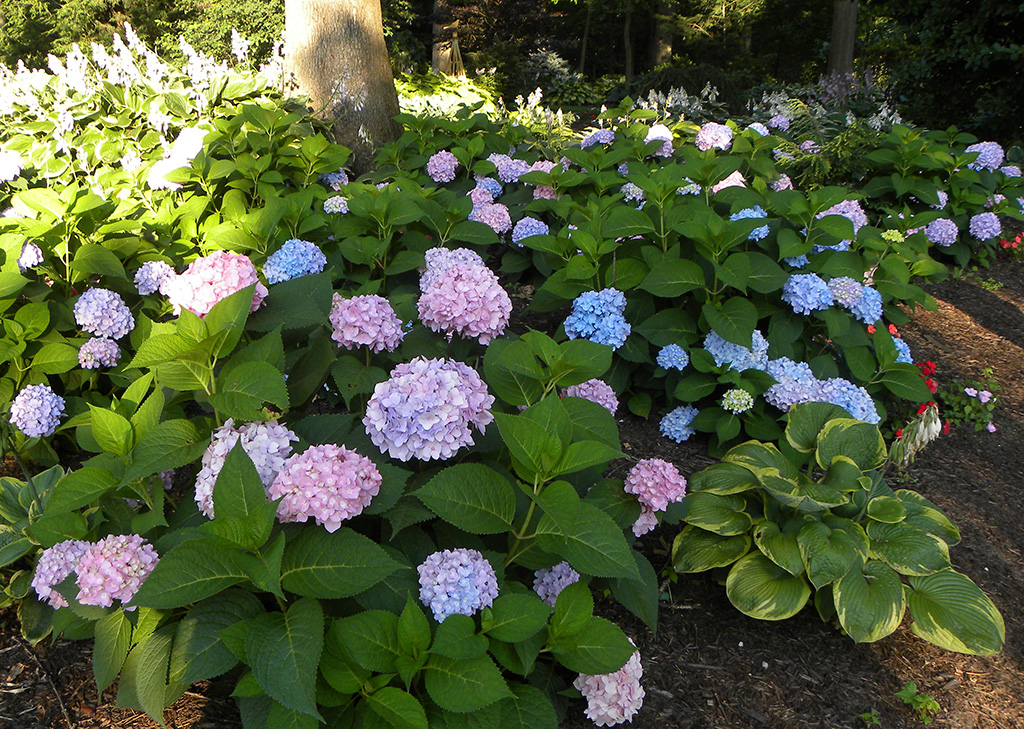 not our grandmother's hydrangea
Many of us remember hydrangeas of the past which had great foliage and very few flowers. Today we are falling in love with hydrangeas all of again with varieties that we never could have dreamed of as kids. We grew up around plants so watching new strains being developed over the years has been very exciting.
---
Tuesday, April 2nd, 2013
---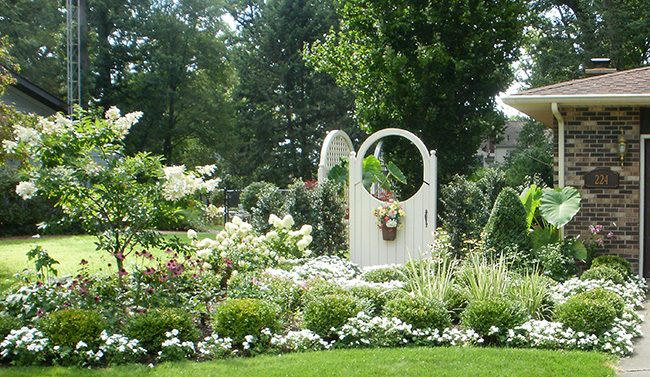 Serene, Simple, Sophisticated, Romantic: Just a few words to describe a white garden. A white garden entails white flowers combined with silver and blue toned foliage. The overall effect can be quite calming. A dark backdrop hedge such as Yew, Boxwood, or Holly sets off the bright white flowers, Small hedges can also be used to divide the garden into formal planting beds with each bed planted with different varieties of white flowers. When in bloom each bed overflows with a solid mass of white. Blooms erupt from behind the dark green hedge outlines. A white garden can be formal or informal; It can include a mix of flowering shrubs and trees or it can be a mix of bulbs, annuals, perennials and vines. Where will your white garden be?
---
Friday, January 11th, 2013
---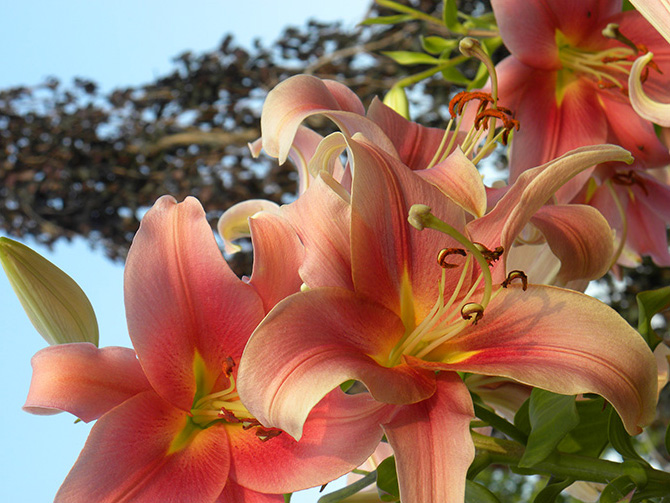 the drama queens of the garden
No other flower compares to lilies. These summer flowers explode with a rainbow of colors in varying height. Meanwhile the incredibly rich, heady, fragrance is beyond compare. These statuesque beauties are a must-have for a summer garden. Lilium (botanical name) range in color from white, yellow, pink, and red with varied stripes, spots, and margins. The height of Lilium ranges from about eighteen inches up to an astonishing ten feet. The shapes of the flowers and bloom times also vary from variety to variety. With all of this variation choosing a lily for your garden can be a daunting task. Here at Small's Landscaping, Becky pores over the various varieties searching for the best balance of heartiness, visual impact and uniqueness. With new varieties coming out every year it is quite a task.
---
Thursday, May 17th, 2012
FlowersHardscapesLandscapingTrees
---
Have you ever slowed down to drive by a beautiful home or landscaping? Do people do the drive-by in front of your house or do they go by so fast you don't know if they were driving a Ford or Ferrari? Your driveway entrance is an invitation to your guests to enter your space.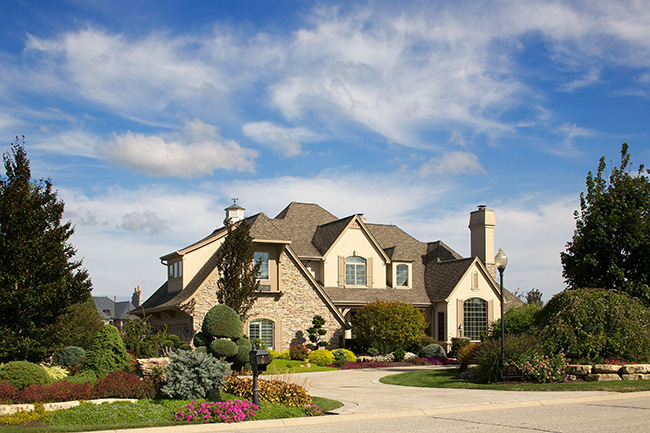 A driveway entrance is often one of those areas in our yard that get neglected. We see a few straggled survivors or leftover plants by the road. Sometimes the beds are neglected and overgrown. No matter the shape or size, a well-planned and planted driveway entrance creates a visual journey with promises of what awaits your guests upon their arrival.
What does your driveway entrance say to passersby? What does it say about you? Is it drive-by worthy or just another unremarkable blip along the road. Do drivers want to slow down just to imagine what they might find if they turned in and ventured to see you?
---
Thursday, April 5th, 2012
---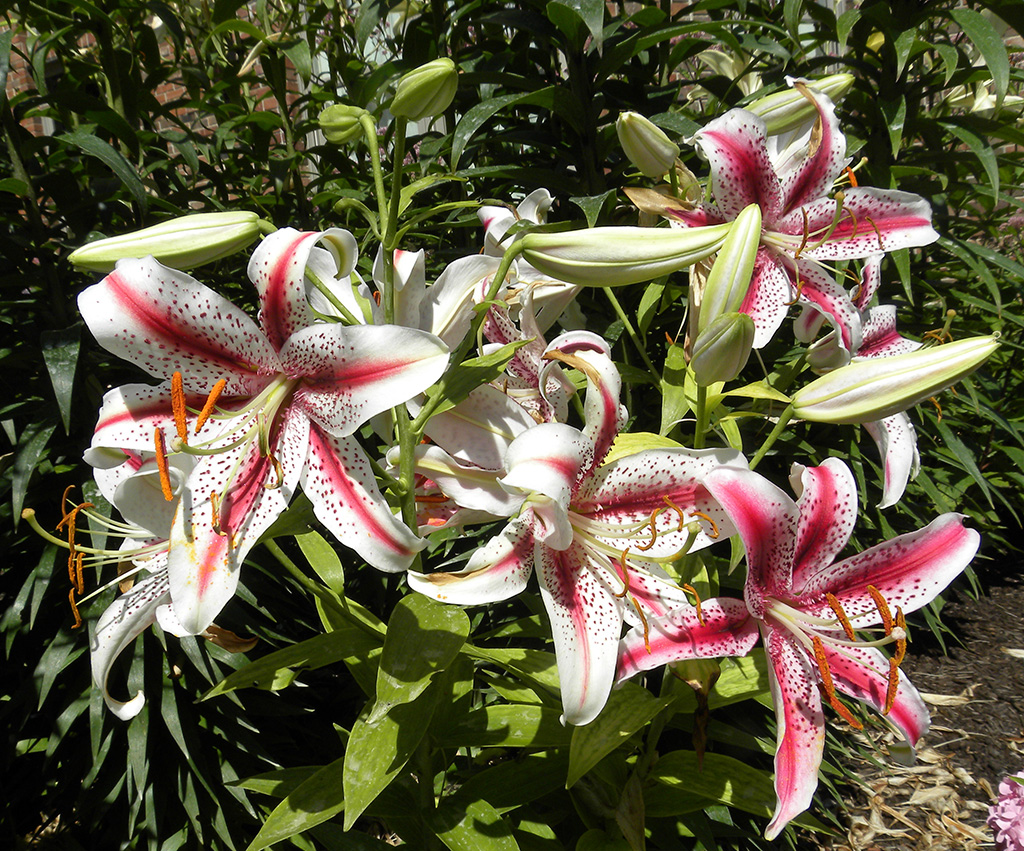 I always know summer is coming when I am driving along and smell fresh cut grass for the first time. That sweet, clean smell of summer makes my mind flash a thousand memories. Humans are visual beings by nature. Color and light attract us very powerfully, but fragrance can have a much stronger hold. Our sense of smell can bring back memories long forgotten. Unique among the senses, the scent message passes directly through the limbic system, the emotional center of the brain. When designing a garden both sight and smell can be addressed. There are many ways to bring fragrance into a garden.
---
Wednesday, March 7th, 2012
---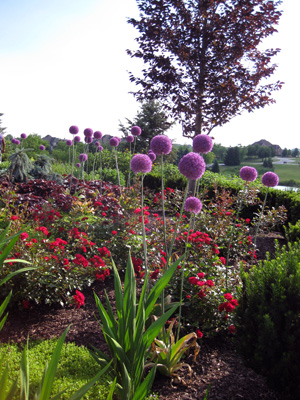 It's March, that wonderful month when we are all sick and tired of winter, snow, and being stuck indoors. When we get occasional hints of what is to come with spring, but alas winter is there to bring us back down. So here we sit; craving color and wishing we had planted those bulbs we promised ourselves last fall but never got around to. There is no need to despair though. We have potted bulbs to install in your landscape including Allium. Allium are a dramatic flower that look like gigantic violet, purple, or white lollipops. Some Allium can be planted all season and will flower into fall.
Allium Millennium is about 12 inches tall and has 2 inch balloon-like, pink/ purple flowers that bloom from July-September. Allium Alba has a white flower and is a little taller, but blooms just as long. If you are looking for later blooms try Allium Ozawa. It is a little shorter in stature and begins blooming in September and runs until November when the red/purple flowers give way to stunning gold and orange foliage. Allium also make wonderful cut flowers in the home. That is; if you can bear not seeing them in your garden.
So as we stare out our windows or prepare to put on that big winter coat again think about what is lying in wait under the surface of the soil. As winter slowly fades to spring our weary souls can rejoice at what is to come whether it be in the ground already or needs to be planted this summer.
---