Wednesday, April 12th, 2017
---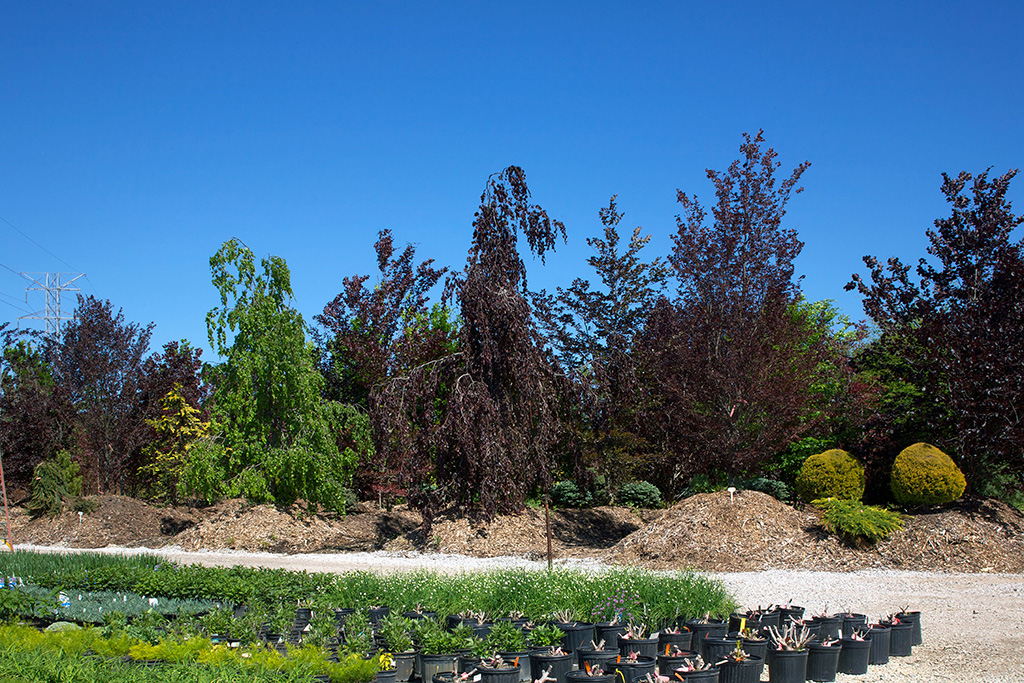 This weekend was not the first evidence of spring but, Wow! What a February. Who would of thought we would be firing up the grill and having a bonfire in February (yeah, I did that). Well, this is NW Indiana and spring surely was not here to stay. Beware of March. We saw everything from an 80 degree day to a blizzard, all of which were hard on not only us, but plants as well.
---
Monday, August 4th, 2014
---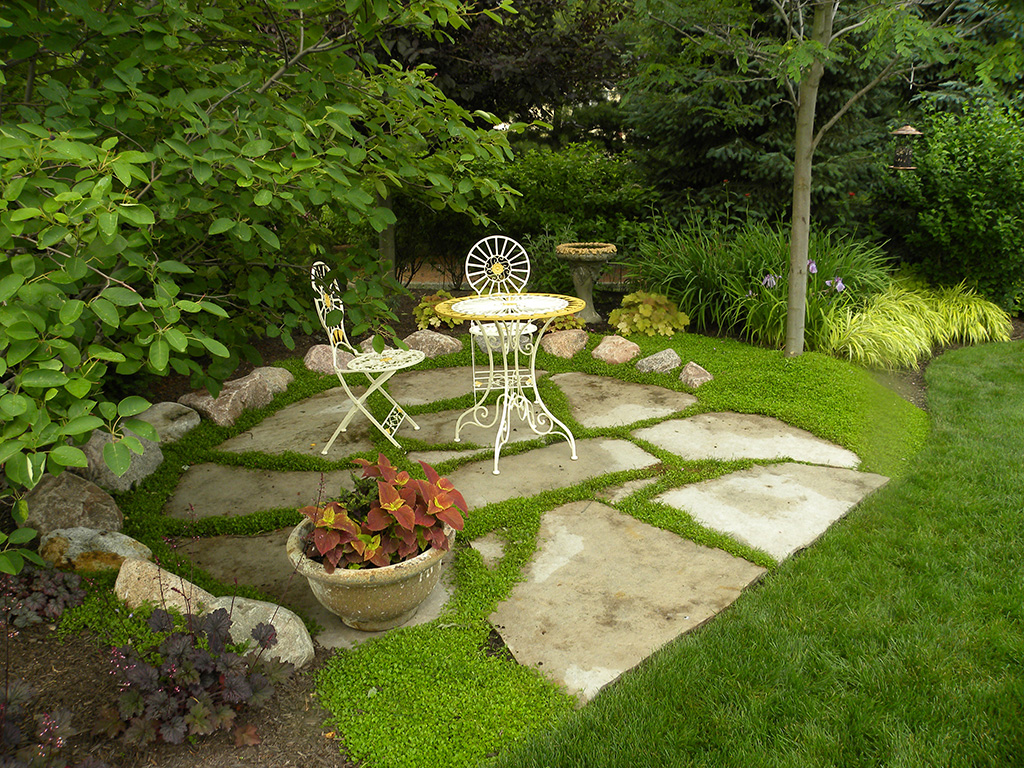 I have a woods behind my home which I love to take walks through. The forest is a stark contrast from my own yard which is full of sun. I love my sunny yard with its colors and sounds, but something happens when you walk in the shade under a canopy of leaves held by the sturdy trunks and branches of Maple and Beech trees. The temperature drops and a sheltered stillness enters your heart as you feel the protection of nature. When the sun peeks through the foliage nature's shade garden becomes vibrant with moss on fallen trees, ferns, and in spring Trillium, Blood Root, Jack in the Pulpits, and May Apples cover the forest floor.
---
Wednesday, May 1st, 2013
---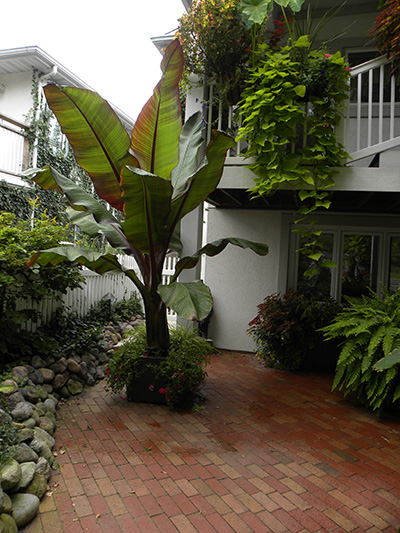 As I sit here and write this it is February. It is cold, grey, and dirty outside and the winter seems utterly endless. Yes, I know you are reading this in May and those freezing, rotten days seem like they were a lifetime ago. You see, February is usually when I head down to the tropics, but this year I did not go. Woe is me. Instead, I am getting my tropic fix sitting at my desk looking through supply lists from our producers. I am bringing the tropics here in the form of palm trees. We brought in 8 different varieties that are up to 8 feet tall. One of them is 'Bismark Silver Palm' which reminds me of Jurassic Park and dinosaurs. This variety as well as another, 'King Sago', has been around for the past 200 million years. What a history?!
In addition to the palm trees, we have 'Siam Ruby' banana trees, 'Birds of Paradise', Mandevilla Vines which are 5 feet tall in a teepee form, ground orchids, and that is just the tip of the iceberg (winter joke). Using combinations of these plants in containers and planted in beds will give a look that I would have loved to see this winter. Since a little tropical vacation was not in the cards this year then I have brought the tropics to Indiana. Now, what did I do with my margarita and by golly turn up the Jimmy Buffett!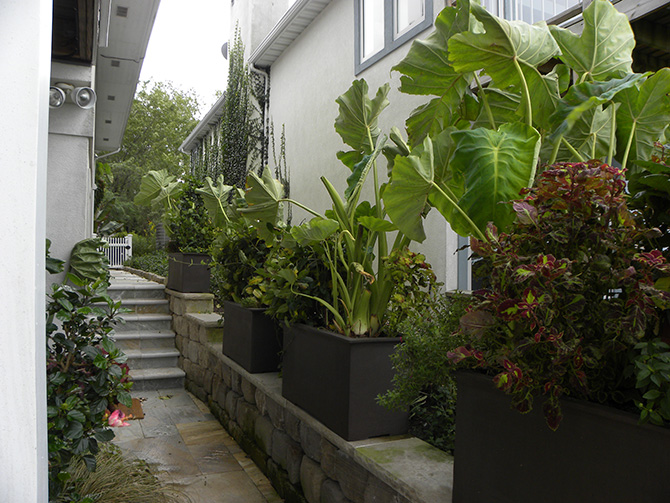 ---
Wednesday, October 10th, 2012
---
Confers (aka evergreens) are the ultimate four-season plant and the backbone of gardens. From cute, miniature pines to stately spruces, conifers come in all shapes, sizes, colors, and textures. Conifers are easy to grow if you choose the right plant for the right spot. The first thing to consider is size. You need to pick a conifer that will highlight the scale of your garden. A large conifer will quickly overwhelm a small garden, while a dwarf will be lost in a large space. The growing habit of a particular variety is very important. Some conifers grow glacially slow while others grow several inches to over a foot a year.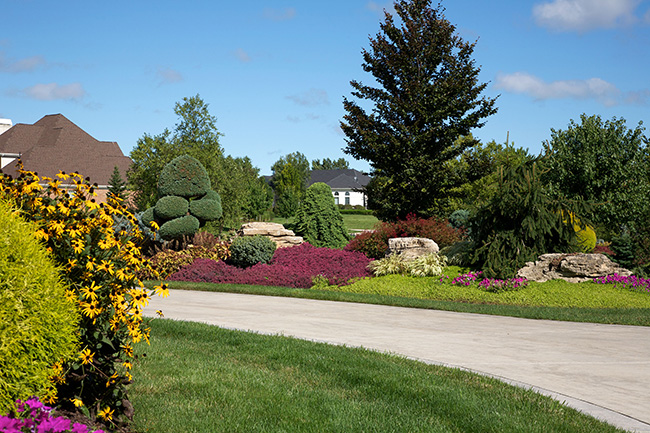 A specimen conifer will anchor a bed in winter and serve as a perfect backdrop to perennials in summer. We are always looking through our vast collection of rare and unusual specimens to choose exactly the right plant for a design. Even for us professionals find it challenging to identify a perfect fit, but the hunt is half the fun.
---
Monday, August 13th, 2012
---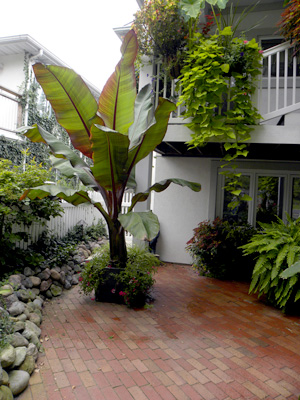 When was the last time you had your feet in the sand on a tropical beach? Remember the salty sweet ocean air, the warm breeze, and, of course, the palm trees. Those memories don't have to be limited to spring break and family vacations. You can bring that peaceful, tropical feeling to your own home and garden even here in the Midwest.
Elephant ears can help achieve that feeling in many forms. Colocasia (Taro Plant) is one of the oldest cultivated plants in the world, grown for more than 10,000 years. While we use them as a tropical accent in landscaping, they are most commonly grown as food. These plants produce long-stalked, heart shaped clumps that can tower up to 7 feet. They come in varied shades of green and even black leaves. They can be added to a landscape as a contrast or a centerpiece in a container.
Boasting many showy flowers, Mandevilla vines can climb over 20 feet and are great in containers and hanging baskets. Tropical hibiscus, with their extremely large blooms, give the appearance of a tropical island and they come in many colors. Of course, no tropical look would be complete without palm trees and banana trees. They affect more than the sense of sight. Their fronds rustling in the summer breeze can take you far from home in an instant.
The tropics are closer than you think. Just walk outside!
---
Thursday, April 5th, 2012
---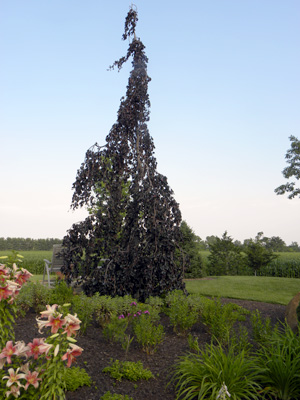 The time to plant a tree was twenty years ago. I remember years ago when I was young (Okay so it was a LONG time ago) an older couple came in to buy a tree. When my dad, Walter Small, told them how much the tree they wanted would cost in the size they wanted the wife began to cry. They both said they wish they had planted their tree twenty years before and they would have had a big beautiful tree that day.
As designers and landscapers we are always looking for new and interesting trees to supplement our native variety. We have an extensive collection of one-of-a-kind examples as well as more ordinary varieties all specifically chosen to highlight any location. One of the best parts about our profession is that we get to see unusual specimens almost every day. We have a passion for nature's innate beauty and a respect for man's desire to expand the palate available for us all to enjoy.
We are fortunate in this part of the country to boast many native forests and trees including Maples, Oaks, and Sassafras just to name a few. Who hasn't stopped in wonder at the awesome fall displays of these beauties or enjoyed the cooling shade under their branches in summer. Trees reduce the effects of the climate in our yards, support wildlife, and, of course, look good doing it. When we plant trees we are giving our land a sense of permanence. To plant a tree is to hope for a future beyond our own time.
---
Wednesday, March 7th, 2012
---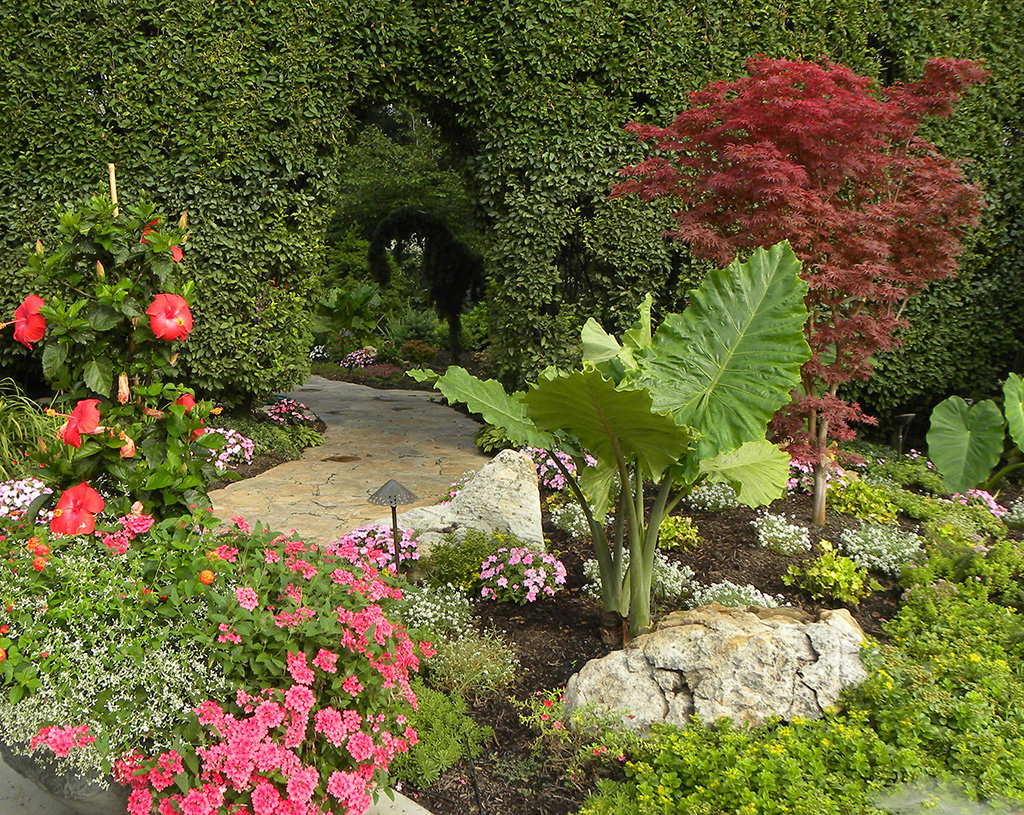 For drawing the center of attention from their beautiful structure in our winter landscape, the mind-blowing diversity of leaf shapes and vivid fall colors, nothing beats Japanese Maples. Whether you need a striking focal point to give your garden that extra wow factor or an anchor for your perennials and especially if you are pondering a treasure for a Japanese themed garden, look no further. Japanese Maples are unrivaled for textural elegance, architectural presence, changing foliage, and autumn brilliance. Japanese Maples have a long history dating back over 400 years in Japan. The first examples arrived in Europe around 1820 and later to America. Over the centuries over 1000 different varieties have been cultivated with names like Lion Head, Sieryu, Crimson Queen and Bloodgood just to name a few. The variations between varietals are astonishing. Some have leaves thin, thread-like leaves while other's leaves are almost round. Colors range from various shades of green to purples and reds. Variegated (multiple colored leaves) varietals are also available. Today's growers are still developing new Maples. One of our growers shared a story of how three specimens he created were dug up and stolen from his garden!
---