Monday, March 21st, 2016
---
After a few months of drab winter colors our spirits are in need of a lift. The joyous hints of green indicating emerging daffodils and the songs of the returning birds tell us Spring is about to pounce in full force. One of these coming days (maybe it already happened) you'll be taking that same old drive and where yesterday there was just a haze of green, today there is lush beauty all over the trees and lawns. The first Tulips might just be too much color to bear!
This is the star of another season. The potential is unlimited and the possibilities are endless. As the mercury rises and coaxes you outside to breathe in that sweet spring air it is time to roll up those sleeves and get your blood pumping. It is time to plant!
---
Monday, October 26th, 2015
---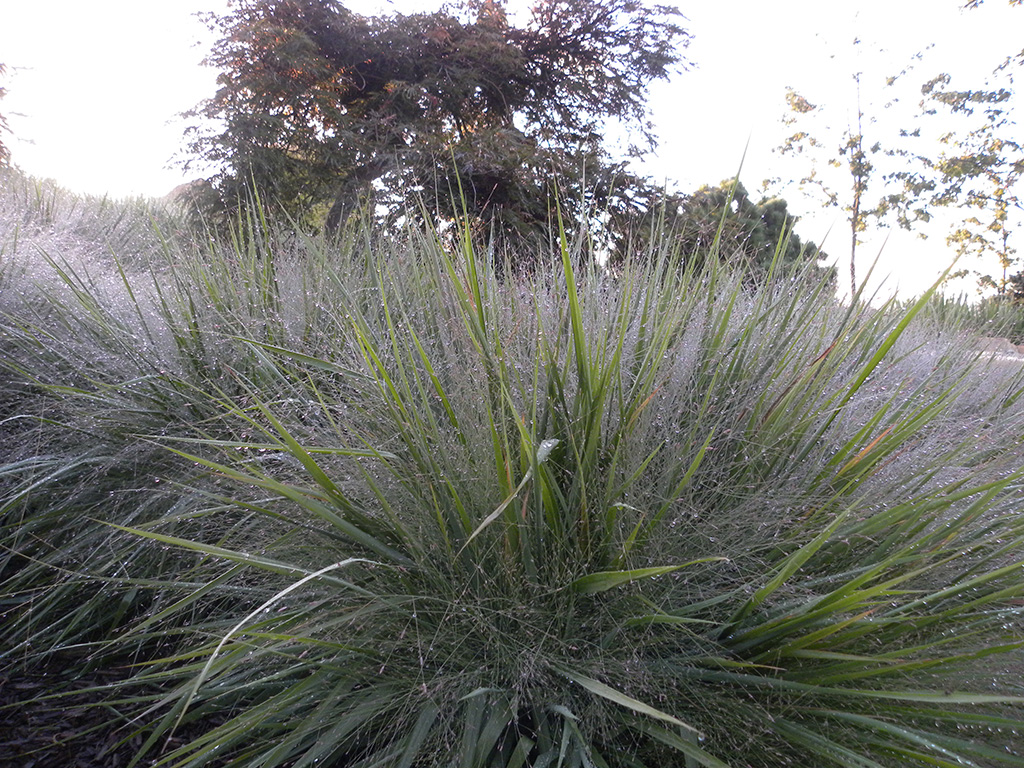 Grasses are great in the summer, but fall and winter are when they really shine. Grasses have wide variations in size, as well as blooms and color changing attributes which can begin in late summer and go through late fall. Here are some of our favorite grasses and they are legal in all fifty states!
---
Wednesday, October 8th, 2014
---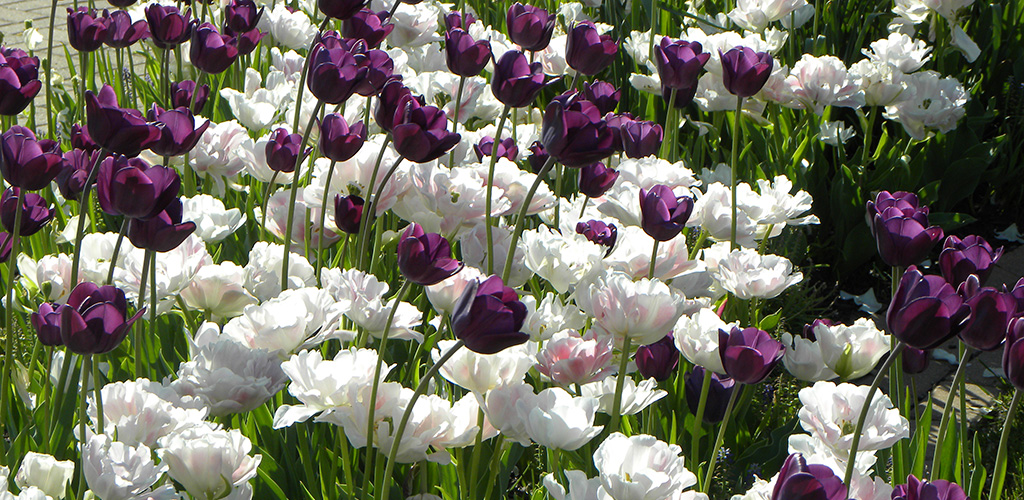 Last winter dragged on and on seemingly indefinitely. There was an audible sigh around the office when the first spring bulbs finally emerged from the bleak, cold winter. I really hope it doesn't happen, but if we have another excruciating winter wouldn't it be nice to have lots of colorful spring bulbs to cheer you up. Well, its too late in April to put those beauties in the ground.
---
Wednesday, October 8th, 2014
---
Did you know there is more to fall than leaves?
Callicarpia "Beauty Berry", also known as French Blueberry have some interesting attributes. In the early 20th century farmers would put the leaves under the harnesses of horses or rub the leaves on their clothing to repel mosquitos and biting flies. Native American tribes used the leaves, berries, and roots, for medicinal purposes. This day and age in the landscaping world Beauty Berry is a graceful plant with purple or lavender flowers in the summer and revealing bright purple berries after the foliage drops in the fall and which persist well into winter.
---
Wednesday, September 3rd, 2014
---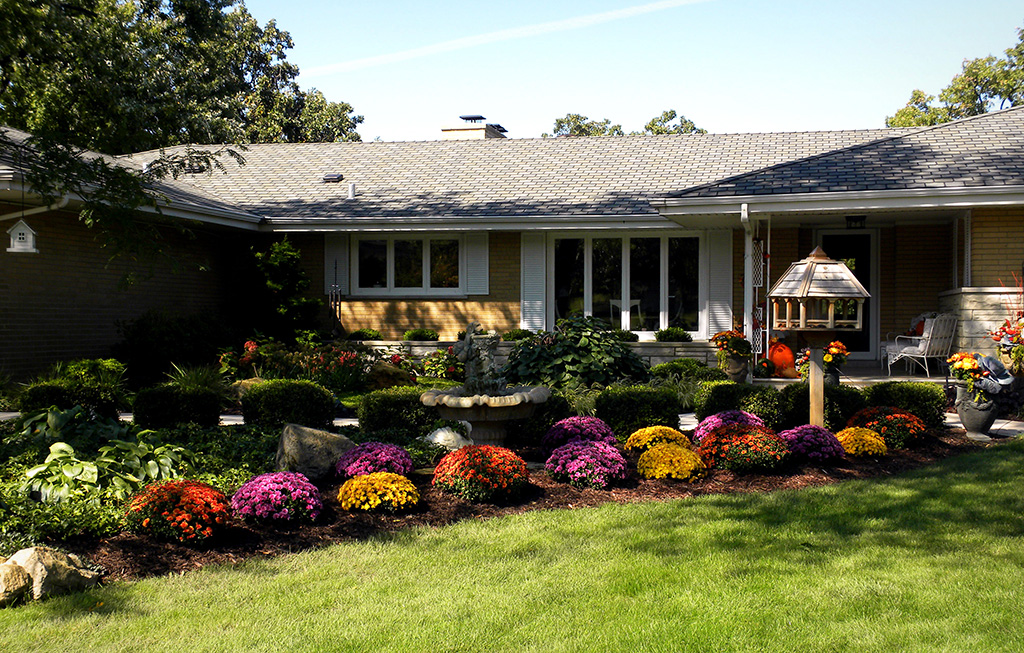 Fall is almost upon us. Our lovely bouquet of summer color is going to be losing its brilliance and now we are stuck with a bunch of mums, right? I think not! One of my all-time favorite fall flowers is Lespedeza, AKA Bush Clover. I just love this shrub. Lespedeza Gibraltar are easy to grow and like full sun. They get 4-5 feet tall and spread 5-10 feet and are covered blue-green leaflets. In fall they bloom with rosy, purple, pea-like flowers which are grouped in loose, pendulous flowers up to 2 feet long. This creates a arching fountain-like habit. With these in the yard everyone will be asking what they are.
---
Thursday, May 1st, 2014
---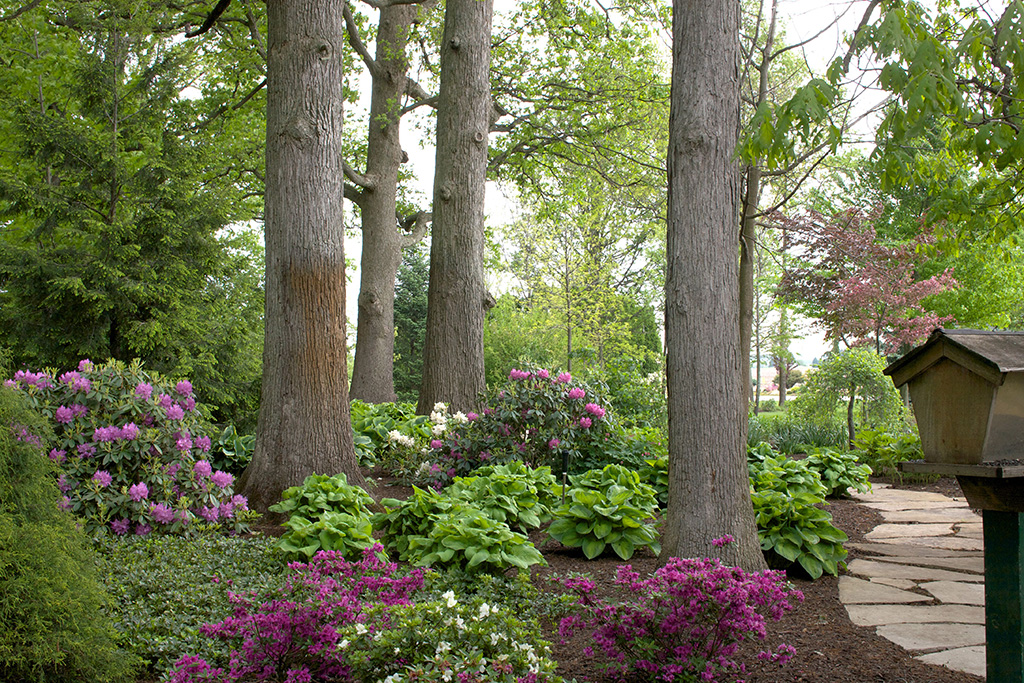 Nothing shouts Spring to me quite like the blooming of Azaleas and Rhododendron in May. Way back in our day (I don't care to say how long ago) our dad Walter Small had Rhododendrons imported from Holland as small baby plants. To this day a few of those old glorious beauties still alive in LaPorte.
When planted in masses, the flowering stalks can be breathtaking. Rhododendrons can also be utilized as foundation plantings. They can be a backdrop for perennials. Small groupings of Azaleas can have a similar effect with a different texture.
---
Thursday, January 30th, 2014
---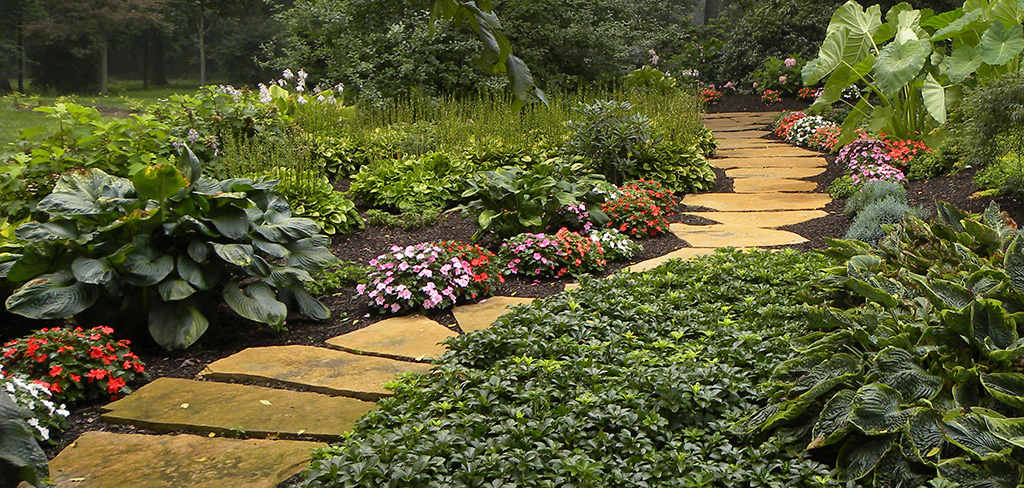 We don't like bad news, but here it is. Impatiens have been a part of our annuals program as long as we can remember. This year though, there will be a change. Downy Mildew, a parasite that kills impatiens, has taken hold so many of the usual impatiens are no longer viable. Several new varieties will be available next year, but in the meantime we will be replacing many impatiens with begonias. We would also like to warn you to be very careful if you choose to buy impatiens from retailers. Downy Mildew will certainly kill any plants that are not specifically tolerant to it.
---
Thursday, October 3rd, 2013
---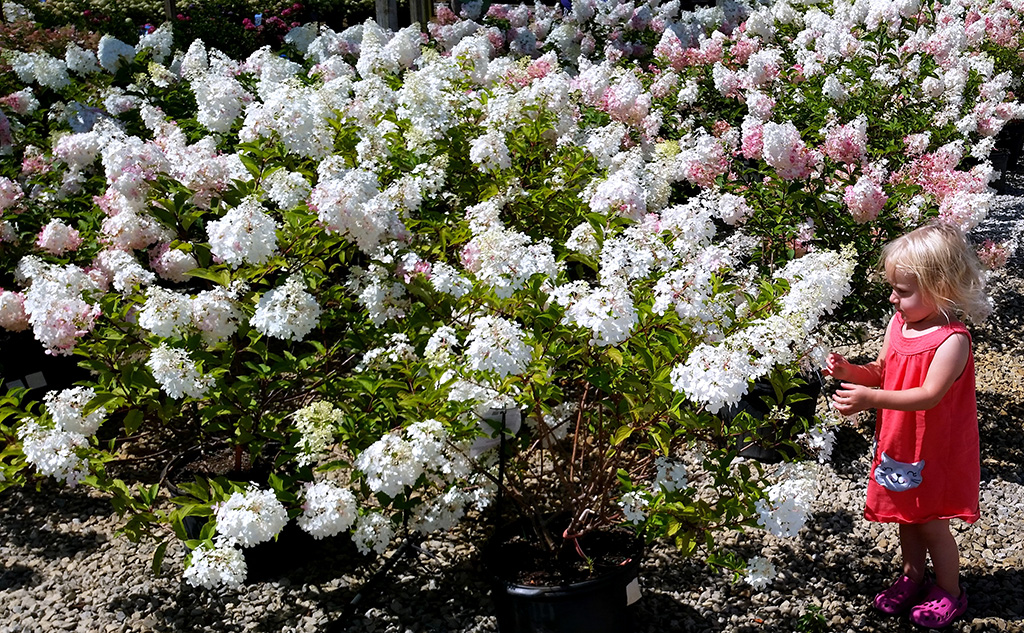 'Hydrangea Paniculata' sounds pretty fancy. Native to Japan and China, these panicled Hydrangea differ from their big-leafed sisters. They can grow in full sun and can be a large multi-stemmed shrub or a single stemmed, small tree.
One of my favorite Hydrangea Paniculatas is called 'Vanilla Strawberry'. This easy-growing, sun-loving example was discovered in France. It features enormous flower heads that bloom green and transition over the season from green to a creamy white, then to a blushy pink and ending the season in a rich, rose red color. Not only do the blooms change color as they mature, but the entire shrub changes its habits. Because the bloom heads are so large and therefore heavy the branches begin to droop. Meanwhile, new flower heads continue to appear with the full range of colors from green to carmine. With every glance a different look appears all summer long.
---
Thursday, July 11th, 2013
---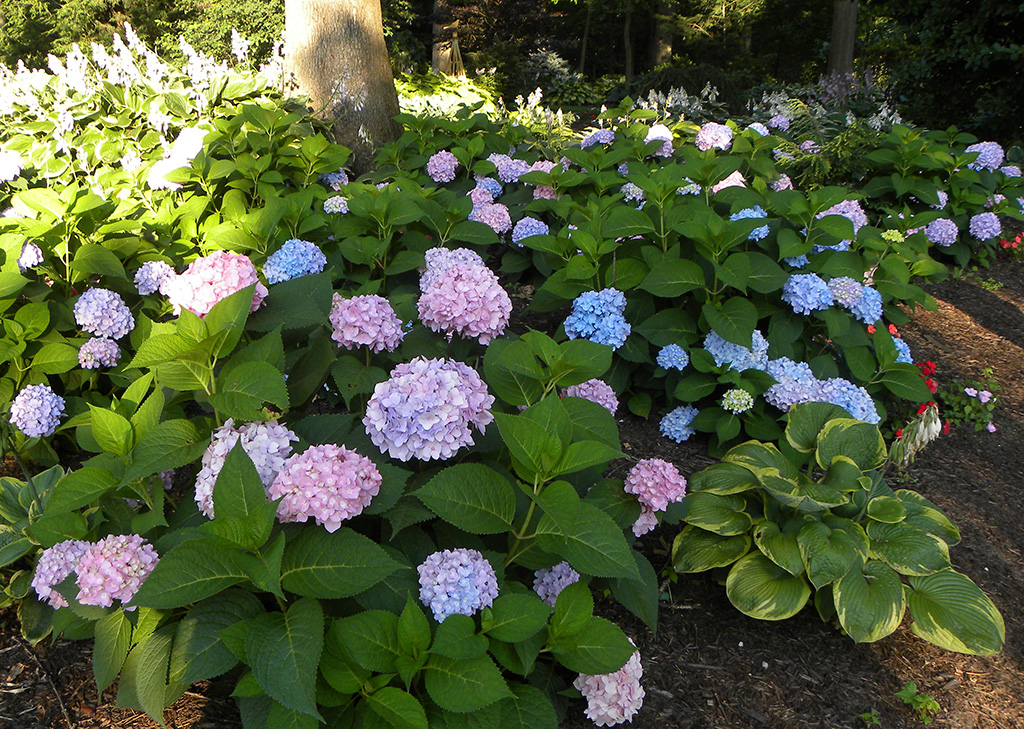 not our grandmother's hydrangea
Many of us remember hydrangeas of the past which had great foliage and very few flowers. Today we are falling in love with hydrangeas all of again with varieties that we never could have dreamed of as kids. We grew up around plants so watching new strains being developed over the years has been very exciting.
---
Tuesday, June 11th, 2013
---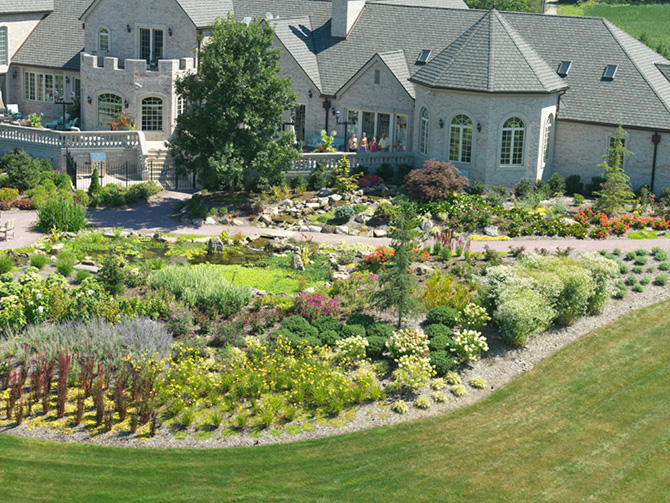 It is officially summer. Winter is far behind us. It is the time when our gardens soar into their peaks of brilliance with countless flowers in an endless array of colors. Perennials have long been dating back to the late 19th century in England and the Royal Botanic Gardens. Of course, Perennials appeared before then, but that was the first large scale garden made almost entirely of perennials. Previous gardens included medicinal plants as well as roses and bulbs. Perennials are relatively easy to grow and offer an endless variety of colors, forms, and textures. Perennials bloom throughout the season at varying times. The ultimate goal of a well-planned perennial garden is a consistent flow of color through the summer while textures change and growth patterns between the plants become a dance. Other pleasing side effects of a perennial garden are the attractions to hummingbirds and butterflies while birds sing in nearby trees. Of course, the wonderful fragrance of a perennial garden is an added bonus. To plant a garden is to believe in tomorrow.
---