Monday, October 24th, 2016
---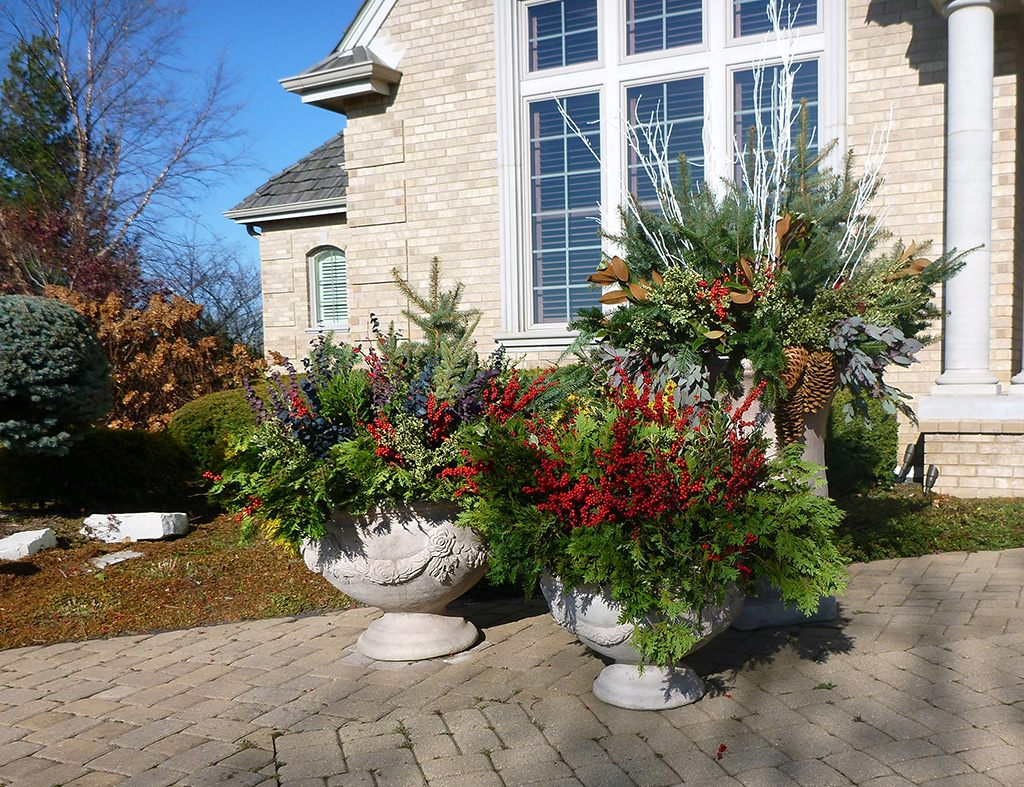 As I look out my window about half of the trees have transformed into gorgeous displays of oranges and reds. Rhonda just finished installing my fall container display and they look wonderful, as they always do. While I am the last person to start looking for the Christmas decorations (just ask my wife) I am actually looking forward to see what Becky and Rhonda come up with for the winter displays. Every year they get more interesting and unique while maintaining just enough tradition.
---
Monday, October 26th, 2015
---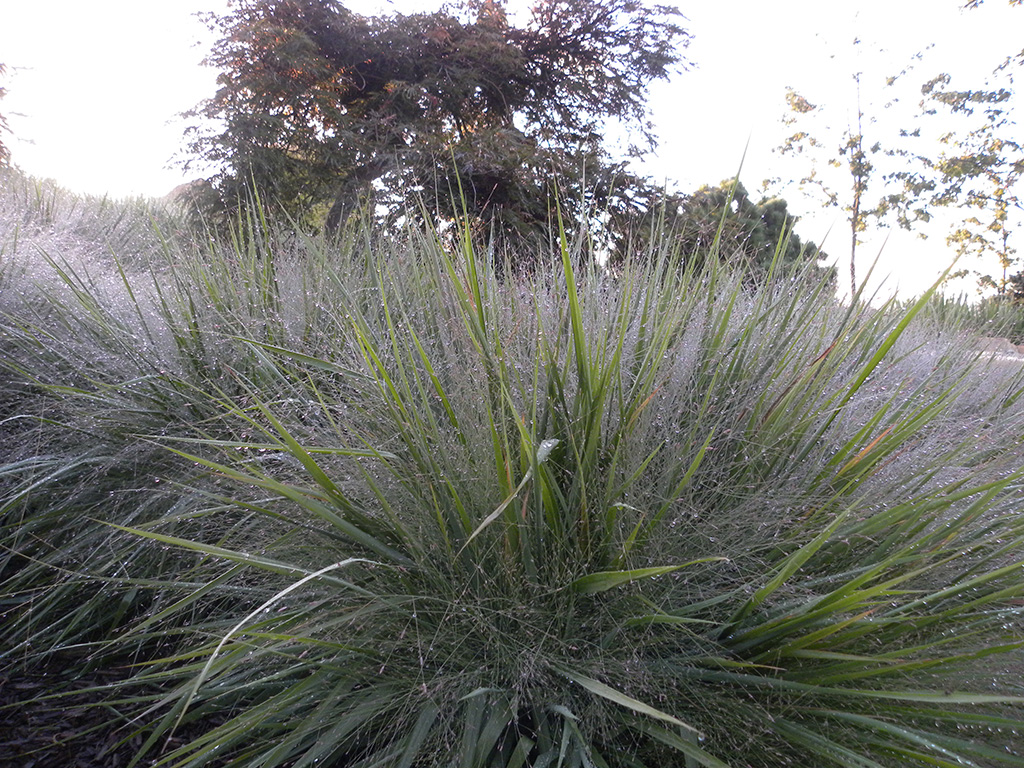 Grasses are great in the summer, but fall and winter are when they really shine. Grasses have wide variations in size, as well as blooms and color changing attributes which can begin in late summer and go through late fall. Here are some of our favorite grasses and they are legal in all fifty states!
---
Wednesday, October 8th, 2014
---
Here are a few wise sayings referring to our upcoming season…
---
Monday, March 31st, 2014
---
Life is all about perspective. Here is a new perspective on the polar vortex we had to endure this winter. The arctic weather we experienced this winter was difficult for us humans and we have the heating bills to prove it. Well, the weather also had a positive impact on the population of unwelcome insects.
---
Monday, March 3rd, 2014
---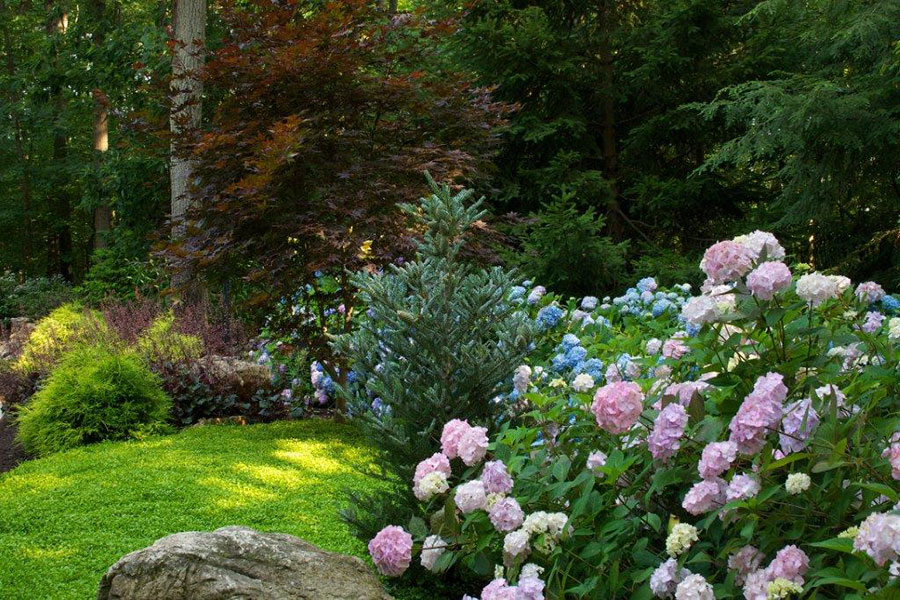 The so called "Polar Vortex" has been hard enough on man and beast. Your plants have also been going through and extreme test of fortitude the impact of which will not be fully evident until late spring or early summer. There are a few things to keep in mind when thinking about your plants' health. Leave the snow where it is. While the white fluffy stuff is cold it is actually an insulator for the plants beneath it. So when the air temperature dips to -40 the plants could still be at a balmy -8 which could mean all the difference. When the weather does finally start warming up leave your plants alone. Even though all you will want to do is play in the garden leave the pruners in the garage. The plants need time to wake from their winter hibernation. Big leafed hydrangeas, for example, may look dead but by pruning them now you can guarantee the flower buds will not survive for their summer glory. When it comes to the garden this spring just leave it alone. Do not pass go. Do not collect $200. There will be plenty of other outdoor things to do while you garden warms up and wakes up. Think Spring!
---
Thursday, January 30th, 2014
---
Yeah, it has been wicked cold this winter. It seems everyone has that one memory of the coldest, nastiest storm they remember. Nancy and Becky always use "The big storm of '78" as their benchmark. I don't know how many times I have heard the story of how they spent two weeks digging the county out using the big front end loaders. The snow was up to the cab and the loaders ran for weeks on end. Nancy, my mom, was pregnant with me at the time and was out working away. There is no rest for the weary in this family.
---
Wednesday, December 4th, 2013
---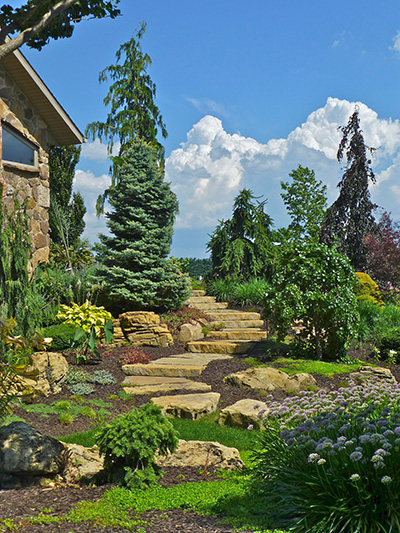 We always are asked, "How long do you work into the winter?". Well, our crews work outside until the ground is too frozen to put a shovel into it. We venture back outside when the ground thaws in the spring. This year that was a very late start. Two years ago we were able to work almost all year. If I remember correctly we only took a month or two off before we had that crazy hot March weather. Our design team works through the winter trying to get ahead of the rush of phone calls and design requests that inevitably come the first week of warm temperatures. We keep several of our team members busy all winter to help in the shop repairing and performing maintenance on all of our equipment. When that big rush hits in the spring we will be ready. Enjoy your holidays everyone. Spring will be here before you know it.
---
Friday, November 1st, 2013
---
Ilex Verticillata 'winterberry' against the colors of winter, gray, white, black, create a god sent contrast of bright cheer in the garden. If we know winterberry at all, most of us see it at holiday times in winter containers and other holiday decorations. It is much more than that though. As a native plant of North America it grows in sun and part shade and handles low, wet ground. It can grow from 3 to 15 feet tall. Unlike regular holly, winter berry drops its foliage in winter. One might think this would be a drawback, but it is actually a benefit. The lack of foliage enhances the display of bright berries. Humans aren't the only ones drawn to the spectacle of color. Song birds and other winter birds and wildlife are drawn to the plant. It also has healing properties. Native Americans were known to use the bark to heal cuts and bruises. They knew it as 'fever bush'. I guess I am old fashion though, I still like winterberry best in my winter containers, wreaths and garland making a bright statement in the winter palette of color.
---
Wednesday, March 7th, 2012
---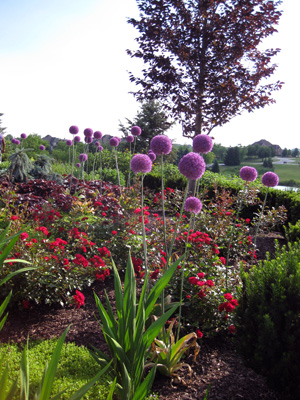 It's March, that wonderful month when we are all sick and tired of winter, snow, and being stuck indoors. When we get occasional hints of what is to come with spring, but alas winter is there to bring us back down. So here we sit; craving color and wishing we had planted those bulbs we promised ourselves last fall but never got around to. There is no need to despair though. We have potted bulbs to install in your landscape including Allium. Allium are a dramatic flower that look like gigantic violet, purple, or white lollipops. Some Allium can be planted all season and will flower into fall.
Allium Millennium is about 12 inches tall and has 2 inch balloon-like, pink/ purple flowers that bloom from July-September. Allium Alba has a white flower and is a little taller, but blooms just as long. If you are looking for later blooms try Allium Ozawa. It is a little shorter in stature and begins blooming in September and runs until November when the red/purple flowers give way to stunning gold and orange foliage. Allium also make wonderful cut flowers in the home. That is; if you can bear not seeing them in your garden.
So as we stare out our windows or prepare to put on that big winter coat again think about what is lying in wait under the surface of the soil. As winter slowly fades to spring our weary souls can rejoice at what is to come whether it be in the ground already or needs to be planted this summer.
---