Monday, October 24th, 2016
---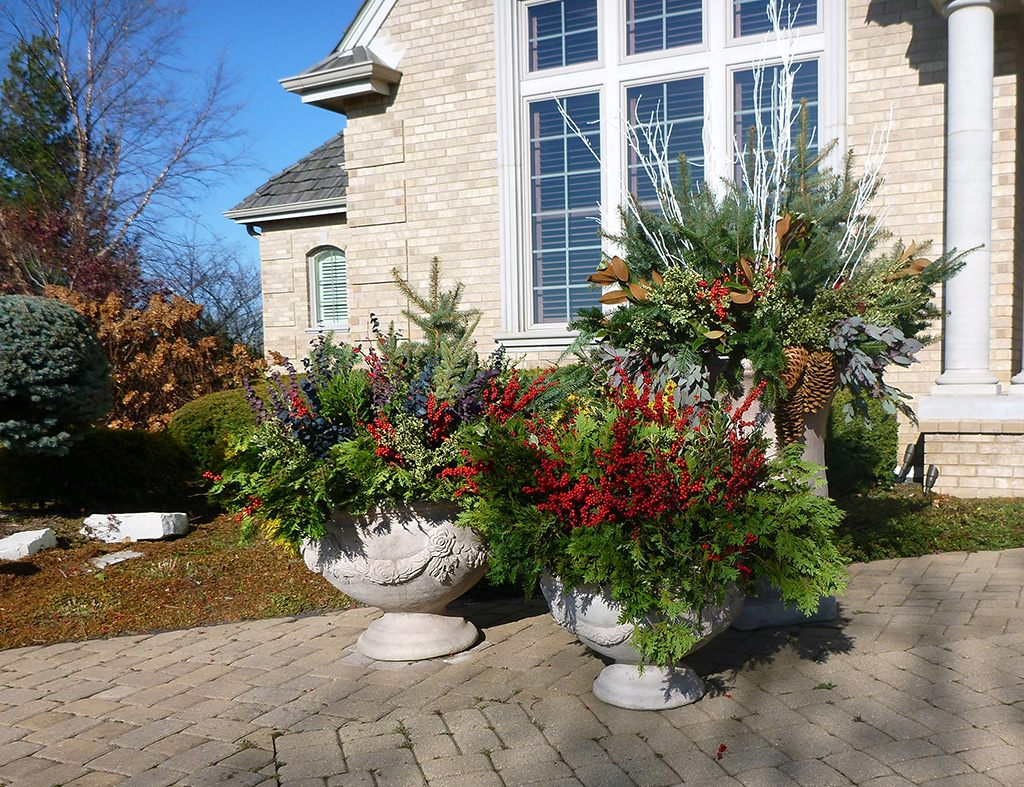 As I look out my window about half of the trees have transformed into gorgeous displays of oranges and reds. Rhonda just finished installing my fall container display and they look wonderful, as they always do. While I am the last person to start looking for the Christmas decorations (just ask my wife) I am actually looking forward to see what Becky and Rhonda come up with for the winter displays. Every year they get more interesting and unique while maintaining just enough tradition.
---
Wednesday, September 3rd, 2014
---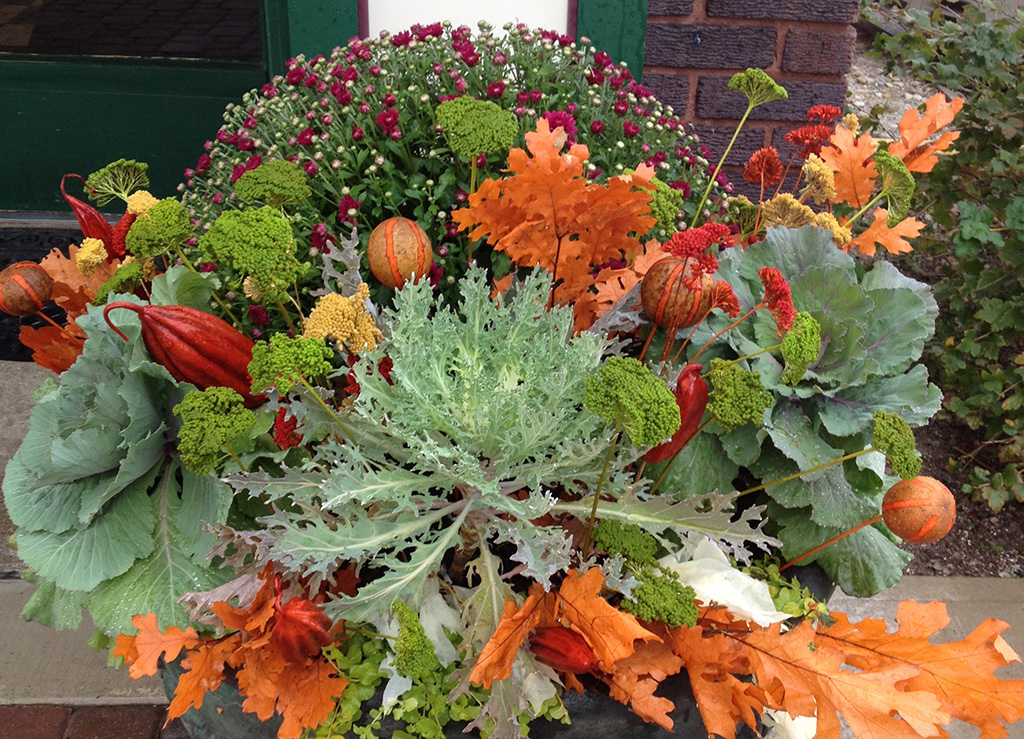 It is time for the color guard to change. As summer comes to an end it is time to start moving on to the next season, fall. As the summer blooms begin to lose their vibrancy and petals fall unceremoniously to the earth we can focus on the season to come with its own impressive pallet. Fall containers have their own identity and give a home a completely new feel.
---
Friday, November 1st, 2013
---
Ilex Verticillata 'winterberry' against the colors of winter, gray, white, black, create a god sent contrast of bright cheer in the garden. If we know winterberry at all, most of us see it at holiday times in winter containers and other holiday decorations. It is much more than that though. As a native plant of North America it grows in sun and part shade and handles low, wet ground. It can grow from 3 to 15 feet tall. Unlike regular holly, winter berry drops its foliage in winter. One might think this would be a drawback, but it is actually a benefit. The lack of foliage enhances the display of bright berries. Humans aren't the only ones drawn to the spectacle of color. Song birds and other winter birds and wildlife are drawn to the plant. It also has healing properties. Native Americans were known to use the bark to heal cuts and bruises. They knew it as 'fever bush'. I guess I am old fashion though, I still like winterberry best in my winter containers, wreaths and garland making a bright statement in the winter palette of color.
---
Thursday, October 3rd, 2013
---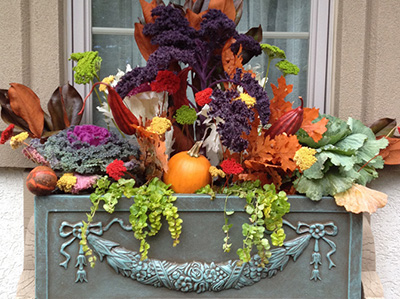 October is here. Summer is fading into a memory. The trees are beginning their transformation from the green we welcomed in spring to glorious reds, oranges, purples, and yellows. Trees aren't the only part of the garden going through a change. Your containers are going through their own transformation, but not quite as glamorously as your trees. It is time to replace your tired summer contents with bold, vibrant, colors and textures of fall. Large mums command attention and give a traditional fall look, but there are other plants that love cool weather and offer plenty of color and texture without the flowers. Purple and green kales with ruffled leaves, Perennials like Heuchera, grasses and asters provide beauty. For extra fun, color, and texture; dried oak leaves, Magnolia tips, Dogwood or Curly willow twigs, and dried Yarrow are the way to go. Don't let Mother Nature give your containers the cold shoulder. Glam them up with the vibrant hues of fall.
---
Wednesday, May 1st, 2013
---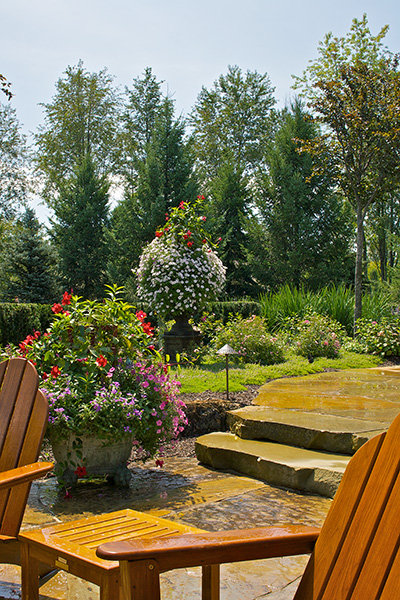 Keeping a containers and hanging baskets properly watered is definitely the hardest part of owning them. When Small's Landscaping comes out in spring and installs all of the beautiful new plants you are very gung-ho and water diligently. By the time August rolls around you start to slack off and think you can take a day or two or three off and lo and behold everything is dead.
A better option to your dead containers is drip irrigation. A drip irrigation system is a very adaptable, low-volume irrigation system that is perfect for hanging baskets, containers, and even flower beds. Drip systems limit wasted water usage by delivering water directly to soil. A drip system can be added to an existing automatic irrigation system or as a kit that attaches to an outdoor faucet with a timer.
So sit back and relax. Let the drip system take the daily chore out of your containers and hanging baskets.
---
Wednesday, May 1st, 2013
---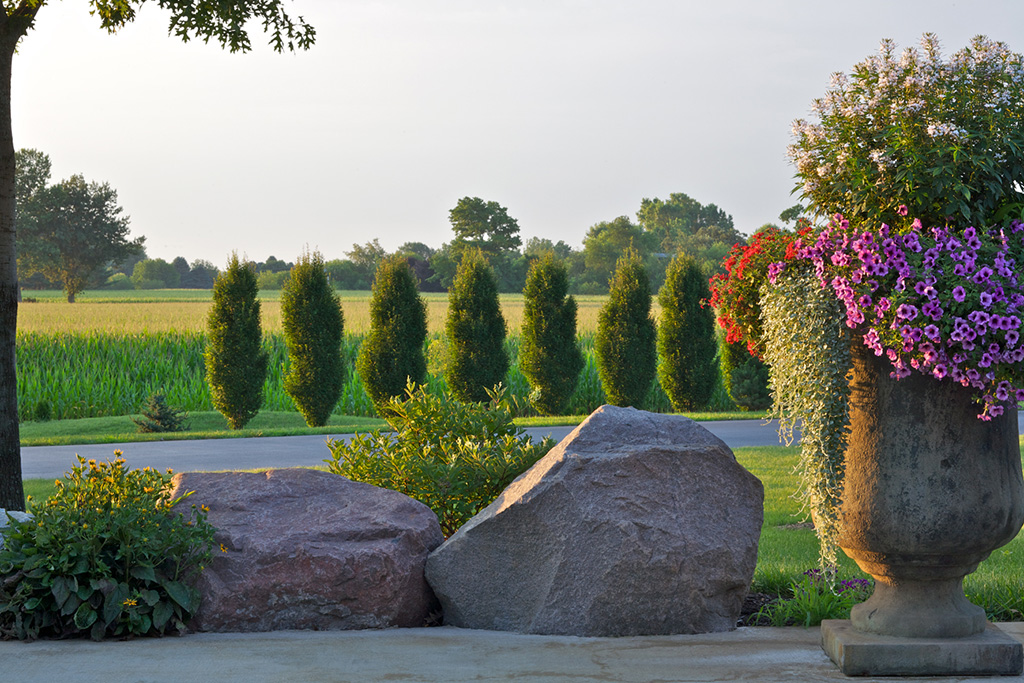 There is no question that the world is increasingly urban. As landscapers, this poses the question of; how do we landscape an apartment or a tiny patch of ground covered in concrete? The answer is a container garden. We have experienced fantastic growth in container gardening. A container garden is made up of hanging baskets and containers on the ground. They let you create attention-grabbing focal points with billowing blooms of color and greenery. Historically, containers were only planted in the summer with annuals. We have expanded into switching out the contents seasonally and using more and infinitely varied plants in the containers.
---
Thursday, May 17th, 2012
---
(not a story of MSU in the late 60's)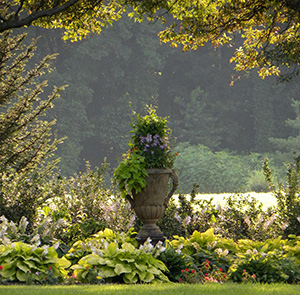 A successful container garden looks effortless. It is better to have few pots of high quality than clutter your space with small uninteresting pieces. We are always looking for unusual containers. We have been known to use old-world European, modern geometric, Asian inspired pots with clean lines, or even a traditional terra cotta with patina design. We have even gotten bold with glazed containers in fire-engine red. In Fact, this year alone we have spent about 40 hours researching new plants so our containers will have our signature, distinctive style. As with everything we do, we are always striving to be at the front of the pack in design and implementation.
---