Exotic Tropicals
Monday, August 13th, 2012
---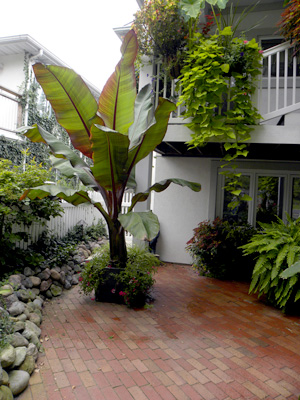 When was the last time you had your feet in the sand on a tropical beach? Remember the salty sweet ocean air, the warm breeze, and, of course, the palm trees. Those memories don't have to be limited to spring break and family vacations. You can bring that peaceful, tropical feeling to your own home and garden even here in the Midwest.
Elephant ears can help achieve that feeling in many forms. Colocasia (Taro Plant) is one of the oldest cultivated plants in the world, grown for more than 10,000 years. While we use them as a tropical accent in landscaping, they are most commonly grown as food. These plants produce long-stalked, heart shaped clumps that can tower up to 7 feet. They come in varied shades of green and even black leaves. They can be added to a landscape as a contrast or a centerpiece in a container.
Boasting many showy flowers, Mandevilla vines can climb over 20 feet and are great in containers and hanging baskets. Tropical hibiscus, with their extremely large blooms, give the appearance of a tropical island and they come in many colors. Of course, no tropical look would be complete without palm trees and banana trees. They affect more than the sense of sight. Their fronds rustling in the summer breeze can take you far from home in an instant.
The tropics are closer than you think. Just walk outside!
---
---