It's All About The Pot
Thursday, May 17th, 2012
---
(not a story of MSU in the late 60's)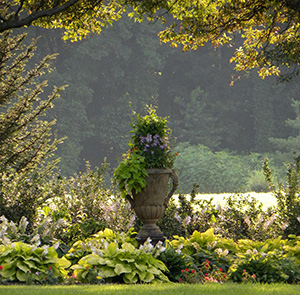 A successful container garden looks effortless. It is better to have few pots of high quality than clutter your space with small uninteresting pieces. We are always looking for unusual containers. We have been known to use old-world European, modern geometric, Asian inspired pots with clean lines, or even a traditional terra cotta with patina design. We have even gotten bold with glazed containers in fire-engine red. In Fact, this year alone we have spent about 40 hours researching new plants so our containers will have our signature, distinctive style. As with everything we do, we are always striving to be at the front of the pack in design and implementation.
Whatever style you choose, size is always a consideration. The larger the container the more soil the plants will have to thrive in. An imposing, large container can actually make a small space seem larger. Grouping pots by combining different sizes, styles, and colors can really amplify the visual interest. Plant combinations are unlimited. As your plants mature through the seasons various textures and colors emerge and disappear.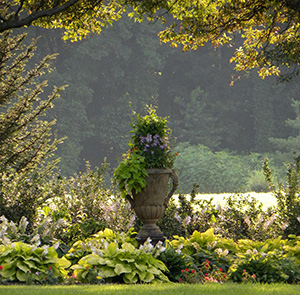 Remember that not all containers will work in all situations but the possibilities are endless. A solid design and execution are the cornerstones. Each situation dictates the right pot for the right place. What do you think? Does the plant make the container or is it all about the pot?
---
---