Largura Residence
Thursday, April 5th, 2012
HardscapesLandscapingMaplesTrees
---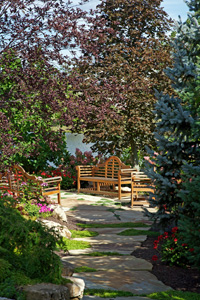 The challenges of this project were grading from front to back without any steps and a need for shade and enclosure. This particular project was developed over a period of one year. A huge commitment for a landscaper and client, but having designed other areas of this property over several previous years we had developed a wonderful working relationship with the client.
Weathered boulders and outcropping were incorporated into the landscaping to create raised planting beds. Mature conifers and specimen trees were installed for privacy and to enclose the yard. A Select flagstone path from the front yard down a gentle slope was installed with a teak bench seating area incorporated midway for the client to rest on and enjoy the view on their way to the lower patio.
Because of the client's love of burgundy leaves, a variety of Japanese Maples and Purple Leaf Beeches were used, along with grafted blue spruce, gold thread pom pom, Cream ball and fern spray gold cypress to highlight the burgundy leaves. These larger specimens were complimented with the use of miniature and dwarf conifers filling in the nooks and crannies.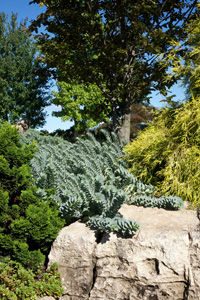 The client's landscaping was completed using varieties of sedums, sempervivums, euphorbia, hakonechloa grasses, andromeda blue ice and allium mountain garlic to create yet another dimension to the landscaping.
For the client this landscape project fulfilled their need and desire for enclosure, shade, and easy access to and from the front and back yard, as well as the love of burgundy leaves.
---
---