Nancy's World Famous Chocolate Chip Cookies
Tuesday, June 28th, 2016
---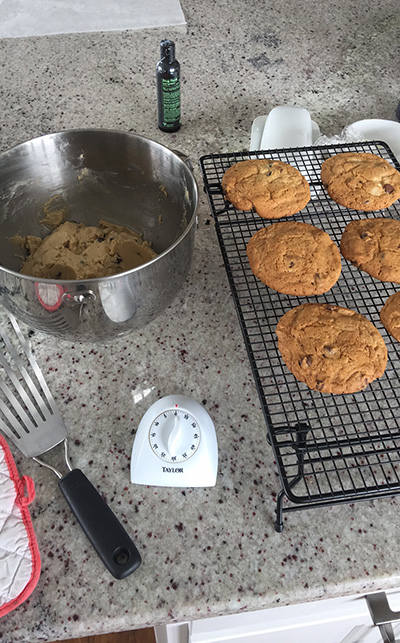 I have eaten thousands of these cookies. My mom used to make a couple batches a week when I was in high school. Between myself and my pals they didn't last long at all. They were typically paired with Tombstone pizzas and Mountain Dew! These are the cornerstones of any fine diet.
Mom(Nancy) used to mix these by hand until the great amounts of cookies required a mixer. She would say they taste better mixed by hand and she went back to hand mixing a couple years ago. You can do whatever you want. I use a mixer.
Mom also used Parkay Margarine. I have experimented with Parkay and Imperial and also butter. I like the butter taste best but the best texture seems to come from using margarine. I haven't mixed the two but if you are feeling frisky, go for it.
Ingredients:
2 3/4 cups all-purpose flour.
1 tsp baking soda
1 tsp salt
1 cup (2 sticks) butter or margarine (room temperature)
¾ cup granulated sugar
¾ cup packed brown sugar
1 tsp vanilla extract
2 large eggs
1.5 cups semi-sweet chocolate chips
Directions:
Mix the room temperature butter, eggs, brown sugar, vanilla, sugar, baking soda, and salt. Add the flour about a cup at a time until fully integrated. Lastly, add the chocolate chips and stir for 15 seconds.
Place the dough in the refrigerator overnight.
Preheat oven to 325 degrees. Bake on lightly greased cookie sheet. Use a normal table spoon to portion out cookies. Let bake about 15 minutes or until light brown in color. (my oven takes longer)
Enjoy! Best served with cold milk.
---
---