The Armagast Residence
Wednesday, March 7th, 2012
ArmagastsFire PitPoolWater Feature
---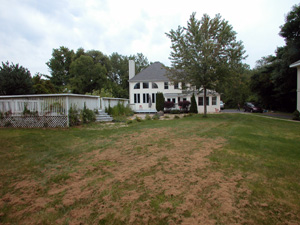 The owners wanted to create a backyard entertainment area for family and friends. Privacy, pool, outdoor kitchen, water features, fire pit, fishing, multiple seating areas and lush, colorful landscape areas were all very important. Crafting this design combined the needs and personal style of the client along with functionality in an aesthetically pleasing space.
Challenges were many. The house is situated on a 1300′ deep lot that is only 110′ wide, with one narrow access to the rear yard. The septic system could not be relocated forcing crews to work around it as well. An existing five acre pond was too shallow to support fish, which the owners wanted to add.
As project manager, we coordinated the installation of the pool, adding a new 400 amp electrical service, subpanels, and larger gas service. We buried thousands of feet of conduit, water lines, gas lines and drainage throughout the property. A gourmet, covered kitchen with built in heaters was built as a focal point to the backyard linking with the architecture of the home. Providing entertainment opportunities, a stereo system and lighting were also included.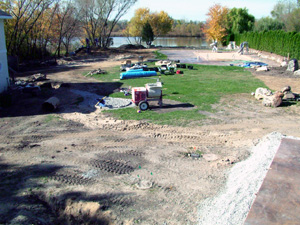 We began by clearing the front of the property. The existing edge of the pond in back was dug out. This provided a place for fish to be added. The clay removed from the pond was reused, by hauling it to the front to raise the grade by three feet. This eliminated the current drainage problem. In addition, 3000 yards of clay were hauled from the site.
The next challenge was to create a waterfall with views from three sides. The design was to have a 60,000 gallon waterfall flow towards the house and another 30,000 gallon waterfall flow to the pond in back. Smaller streams alongside were incorporated as offshoots to the main falls. This created a beautiful multi-sided view from the property, providing unity and balance converging as one.
Landscaping started with the installation of privacy hedges, creating an outdoor room atmosphere. Landscaping plantings were strategically placed to cover pool equipment and pumps used in the running of the waterfalls. Over 300 tons of moss covered boulders were utilized in this project. We also designed and built our own intake stand for the pump screen to keep them off the pond bottom. This prevented debris from entering the falls and streams.

Large evergreens and trees were than planted to create a mature landscape. Unusual specimens such as Sweet Sarah Fir, Walnut Glen Spruce and a variety of Parviflora Pines were used. Hundreds of Sedums filled the nooks and crannies of the boulders and along the stream. As we proceeded, the owners enjoyed each and every project after its completion, swimming in the pool, climbing the waterfall, fishing, volleyball, fires and more…
---
---