Tuesday, June 11th, 2013
---
Few sights in nature are more delightful than watching all types of butterflies flocking to sip nectar from flowers. As with many popular plants, new varietals of these aptly named bushes become available every year. New Butterfly Bushes on the scene this year are the Flutterby Petite series. Ultra-compact, growing only 3-4 feet tall these plants bloom continuously for 5 months. There are three varieties of Flutterby: Blue Haven, Richly-colored two-tone lavender blooms; Peach Cobbler, with silvery foliage that perfectly contrasts with its peachy/pink/orange sorbet colored flowers 'delicious!'; Tutti Fruitti, beautiful, bright fuchsia/pink with fragrant silvery/green foliage. Other varieties include 'Miss Molly'. "Good Golly Miss Molly", to quote Little Richard. Though not a Flutterby, this rich, sangria-red flower tops a compact plant blooming from July until it frosts. Ok, in review, Butterfly bushes bloom for 5 months, have highly fragrant flowers, are loved by butterflies while disliked by deer, and are easy to grow. What more could you ask for?!
---
Wednesday, May 1st, 2013
---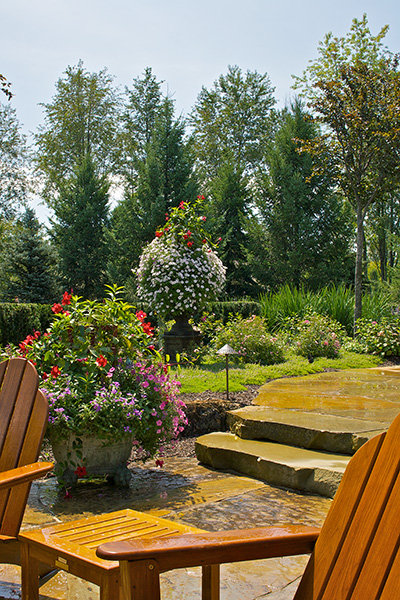 Keeping a containers and hanging baskets properly watered is definitely the hardest part of owning them. When Small's Landscaping comes out in spring and installs all of the beautiful new plants you are very gung-ho and water diligently. By the time August rolls around you start to slack off and think you can take a day or two or three off and lo and behold everything is dead.
A better option to your dead containers is drip irrigation. A drip irrigation system is a very adaptable, low-volume irrigation system that is perfect for hanging baskets, containers, and even flower beds. Drip systems limit wasted water usage by delivering water directly to soil. A drip system can be added to an existing automatic irrigation system or as a kit that attaches to an outdoor faucet with a timer.
So sit back and relax. Let the drip system take the daily chore out of your containers and hanging baskets.
---
Tuesday, April 2nd, 2013
---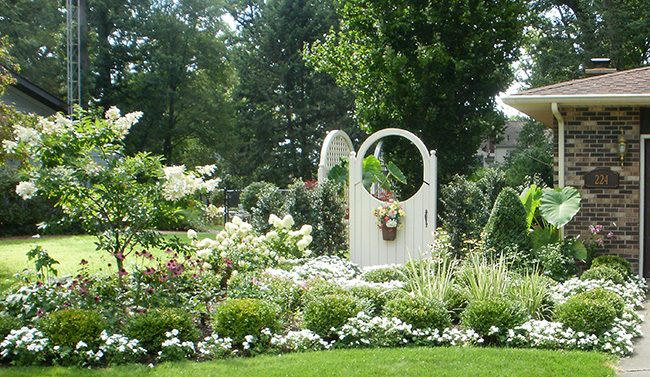 Serene, Simple, Sophisticated, Romantic: Just a few words to describe a white garden. A white garden entails white flowers combined with silver and blue toned foliage. The overall effect can be quite calming. A dark backdrop hedge such as Yew, Boxwood, or Holly sets off the bright white flowers, Small hedges can also be used to divide the garden into formal planting beds with each bed planted with different varieties of white flowers. When in bloom each bed overflows with a solid mass of white. Blooms erupt from behind the dark green hedge outlines. A white garden can be formal or informal; It can include a mix of flowering shrubs and trees or it can be a mix of bulbs, annuals, perennials and vines. Where will your white garden be?
---
Monday, March 4th, 2013
---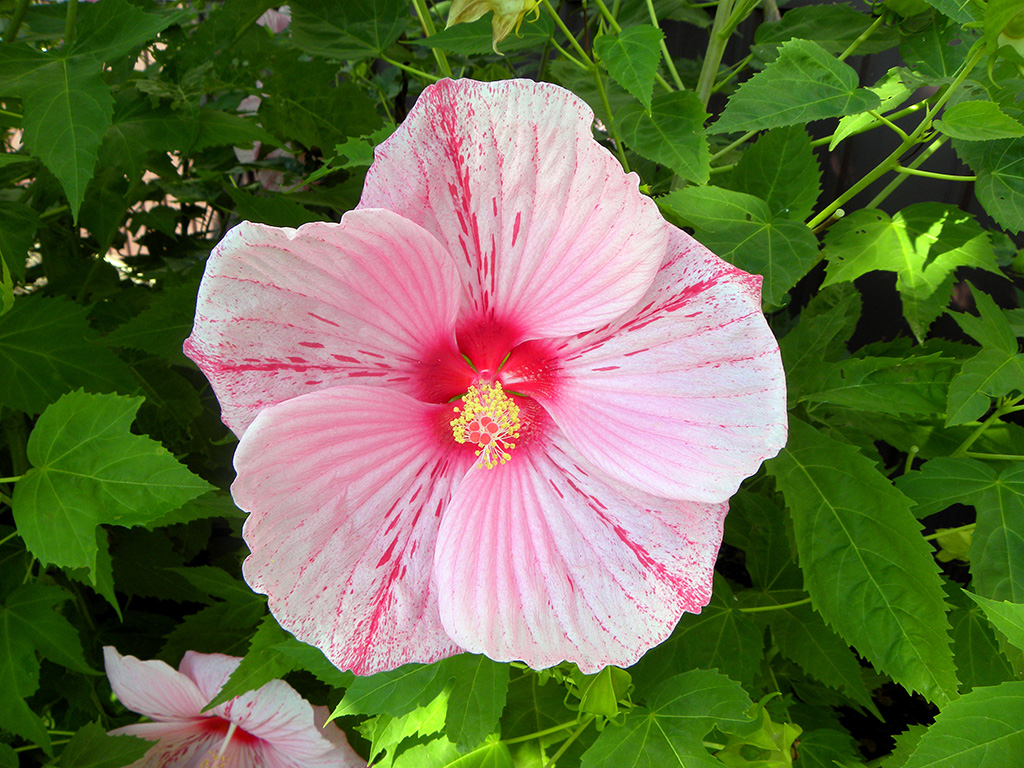 As many of you may know by now. We are on a never ending quest for new and interesting plants. Yet again, we have found them.
Few things make a statement in a garden quite like the glorious Hibiscus. Their gorgeous, lush foliage and enormous, vibrantly colored blooms are irresistible to birds and butterflies. The look of the tropics can be right at home. Hibiscuses bloom again and again during the growing season and are easy to care for too. So grab a glass of your favorite summer beverage and sit back and relax in your garden oasis.
---
Friday, January 11th, 2013
---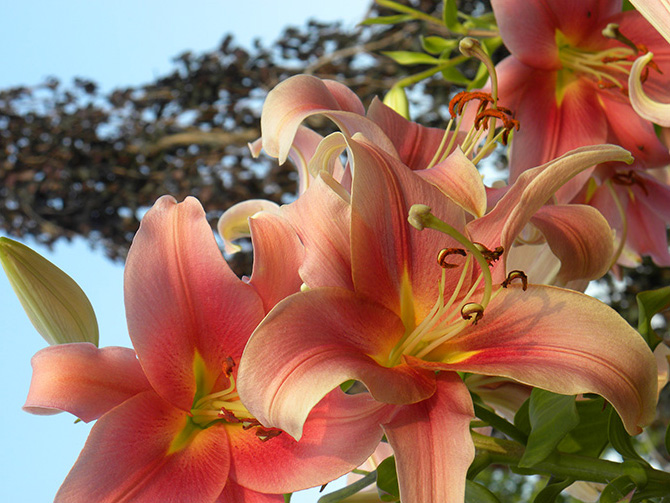 the drama queens of the garden
No other flower compares to lilies. These summer flowers explode with a rainbow of colors in varying height. Meanwhile the incredibly rich, heady, fragrance is beyond compare. These statuesque beauties are a must-have for a summer garden. Lilium (botanical name) range in color from white, yellow, pink, and red with varied stripes, spots, and margins. The height of Lilium ranges from about eighteen inches up to an astonishing ten feet. The shapes of the flowers and bloom times also vary from variety to variety. With all of this variation choosing a lily for your garden can be a daunting task. Here at Small's Landscaping, Becky pores over the various varieties searching for the best balance of heartiness, visual impact and uniqueness. With new varieties coming out every year it is quite a task.
---
Thursday, April 5th, 2012
---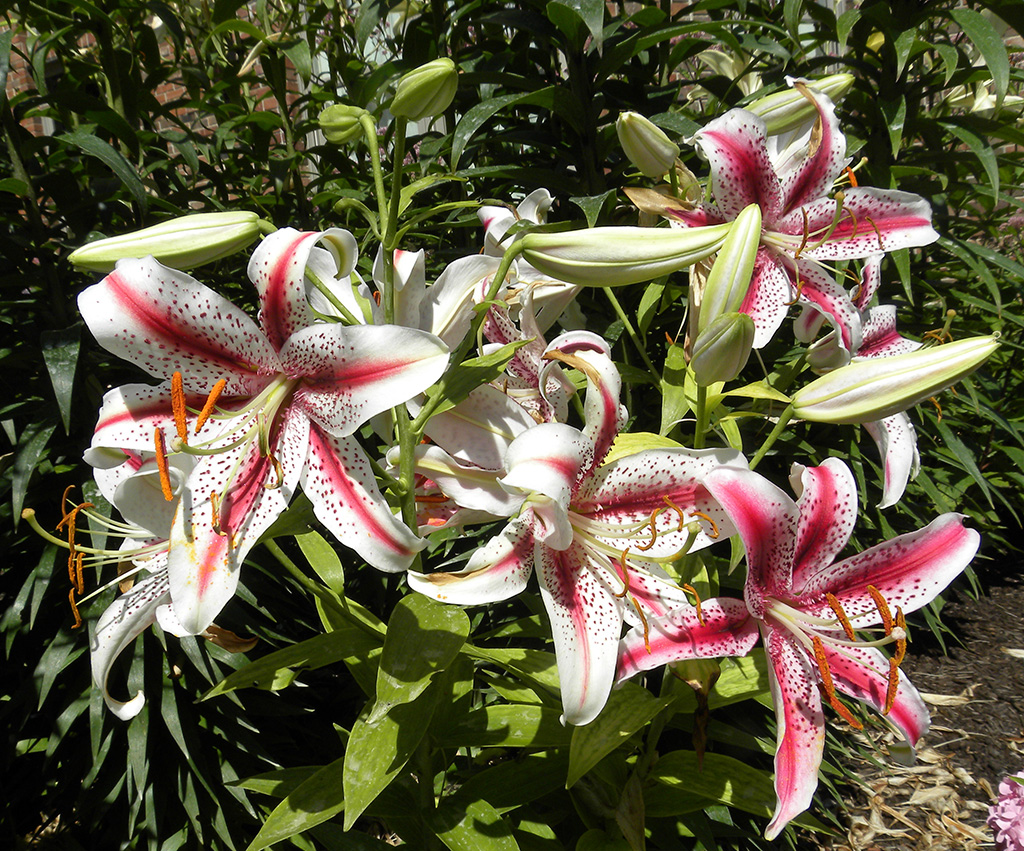 I always know summer is coming when I am driving along and smell fresh cut grass for the first time. That sweet, clean smell of summer makes my mind flash a thousand memories. Humans are visual beings by nature. Color and light attract us very powerfully, but fragrance can have a much stronger hold. Our sense of smell can bring back memories long forgotten. Unique among the senses, the scent message passes directly through the limbic system, the emotional center of the brain. When designing a garden both sight and smell can be addressed. There are many ways to bring fragrance into a garden.
---
Wednesday, March 7th, 2012
---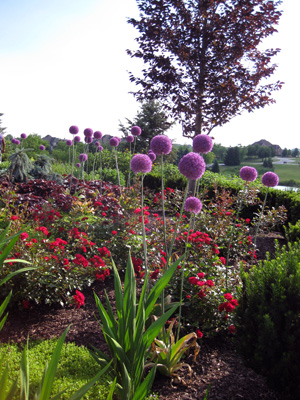 It's March, that wonderful month when we are all sick and tired of winter, snow, and being stuck indoors. When we get occasional hints of what is to come with spring, but alas winter is there to bring us back down. So here we sit; craving color and wishing we had planted those bulbs we promised ourselves last fall but never got around to. There is no need to despair though. We have potted bulbs to install in your landscape including Allium. Allium are a dramatic flower that look like gigantic violet, purple, or white lollipops. Some Allium can be planted all season and will flower into fall.
Allium Millennium is about 12 inches tall and has 2 inch balloon-like, pink/ purple flowers that bloom from July-September. Allium Alba has a white flower and is a little taller, but blooms just as long. If you are looking for later blooms try Allium Ozawa. It is a little shorter in stature and begins blooming in September and runs until November when the red/purple flowers give way to stunning gold and orange foliage. Allium also make wonderful cut flowers in the home. That is; if you can bear not seeing them in your garden.
So as we stare out our windows or prepare to put on that big winter coat again think about what is lying in wait under the surface of the soil. As winter slowly fades to spring our weary souls can rejoice at what is to come whether it be in the ground already or needs to be planted this summer.
---