Thursday, January 30th, 2014
---
Our website partner, LunaseaMedia, www.lunaseamedia.com, is working diligently to upgrade our website. New features will include, more social interaction, mobile friendly format, updated featured projects and a better organized news area! It was great before. We are excited to see how the next iteration turns out.
---
Wednesday, December 4th, 2013
---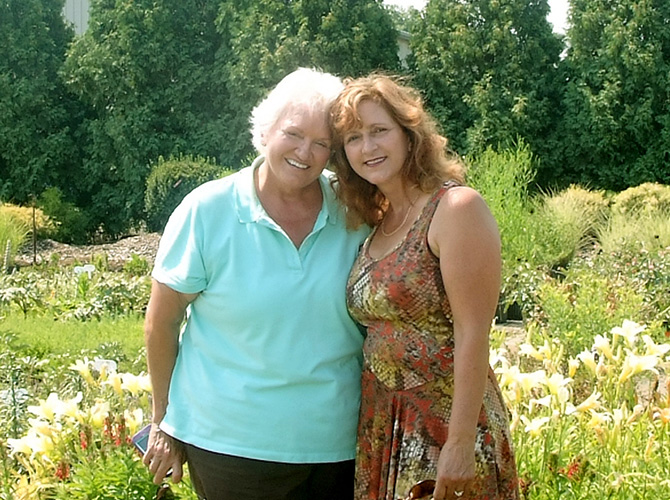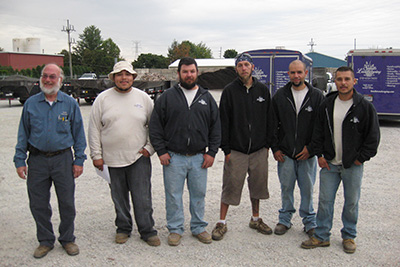 The end of the year is quickly approaching. As we finish our work season we just want to say thank you. Thank You! Thank You! Thank You! We had a busy year. Our team is rushing to finish holiday decorations and we have one last project we are trying to finish before the ground is too frozen to work. We want to thank our wonderful clients for letting us do our best for you. Without your continuous support we wouldn't be the company we are today. Thank you for letting our designers do their thing. Thank you for letting us tear up your yard and thank you for letting us put it back together the best way we know how. We are truly appreciative and look forward to serving you next year and beyond.
---
Wednesday, December 4th, 2013
---
Here are some highlights of our year at Small's. Thank you to all of our clients and team members for making this year a great success.
---
Wednesday, December 4th, 2013
---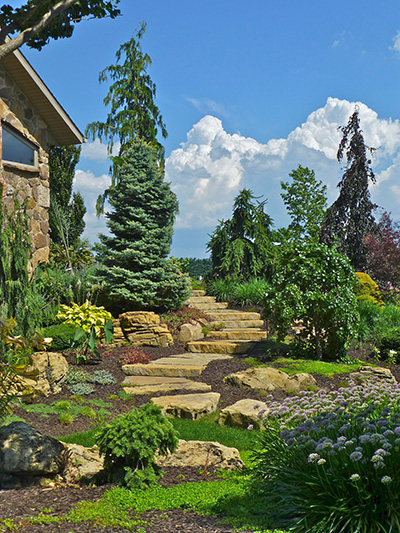 We always are asked, "How long do you work into the winter?". Well, our crews work outside until the ground is too frozen to put a shovel into it. We venture back outside when the ground thaws in the spring. This year that was a very late start. Two years ago we were able to work almost all year. If I remember correctly we only took a month or two off before we had that crazy hot March weather. Our design team works through the winter trying to get ahead of the rush of phone calls and design requests that inevitably come the first week of warm temperatures. We keep several of our team members busy all winter to help in the shop repairing and performing maintenance on all of our equipment. When that big rush hits in the spring we will be ready. Enjoy your holidays everyone. Spring will be here before you know it.
---
Wednesday, December 4th, 2013
---
This is more of a guideline than a recipe. This is what we put into our bloody marys around the home and office (after hours). We have been making these so long we don't really know what the measurements are. When available we use Becky's home made tomato juice which makes a superior beverage.
---
Friday, November 1st, 2013
---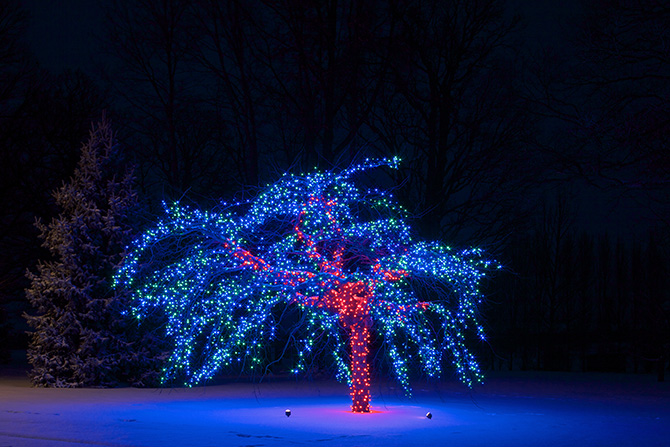 Holiday lighting can make a home magical during the holiday season. We all know what a chore putting up holiday lights can be that is why we will do it for you. Stay off the ladder and watch our team transform your landscaping into a nightly winter wonderland. We have been installing holiday lighting for several years now. We only use led lights and we even take them down for you. Holidays made easy!
---
Friday, November 1st, 2013
---
Ilex Verticillata 'winterberry' against the colors of winter, gray, white, black, create a god sent contrast of bright cheer in the garden. If we know winterberry at all, most of us see it at holiday times in winter containers and other holiday decorations. It is much more than that though. As a native plant of North America it grows in sun and part shade and handles low, wet ground. It can grow from 3 to 15 feet tall. Unlike regular holly, winter berry drops its foliage in winter. One might think this would be a drawback, but it is actually a benefit. The lack of foliage enhances the display of bright berries. Humans aren't the only ones drawn to the spectacle of color. Song birds and other winter birds and wildlife are drawn to the plant. It also has healing properties. Native Americans were known to use the bark to heal cuts and bruises. They knew it as 'fever bush'. I guess I am old fashion though, I still like winterberry best in my winter containers, wreaths and garland making a bright statement in the winter palette of color.
---
Friday, November 1st, 2013
---
Winter is moments away. Fall cleanups will begin soon. This includes blowing leaves, cutting down perennials, and mulching when necessary. We can also empty your containers and install winter greens. We leave grasses up until spring so you have some winter height. If you are not on the list for this service give us a call. We do not begin fall cleanups until ALL of the leaves fall so if you are on the list we are waiting for that to happen. Our team of seasoned veterans will have your place looking tip top in no time.
---
Friday, November 1st, 2013
---
I have been enjoying these cookies for decades. They are slightly chewy and very delicious. I remember getting them in care packages in college (and beyond). The key is to not overcook them. Keep an eye on the first couple batches to see how long it takes your particular oven to get them perfect.
---
Thursday, October 3rd, 2013
---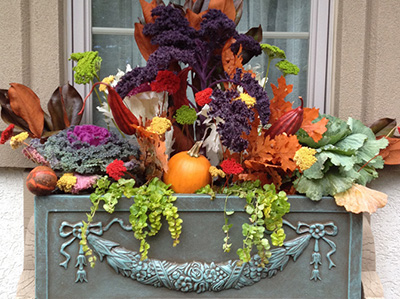 October is here. Summer is fading into a memory. The trees are beginning their transformation from the green we welcomed in spring to glorious reds, oranges, purples, and yellows. Trees aren't the only part of the garden going through a change. Your containers are going through their own transformation, but not quite as glamorously as your trees. It is time to replace your tired summer contents with bold, vibrant, colors and textures of fall. Large mums command attention and give a traditional fall look, but there are other plants that love cool weather and offer plenty of color and texture without the flowers. Purple and green kales with ruffled leaves, Perennials like Heuchera, grasses and asters provide beauty. For extra fun, color, and texture; dried oak leaves, Magnolia tips, Dogwood or Curly willow twigs, and dried Yarrow are the way to go. Don't let Mother Nature give your containers the cold shoulder. Glam them up with the vibrant hues of fall.
---