Tuesday, June 11th, 2013
Fire PitGround CoverHardscapesLandscapingTrees
---
This month we have a new case study for our readers. Many people want to know what Nancy's house looks likes. Well, here it is. This property won the 2012 Indiana Nursery and Landscape Association's Award of Excellence in Residential Landscape Design/Build category.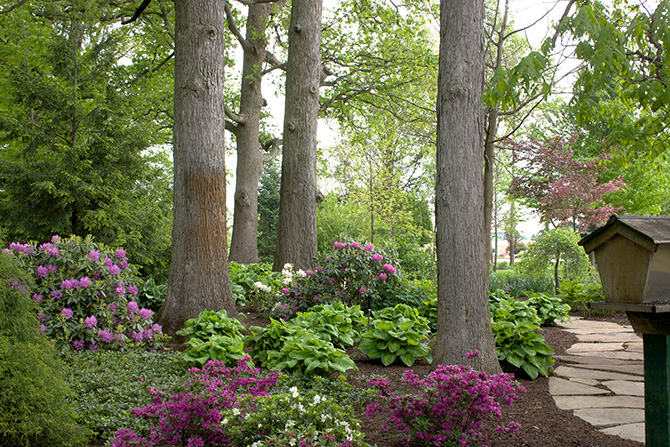 Where do we begin with this one? From the day ground was broken for the house over Twelve years ago this property was designed to be a landscaping marvel. The house is situated among hundred year old oak trees. During construction Nancy & Roger were adamant about large equipment encroaching upon the roots of the trees. The construction site was cordoned off to within 15′ of the house. This insured that there would be no construction equipment/traffic over the roots of the existing old growing trees. All but one survives to this day. In the shade of the large old growth trees live dozens of Hosta varieties. There are multiple flagstone paths leading from garden to garden as well as strips of green grass that form their own pathways around the acres of gardens. Nancy & Roger are both very passionate about plants and either one of them could discuss for hours the various intricacies from species to species and subspecies to subspecies.
---
Tuesday, June 11th, 2013
---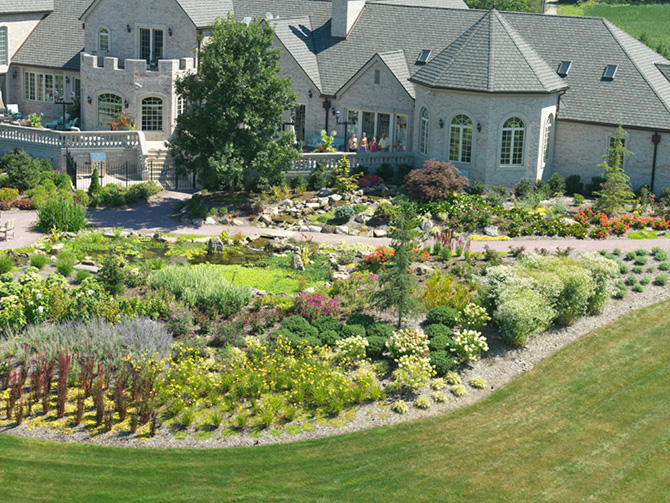 It is officially summer. Winter is far behind us. It is the time when our gardens soar into their peaks of brilliance with countless flowers in an endless array of colors. Perennials have long been dating back to the late 19th century in England and the Royal Botanic Gardens. Of course, Perennials appeared before then, but that was the first large scale garden made almost entirely of perennials. Previous gardens included medicinal plants as well as roses and bulbs. Perennials are relatively easy to grow and offer an endless variety of colors, forms, and textures. Perennials bloom throughout the season at varying times. The ultimate goal of a well-planned perennial garden is a consistent flow of color through the summer while textures change and growth patterns between the plants become a dance. Other pleasing side effects of a perennial garden are the attractions to hummingbirds and butterflies while birds sing in nearby trees. Of course, the wonderful fragrance of a perennial garden is an added bonus. To plant a garden is to believe in tomorrow.
---
Tuesday, June 11th, 2013
---
Few sights in nature are more delightful than watching all types of butterflies flocking to sip nectar from flowers. As with many popular plants, new varietals of these aptly named bushes become available every year. New Butterfly Bushes on the scene this year are the Flutterby Petite series. Ultra-compact, growing only 3-4 feet tall these plants bloom continuously for 5 months. There are three varieties of Flutterby: Blue Haven, Richly-colored two-tone lavender blooms; Peach Cobbler, with silvery foliage that perfectly contrasts with its peachy/pink/orange sorbet colored flowers 'delicious!'; Tutti Fruitti, beautiful, bright fuchsia/pink with fragrant silvery/green foliage. Other varieties include 'Miss Molly'. "Good Golly Miss Molly", to quote Little Richard. Though not a Flutterby, this rich, sangria-red flower tops a compact plant blooming from July until it frosts. Ok, in review, Butterfly bushes bloom for 5 months, have highly fragrant flowers, are loved by butterflies while disliked by deer, and are easy to grow. What more could you ask for?!
---
Saturday, June 1st, 2013
---
Riverfront Backyard Makeover
Project by Small's Landscape
The family in the Dyer, Indiana, residence wanted to create a private backyard entertainment area with a pool, outdoor kitchen, fire pit, multiple seating areas, fishing pond and dramatic water features surrounded by lush, colorful landscaping areas. Crafting this design combined the needs and personal style of the client with streamlined function in a visually arresting space.
Challenges were many. The house sits on a long and narrow lot, with a single access to the rear yard. The septic system could not be relocated, forcing crews to work around it as well. An existing five-acre pond was too shallow to support fish, which the owners wanted to add. The front yard had a considerably low grade.
---
Friday, May 24th, 2013
---
By Gabrielle Gonzalez
Staff writer
219-326-3870, ext. 3870
[email protected]
La PORTE – With more than 30,000 different trees and varieties of flower species, Small's Landscaping isn't so small.
Originally established in La Porte, Small's now conducts business at their massive nursery at 310 North 325 East in Valparaiso.
Landscape designer Becky Whitacre and her sister, Nancy Marshall, recently received a high honor for their implementation of an elaborate landscape for a home. They were awarded as Total Landscaping Care Magazine's North American 2013 Landscaper of the Year.
---
Wednesday, May 1st, 2013
---
Haven't you always wondered what an award winning landscape designer's house looks like? Well coming up in on Saturday June 29th, 2013 from 9AM-4PM you will have your chance to walk the grounds at Nancy's Home. There will be a garden walk hosted by the Master Gardeners of Valparaiso. Nancy and her husband Roger have been working on their gardening masterpiece for over a decade. Roger is as passionate about plants as Nancy and their passion shows with surprises around every corner. There are shade gardens, sun gardens, and hundreds of unique and one-of-a kind plants scattered through the property. It will definitely be worth the trip. We can't wait to see you there.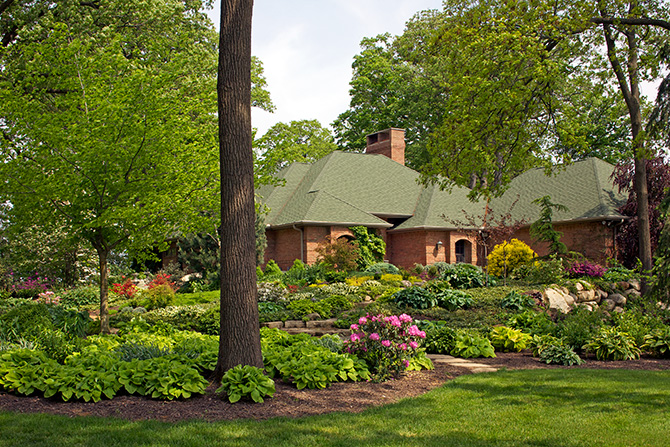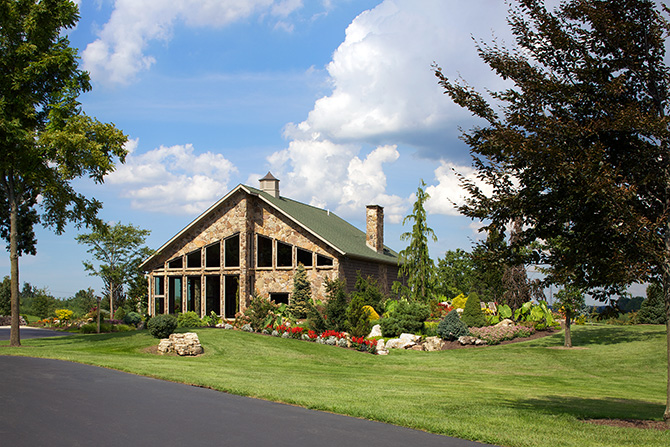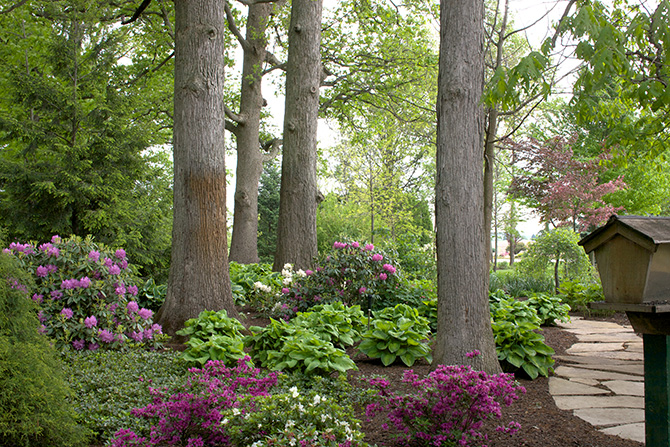 ---
Wednesday, May 1st, 2013
---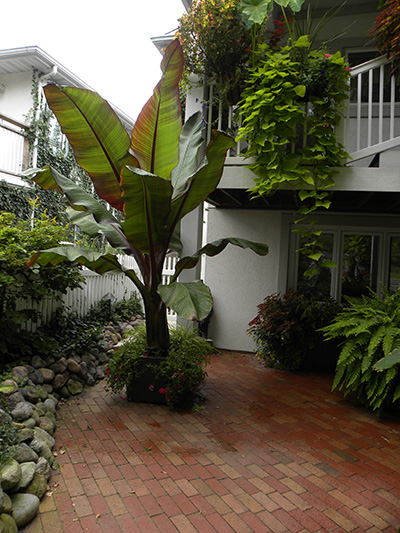 As I sit here and write this it is February. It is cold, grey, and dirty outside and the winter seems utterly endless. Yes, I know you are reading this in May and those freezing, rotten days seem like they were a lifetime ago. You see, February is usually when I head down to the tropics, but this year I did not go. Woe is me. Instead, I am getting my tropic fix sitting at my desk looking through supply lists from our producers. I am bringing the tropics here in the form of palm trees. We brought in 8 different varieties that are up to 8 feet tall. One of them is 'Bismark Silver Palm' which reminds me of Jurassic Park and dinosaurs. This variety as well as another, 'King Sago', has been around for the past 200 million years. What a history?!
In addition to the palm trees, we have 'Siam Ruby' banana trees, 'Birds of Paradise', Mandevilla Vines which are 5 feet tall in a teepee form, ground orchids, and that is just the tip of the iceberg (winter joke). Using combinations of these plants in containers and planted in beds will give a look that I would have loved to see this winter. Since a little tropical vacation was not in the cards this year then I have brought the tropics to Indiana. Now, what did I do with my margarita and by golly turn up the Jimmy Buffett!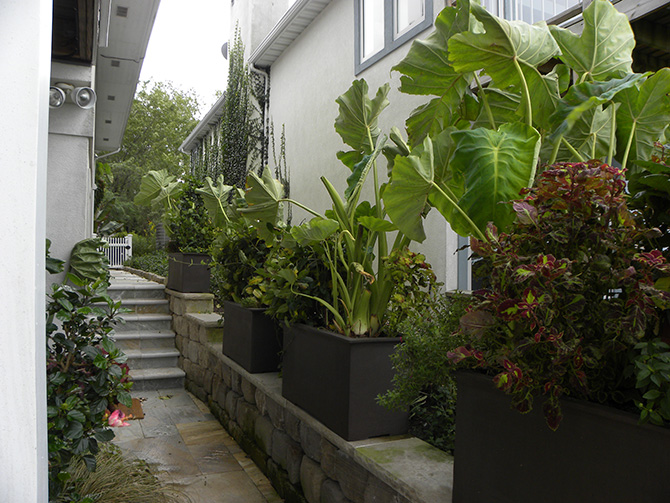 ---
Wednesday, May 1st, 2013
---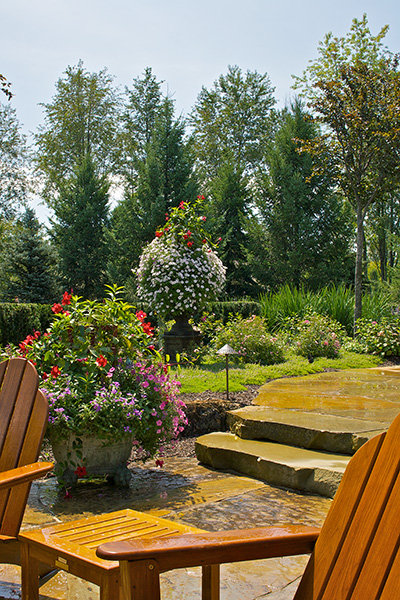 Keeping a containers and hanging baskets properly watered is definitely the hardest part of owning them. When Small's Landscaping comes out in spring and installs all of the beautiful new plants you are very gung-ho and water diligently. By the time August rolls around you start to slack off and think you can take a day or two or three off and lo and behold everything is dead.
A better option to your dead containers is drip irrigation. A drip irrigation system is a very adaptable, low-volume irrigation system that is perfect for hanging baskets, containers, and even flower beds. Drip systems limit wasted water usage by delivering water directly to soil. A drip system can be added to an existing automatic irrigation system or as a kit that attaches to an outdoor faucet with a timer.
So sit back and relax. Let the drip system take the daily chore out of your containers and hanging baskets.
---
Wednesday, May 1st, 2013
---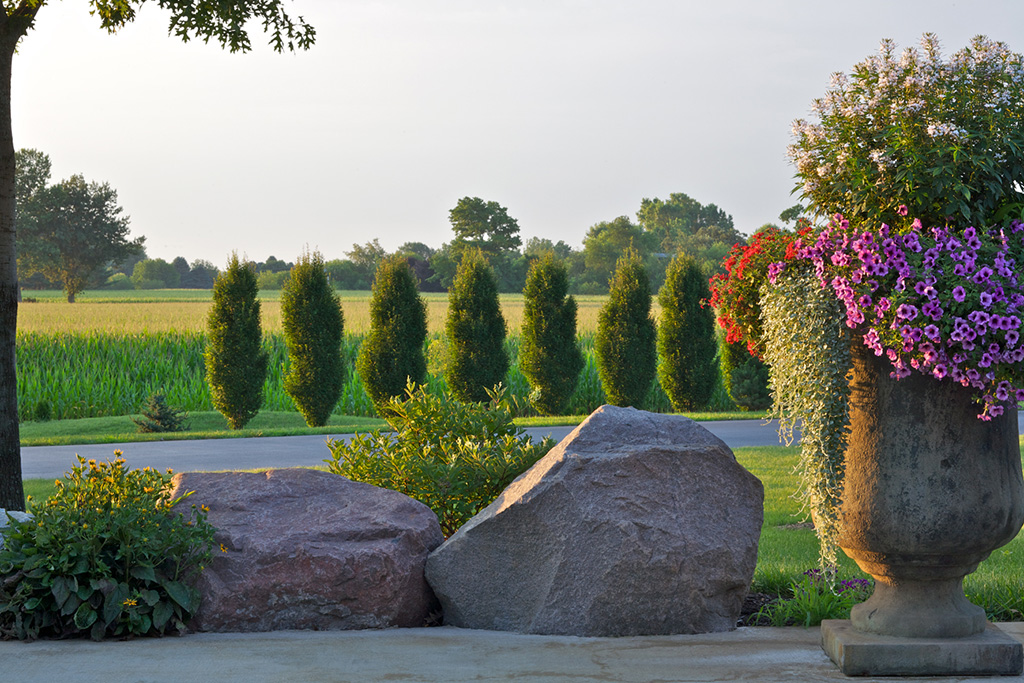 There is no question that the world is increasingly urban. As landscapers, this poses the question of; how do we landscape an apartment or a tiny patch of ground covered in concrete? The answer is a container garden. We have experienced fantastic growth in container gardening. A container garden is made up of hanging baskets and containers on the ground. They let you create attention-grabbing focal points with billowing blooms of color and greenery. Historically, containers were only planted in the summer with annuals. We have expanded into switching out the contents seasonally and using more and infinitely varied plants in the containers.
---
Tuesday, April 2nd, 2013
---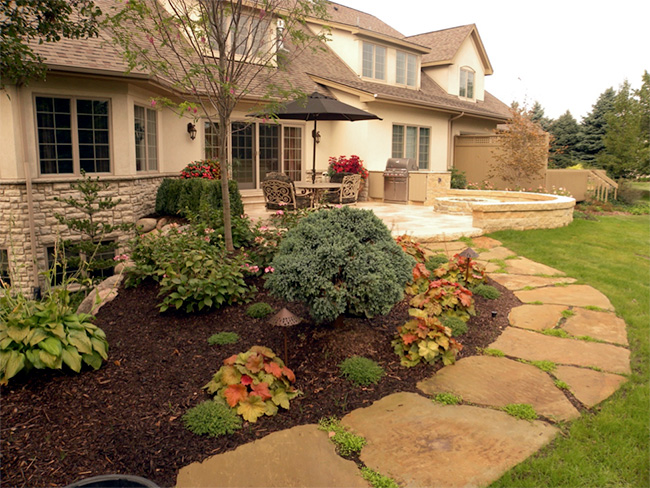 When it comes to hardscaping and stone work there are many steps that go into a successful design and installation. This is a step by step look at an award winning project in Chesterton, IN. This project won the Indiana Nursery & Landscape Association (INLA) 2012 Award of Excellence, Hardscape Installation category.
Wow Small's Landscaping. How did you do that?
Well, let me tell you.
---