Thursday, October 3rd, 2013
---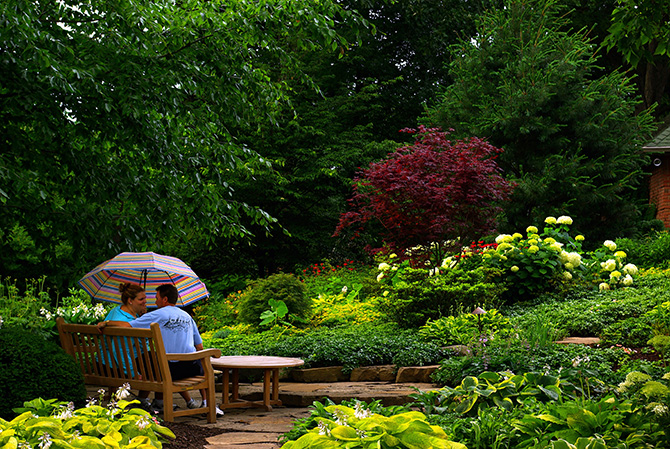 As many of you know, Nancy's house was one of the destinations on the 2013 Porter County Master Gardeners Association (PCMGA) garden walk. It was a beautiful day and the turnout was fantastic. Over 600 people attended and raised almost $5000 for scholarships. The response was so positive we even had a group of 25 come up the next weekend to take the tour as they were unable to attend the scheduled day. Nancy, Roger, and our fantastic team spent many hours preparing the large collection of gardens for the big day. The mulch is fresh, the weeds were pulled, trees were trimmed and bushes were sculpted. It took a tremendous amount of work to prepare for the event and judging by all the ooohs and aaahs, it was worth it. We would like to thank everyone who attended for sharing their time and money in support of the PCMGA. We also want to thank the PCMGA for choosing The Marshall residence for their tour. It is an honor to be part of the walk and hopefully we can be a part of it again in the future.
---
Thursday, October 3rd, 2013
---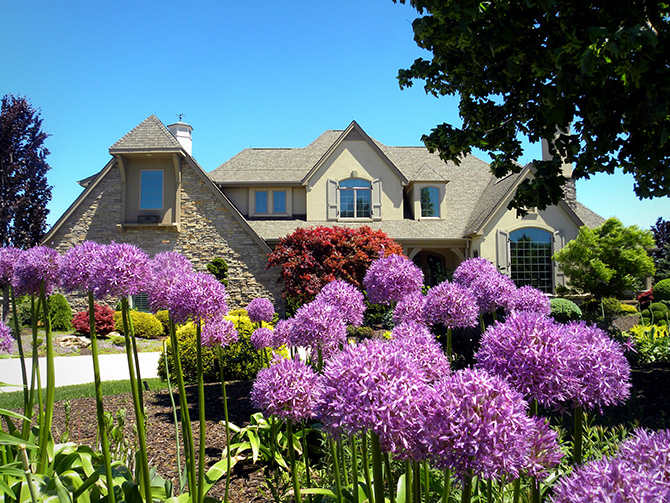 As fall quickly approaches it is time to think about planting bulbs. Although their color won't be here until spring and summer, now is the time to get those little gems into the ground. We are currently taking orders for bulbs so make sure you give Nancy, Becky, or Rhonda a call to get on the planting list. We also need to know what you all want for our ordering purposes. We order a few extras, but if you want that abundant "Small's Look" we need to hear from you.
---
Thursday, October 3rd, 2013
---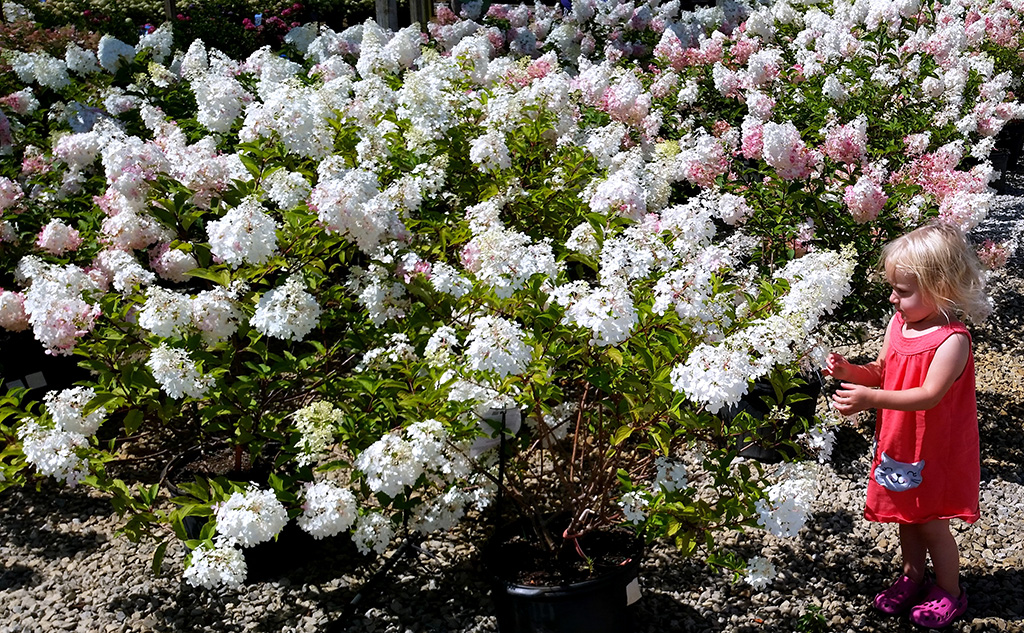 'Hydrangea Paniculata' sounds pretty fancy. Native to Japan and China, these panicled Hydrangea differ from their big-leafed sisters. They can grow in full sun and can be a large multi-stemmed shrub or a single stemmed, small tree.
One of my favorite Hydrangea Paniculatas is called 'Vanilla Strawberry'. This easy-growing, sun-loving example was discovered in France. It features enormous flower heads that bloom green and transition over the season from green to a creamy white, then to a blushy pink and ending the season in a rich, rose red color. Not only do the blooms change color as they mature, but the entire shrub changes its habits. Because the bloom heads are so large and therefore heavy the branches begin to droop. Meanwhile, new flower heads continue to appear with the full range of colors from green to carmine. With every glance a different look appears all summer long.
---
Thursday, July 11th, 2013
---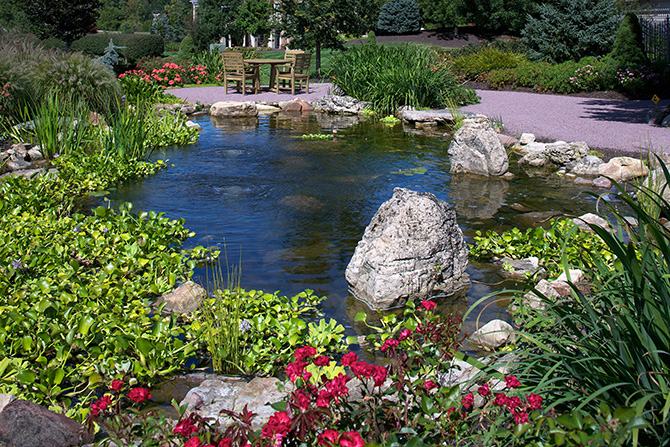 Nothing that lives on this third rock from the sun can survive without water. Water is the one thing that we all have in common. We can't live without it and when we don't have it we lose our minds. Perhaps this is why water features in landscaping are so calming. It must be some subconscious understanding between our mind and the earth. Whatever causes the calming effect, it can be achieved with a water feature in your landscape.
---
Thursday, July 11th, 2013
---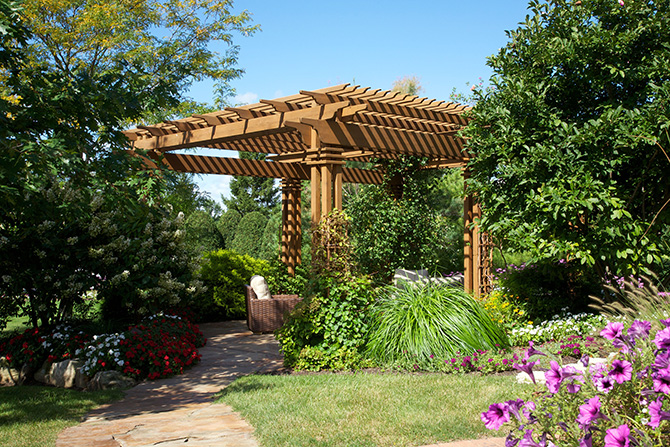 I love to sit in on my patio surrounded by the garden I have crafted over the years. After a long day of work with the computer beeping, the phone ringing, and helping my clients and my team make it through the day, all I want to do is hear nothing. The best 'nothing' in my life comes from the sounds my garden makes. Sound isn't often considered when we think about a garden. It takes a back seat to the more obvious sensations of sight and scent.
---
Thursday, July 11th, 2013
---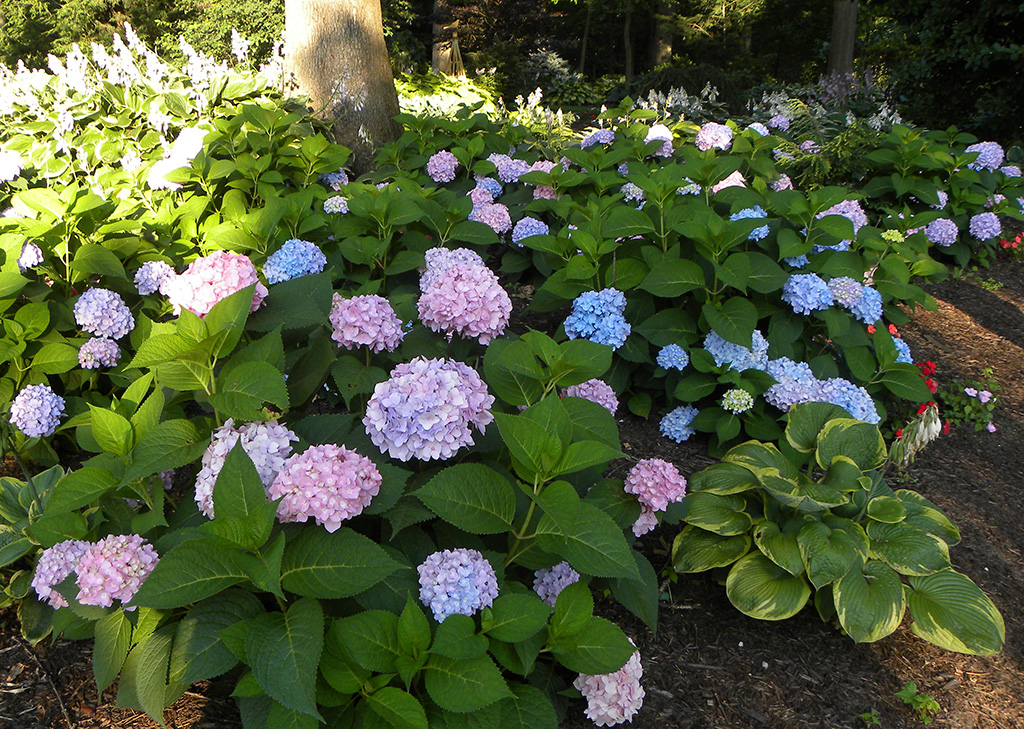 not our grandmother's hydrangea
Many of us remember hydrangeas of the past which had great foliage and very few flowers. Today we are falling in love with hydrangeas all of again with varieties that we never could have dreamed of as kids. We grew up around plants so watching new strains being developed over the years has been very exciting.
---
Monday, July 1st, 2013
---
VALPARAISO, IND., July 1, 2013—When Smalls Landscaping's owners learned they had been named North America's Landscapers of the Year by Total Landscape Care magazine, they agreed a celebration was in order. They decided to make it even more special by inviting some furry friends along in the form of an adoption event hosted by Lakeshore PAWS.
The event, titled Small's Bloomin' BBQ Bash, will be held on Saturday, July 13 (rain date is July 14) from 11:00 a.m. until 4:00 p.m. at Small's 12-acre property located at 310 North 325 East in Valparaiso. Attendees can visit with pets available for adoption from 11:00 a.m. until 2:00 p.m. In addition, guests will enjoy delicious BBQ, Figure Eight beers, music, door prizes, golf cart tours of the grounds, and 10 percent savings on all plants, trees, urns and garden ornaments. In addition, Smalls will donate 10 percent of the day's sales to Lakeshore PAWS.
"As pet lovers, we're thrilled to provide a place to bring together prospective pet owners with pets who are in need of a home," shared Nancy Marshall, who co-owns Smalls Landscaping with her sister, Becky Whitacre.
Small's Bloomin' BBQ Bash is free for all current and prospective clients. To request an invitation, please contact [email protected] or call 219.476.7400
About Smalls Landscaping
Sisters Becky and Nancy have a passion for landscaping that was inspired by their father who founded Smalls in 1940. Today, the award-winning company has clients throughout Northwest Indiana and across the United States. Featuring 12 acres of unusual and exceptionally mature plants and trees used in their custom projects with a team of talented designers, installation and maintenance professionals. Whether landscaping, hardscaping, water features, or seasonal decor, Smalls has a highly regarded reputation for artistic designs and quality craftsmanship. For more information, visit www.smallslandscaping.com.
About Lakeshore PAWS
Lakeshore PAWS is a volunteer-run, non-profit organization dedicated to finding loving homes for abandoned and unwanted pets in Northwest Indiana-one animal at a time. For more information, visit www.lakeshorepaws.org.
---
Monday, July 1st, 2013
---
Perks and Recreation
Mike Dahl, LC/DBM editor
A growing corporate trend that is more than welcomed by the landscaping industry is an emphasis on creating green spaces, not just for appearances sake but specifically to enhance working conditions, which then helps improve a company's bottom line.
Studies bear this out. Employees with access to green areas reports more job satisfaction, less job pressure, even fewer headaches and other ailments than workers without green spaces to enjoy. And with this comes increased productivity.
Chicago decking, a steel erection company in Merrillville, Ind., was hoping for these results when they enlisted Smalls Landscaping to create a nature-rich, employee break area. The Valparaiso, Ind., firm was responsible for all aspects of the project: designing and building a fully landscaped area highlighted by a natural-looking waterfall and a fishpond.
---
Thursday, June 13th, 2013
---
---
Wednesday, June 12th, 2013
---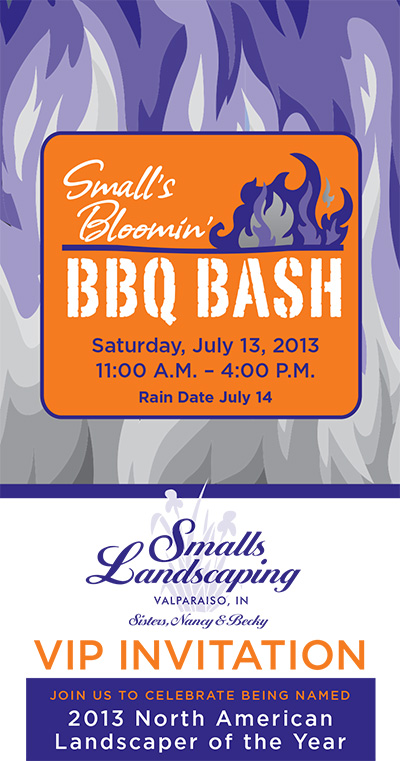 Sisters Nancy & Becky invite you to celebrate Small's Landscaping being named 2013 North American Landscaper of the Year! Join them for a FUN event on their 12-acre property in Valparaiso!
Saturday, July 13, 2013
Rain Date July 14, 2013
11:00 a.m. – 4:00 p.m.
310 North 325 East, Suite A
Valparaiso, IN 46383
Complimentary for VIP invitees and your guests, so bring a friend or two!
Take a golf cart tour of the grounds and enjoy mouth-watering BBQ, Figure Eight beer, wine, music and door prizes valued at $250-$500.*
Save 10% on all plants, trees, urns and garden ornaments. Plus, Smalls will donate 10% of your purchases to Lakeshore Paws who will be at the BBQ Bash from 11-2 with pets to adopt.
*Door prize drawings will take place at 3:30 p.m. Must be 21 years or older to qualify. Need not be present to win. Prizes cannot be applied to prior purchases.
---