Friday, June 1st, 2012
---
After many years of doing estimates and designs for free we have started charging for our design time and initial consultations. While some people have shrugged us off for doing so we find it necessary in order to focus on clients with whom our limited and valuable time is better spent.
In this article excerpt from Luxury Pools, spring 2012, the author, David Tisherman, explains exactly how we feel about charging for designs. While he a pool and spa designer the same reasoning holds true for landscape designs.
---
Thursday, May 17th, 2012
FlowersHardscapesLandscapingTrees
---
Have you ever slowed down to drive by a beautiful home or landscaping? Do people do the drive-by in front of your house or do they go by so fast you don't know if they were driving a Ford or Ferrari? Your driveway entrance is an invitation to your guests to enter your space.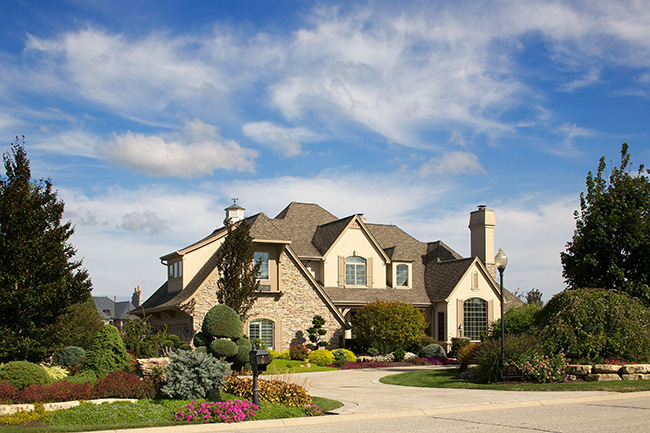 A driveway entrance is often one of those areas in our yard that get neglected. We see a few straggled survivors or leftover plants by the road. Sometimes the beds are neglected and overgrown. No matter the shape or size, a well-planned and planted driveway entrance creates a visual journey with promises of what awaits your guests upon their arrival.
What does your driveway entrance say to passersby? What does it say about you? Is it drive-by worthy or just another unremarkable blip along the road. Do drivers want to slow down just to imagine what they might find if they turned in and ventured to see you?
---
Thursday, May 17th, 2012
---
(not a story of MSU in the late 60's)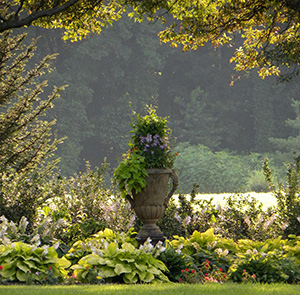 A successful container garden looks effortless. It is better to have few pots of high quality than clutter your space with small uninteresting pieces. We are always looking for unusual containers. We have been known to use old-world European, modern geometric, Asian inspired pots with clean lines, or even a traditional terra cotta with patina design. We have even gotten bold with glazed containers in fire-engine red. In Fact, this year alone we have spent about 40 hours researching new plants so our containers will have our signature, distinctive style. As with everything we do, we are always striving to be at the front of the pack in design and implementation.
---
Thursday, May 17th, 2012
---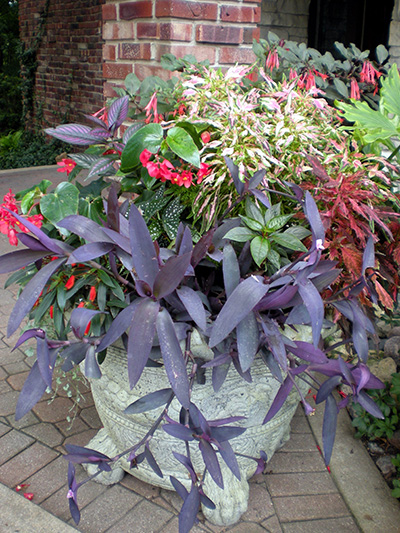 Imagine walking out your kitchen door and snipping fresh basil for the caprese salad to accompany the steaks coming off the grill. Fresh, fragrant herbs can be used all season to capture the essence of summer in your meals. Best of all, herbs are easy to grow in pots. They can be close at hand and easily moved as the sunlight changes through the season.
Some herbal essentials include basil, which grows well with parsley as they both prefer abundant moisture. Thyme, oregano, and sage, on the other hand, prefer dryer conditions and also do well together. Rosemary and lavender grow well and will fill a container on their own. When growing mint, always keep it in a container. It is a bully and can take over an entire garden if planted in the ground. Of course chives can be grown in containers and have many uses. The flowers of the chive plant can even be added to salads.
Let your culinary inspiration come naturally. When the ingredients are fresh from the back yard instead of the store you might find your muse in a pot.
---
Thursday, May 17th, 2012
---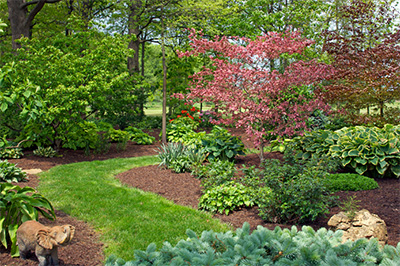 I am often asked "Where do you come up with your ideas?" My answer; I love to read. My husband, Roger, says I always have my nose in a book. At all times I have a pile of books and magazines within reach of where I am sitting. Volumes of hardcover landscaping and plant books are on the shelves in my office, on the coffee table, stacked on the floor, and stacked on the fireplace hearth. This doesn't even begin to account for the many more magazines and books that I have accumulated in the closet ready to be examined again.
Thankfully, I am not the only one with this enthusiasm for plants and landscaping. Many of our growers know we are always searching for new and unusual plants. They even contact us when something interesting becomes available. We have great relationships with our growers. We take the time to visit their nurseries, sometimes spending days at one location. These passionate people open up their private botanical gardens for us to explore. We are like little kids looking at the collections of rare and exotic plants from around the world. Each one has a story. The owners know their histories and many of these plants have actually been created and given names on-site. These are known as "mother" plants from which all clones are produced. We have been fortunate enough to purchase some of the mother plants right out of the garden!
---
Thursday, April 5th, 2012
HardscapesLandscapingMaplesTrees
---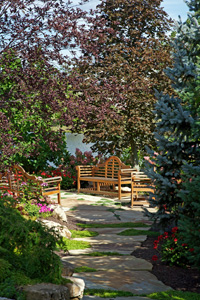 The challenges of this project were grading from front to back without any steps and a need for shade and enclosure. This particular project was developed over a period of one year. A huge commitment for a landscaper and client, but having designed other areas of this property over several previous years we had developed a wonderful working relationship with the client.
Weathered boulders and outcropping were incorporated into the landscaping to create raised planting beds. Mature conifers and specimen trees were installed for privacy and to enclose the yard. A Select flagstone path from the front yard down a gentle slope was installed with a teak bench seating area incorporated midway for the client to rest on and enjoy the view on their way to the lower patio.
---
Thursday, April 5th, 2012
---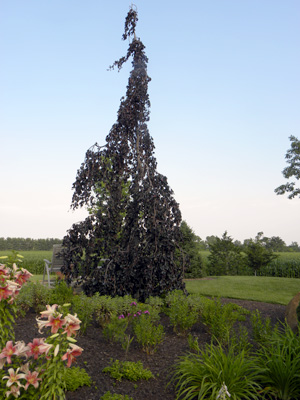 The time to plant a tree was twenty years ago. I remember years ago when I was young (Okay so it was a LONG time ago) an older couple came in to buy a tree. When my dad, Walter Small, told them how much the tree they wanted would cost in the size they wanted the wife began to cry. They both said they wish they had planted their tree twenty years before and they would have had a big beautiful tree that day.
As designers and landscapers we are always looking for new and interesting trees to supplement our native variety. We have an extensive collection of one-of-a-kind examples as well as more ordinary varieties all specifically chosen to highlight any location. One of the best parts about our profession is that we get to see unusual specimens almost every day. We have a passion for nature's innate beauty and a respect for man's desire to expand the palate available for us all to enjoy.
We are fortunate in this part of the country to boast many native forests and trees including Maples, Oaks, and Sassafras just to name a few. Who hasn't stopped in wonder at the awesome fall displays of these beauties or enjoyed the cooling shade under their branches in summer. Trees reduce the effects of the climate in our yards, support wildlife, and, of course, look good doing it. When we plant trees we are giving our land a sense of permanence. To plant a tree is to hope for a future beyond our own time.
---
Thursday, April 5th, 2012
---
Who wouldn't want to go on a treasure hunting adventure looking for an elusive prize? Every spring we can always go looking for hidden treasures, In this case they are known as Morel mushrooms. I remember going out into the Woods at my Aunt Sophie's house. My cousins and I, paper bags in hand, went on the hunt. Sometimes the neighbor Pete and my uncle would even tag along. As we walked I can still remember the smells of the woods. Fallen trees and old leaves were the carpet under our feet for these journeys. Then, a squeal of joy from the first one of us to find the prize. Somehow once someone saw the first one the rest would magically appear on the forest floor where just moments ago they were invisible. What fun we had walking through the forest, talking and cutting mushrooms on warm spring days. Occasionally we would even see a deer with her new fawn. After the hunt it was back home to clean and cook the mushrooms. They are absolutely awesome sautéed in butter and olive oil with a little salt and pepper. There is a short window each spring to go on these hunts and to savor the flavor of these delicious fungi.
If you do not have a woods to go looking for these treasures, fear not. If you are fortunate enough to live near New Buffalo, Michigan there is always a guy with a truck parked at Red Arrow Highway and Highway 12. In season he will be there with gigantic morel mushrooms on the hood of his truck. Of course the flavor is the same, but being in the woods on a warm spring day can be the greater prize. The beauty of nature coming to life, birds singing, and the sun shining through the trees is what makes life satisfying.
---
Thursday, April 5th, 2012
---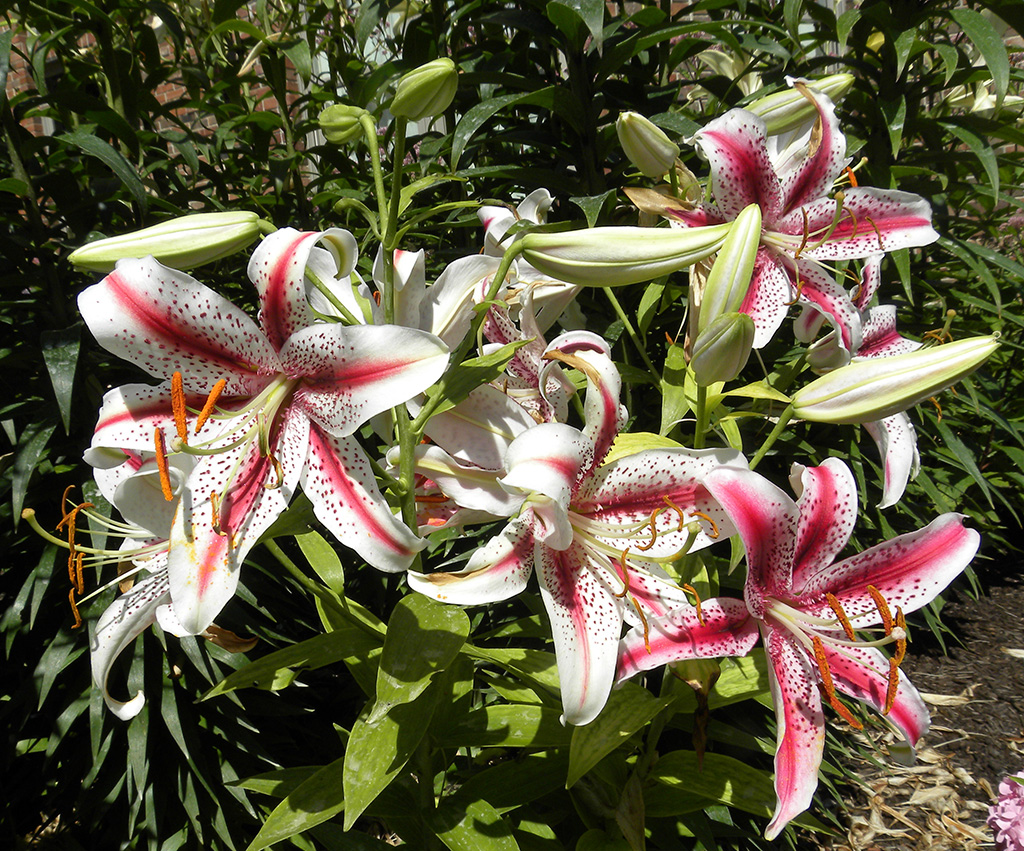 I always know summer is coming when I am driving along and smell fresh cut grass for the first time. That sweet, clean smell of summer makes my mind flash a thousand memories. Humans are visual beings by nature. Color and light attract us very powerfully, but fragrance can have a much stronger hold. Our sense of smell can bring back memories long forgotten. Unique among the senses, the scent message passes directly through the limbic system, the emotional center of the brain. When designing a garden both sight and smell can be addressed. There are many ways to bring fragrance into a garden.
---
Sunday, April 1st, 2012
---
Great Illumination
By Nancy Marshall, President
Small's Landscaping & Landscape Illumination
The contractor installed 13 lights in this area. The front of the house is illuminated using six Kichler 4.5-watt LED low-voltage directional spots. Lighting for the ground cover area comes from 4.5-watt "Hammered Roof" path-lights spaced 15 feet apart. Both lighting sets get their power from a 300-watt transformer located on the right side of the house. The large pots by the front walkway were accented with 4.5-watt, 60-degree directional LED spots. Workers planted Japanese Maples and Hicks yew hedges along the house, as well as Mazus Reptans ground cover and Hackonechloa Aureola grasses in the front yard.
---