Tuesday, April 2nd, 2013
---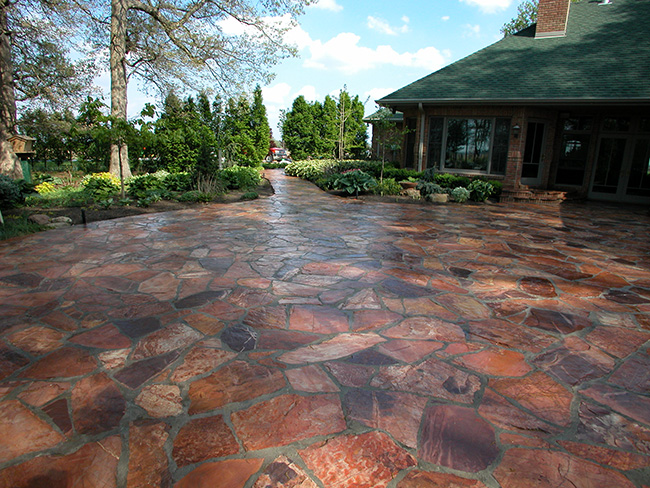 When you are talking about the size of your backyard patio bigger can be better, but not always. There are many variables to consider when figuring out how large you want your patio to be. Do you entertain often? If so, how many people typically come over? You might want a large area for people to mingle. On the other hand, if the patio is smaller the party will be more intimate and likely to bring people together.
---
Tuesday, April 2nd, 2013
---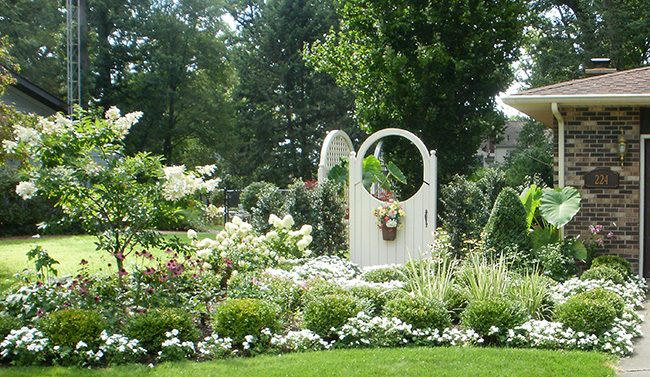 Serene, Simple, Sophisticated, Romantic: Just a few words to describe a white garden. A white garden entails white flowers combined with silver and blue toned foliage. The overall effect can be quite calming. A dark backdrop hedge such as Yew, Boxwood, or Holly sets off the bright white flowers, Small hedges can also be used to divide the garden into formal planting beds with each bed planted with different varieties of white flowers. When in bloom each bed overflows with a solid mass of white. Blooms erupt from behind the dark green hedge outlines. A white garden can be formal or informal; It can include a mix of flowering shrubs and trees or it can be a mix of bulbs, annuals, perennials and vines. Where will your white garden be?
---
Tuesday, April 2nd, 2013
HardscapesLandscapingWater Feature
---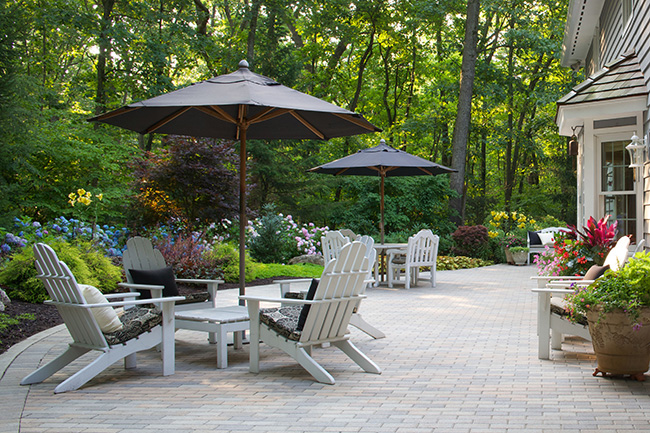 The not so twisted tale of Larry & Dot
Over the years I have had the pleasure of working with and getting to know thousands of wonderful people. While we are on the cutting edge of design, plant materials, and technique there eventually becomes a time when things need to be freshened up. A client that I have worked with since 1987 called for just such an update. They removed the deck in their yard and were looking to relandscape the area.
---
Monday, March 4th, 2013
---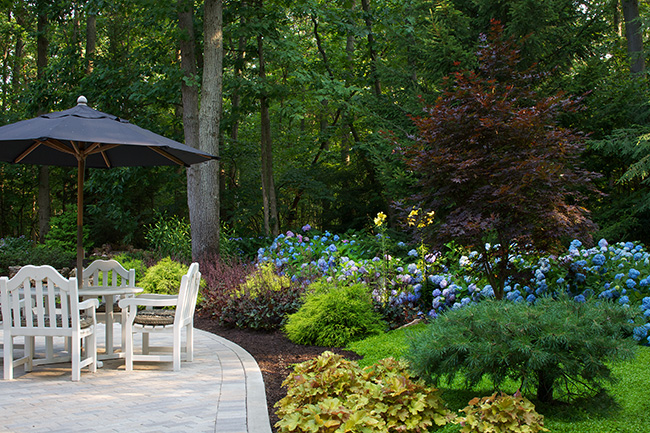 We are waiting for spring to show its lovely face so we can get back to work. After a long winter we are just waiting for some 50 and 60 degree days to shake off the cabin fever. What are you waiting for? Do you drive up to the house and wish it looked better? Have you been yearning for a new patio in the back yard? How are those neighbors doing? Maybe it's time to plant a hedge so they can stay in their own yard. Does your yard or basement flood every time it rains? What better time than now to start the journey to a beautiful landscape?
---
Monday, March 4th, 2013
---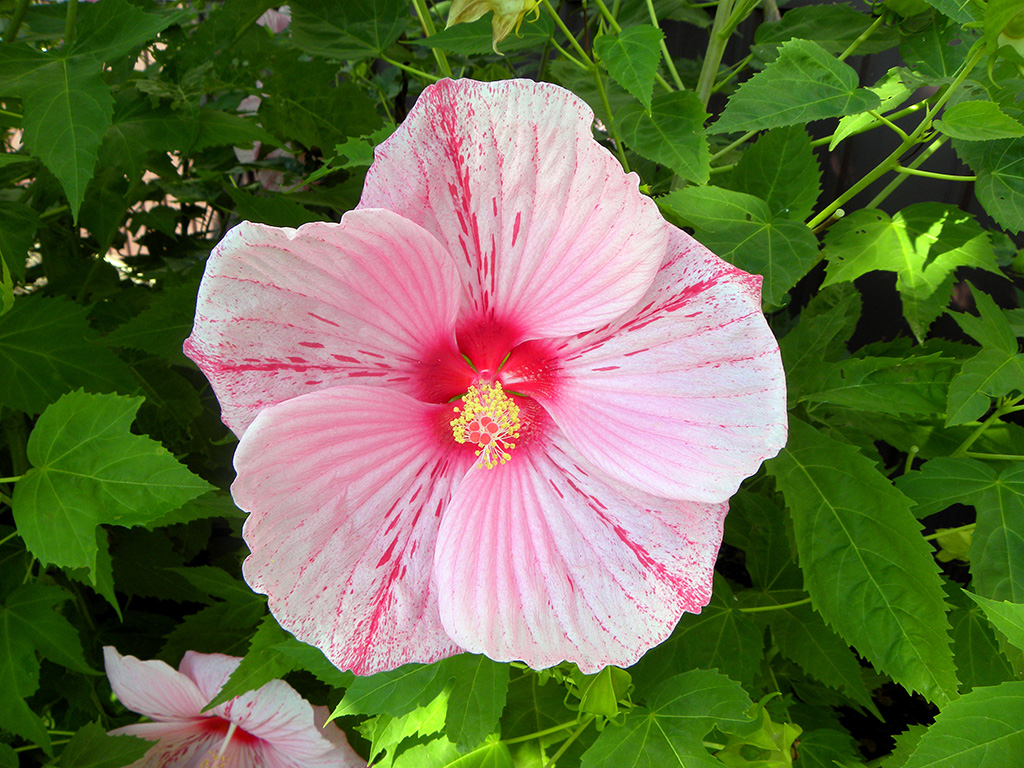 As many of you may know by now. We are on a never ending quest for new and interesting plants. Yet again, we have found them.
Few things make a statement in a garden quite like the glorious Hibiscus. Their gorgeous, lush foliage and enormous, vibrantly colored blooms are irresistible to birds and butterflies. The look of the tropics can be right at home. Hibiscuses bloom again and again during the growing season and are easy to care for too. So grab a glass of your favorite summer beverage and sit back and relax in your garden oasis.
---
Monday, March 4th, 2013
---
Being located in Valparaiso we are less than thirty miles from both Illinois and Michigan. We commonly work out of state and have completed projects in California, Colorado, Tennessee, and, of course, Indiana, Illinois, and Michigan. When we do these out of state projects there are a lot more variables to consider. For example, we often have to find raw materials in other state simply because of variations in trucking laws. Thankfully we deal with these issues regularly so it is a matter of organization and orchestration.
While working in nearby states we can just use our crews, tools, plants, and materials. When we work on projects across the country we sometimes need to hire labor, rent tools and machinery, and find plants and materials. In Colorado, we brought two crews out to do the job and rented the machinery. In California we found everything there and completed the job by locating and selecting plants and stone materials from various wholesalers and using a local landscaper and excavator to install everything with Nancy's direction on site. When we are only designing we can just do the work on site using pencils and paper then convert it to digital back at the hotel.
---
Monday, March 4th, 2013
---
This is a family favorite that this family has been enjoying for at least 30 years. It is a must try.
---
Friday, March 1st, 2013
---
Taking a Closer Look at the 2012 INLA Award of Excellence Winner:
Smalls Landscaping Wins in Three Categories:
Residential Landscape Design/Build
Hardscape Residential Design/Build and Residential Landscape Maintenance
Hardscape Installation
---
Wednesday, February 13th, 2013
---
A Valparaiso family gets a new landscape that is inviting for people and wildlife.
Project Highlights:
Location: Valparaiso, IN
Property Size: 3 acres
Problem: The existing landscape didn't complement the beautiful brick home and the backyard was uninviting.
Solutions: Transform the property by creating a sense of symmetry and manipulating grades to create outdoor rooms.
---
Friday, February 1st, 2013
---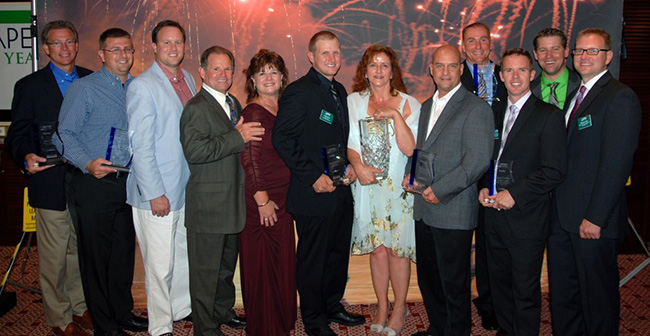 Business partners and sisters Nancy Marshall and Becky Whitacre, owners of Smalls Landscaping in Valparaiso, Indiana, were named the 2013 Landscaper of the Year by Total Landscape Care magazine.
During a cruise to the Bahamas, Nov. 9-12, the two were recognized from among 12 finalists at the gala banquet.
"We are pleased to honor Smalls Landscaping as this year's winner, and we congratulate the other finalists for their extremely unique projects."
---