Friday, January 11th, 2013
---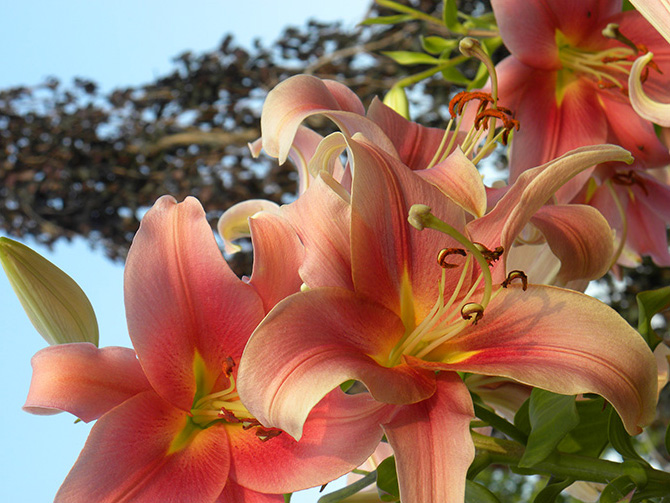 the drama queens of the garden
No other flower compares to lilies. These summer flowers explode with a rainbow of colors in varying height. Meanwhile the incredibly rich, heady, fragrance is beyond compare. These statuesque beauties are a must-have for a summer garden. Lilium (botanical name) range in color from white, yellow, pink, and red with varied stripes, spots, and margins. The height of Lilium ranges from about eighteen inches up to an astonishing ten feet. The shapes of the flowers and bloom times also vary from variety to variety. With all of this variation choosing a lily for your garden can be a daunting task. Here at Small's Landscaping, Becky pores over the various varieties searching for the best balance of heartiness, visual impact and uniqueness. With new varieties coming out every year it is quite a task.
---
Monday, December 3rd, 2012
---
RACINE, Wis. (Dec. 3, 2012) – New Holland Construction and Total Landscape Care magazine today announced the winner of the 2013 Landscaper of the Year program – an annual program that recognizes the best and brightest from among thousands of professionals who work in the landscaping industry. Nancy Marshall and Becky Whitacre, owners of Smalls Landscaping Inc. located in Valparaiso, Indiana, will be featured on the cover of the January 2013 edition of Total Landscape Care magazine. The 11 other Landscaper of the Year program finalists will be featured in the magazine throughout 2013.
Sponsored by New Holland Construction and produced by Total Landscape Care, the Landscaper of the Year program honors landscapers who exemplify the highest standards of their profession, including business acumen, quality and aesthetic excellence of their project work, marketing and equipment management expertise, attention to safety and community involvement.
---
Wednesday, October 10th, 2012
---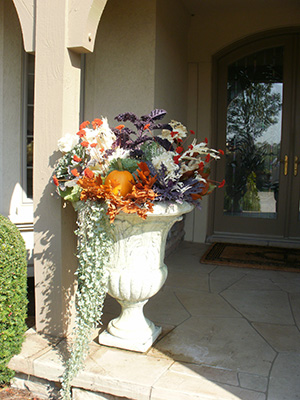 The changing of the guard is upon us. Summer is falling aside and we are heading into my favorite time of year- the one I look forward to all year long, Fall. I love how the bright autumn colors seem to glow in the sunlight while the crisp smell in the air and leaves crunching underfoot remind me of times past and awaken my senses. What comes to mind for you? Is it the smell of burning leaves or is it mums, pumpkins, crispy apples or warm apple cider on a chilly afternoon? The autumn sun just feels different, doesn't it? Let's not waste this precious time of year staying inside the house. We will be stuck there soon enough!
Right now, go outside, feel the sunshine, inhale deeply and smell the unique aroma of fall, then sit down and eat a fresh, crisp apple.
---
Wednesday, October 10th, 2012
---
Confers (aka evergreens) are the ultimate four-season plant and the backbone of gardens. From cute, miniature pines to stately spruces, conifers come in all shapes, sizes, colors, and textures. Conifers are easy to grow if you choose the right plant for the right spot. The first thing to consider is size. You need to pick a conifer that will highlight the scale of your garden. A large conifer will quickly overwhelm a small garden, while a dwarf will be lost in a large space. The growing habit of a particular variety is very important. Some conifers grow glacially slow while others grow several inches to over a foot a year.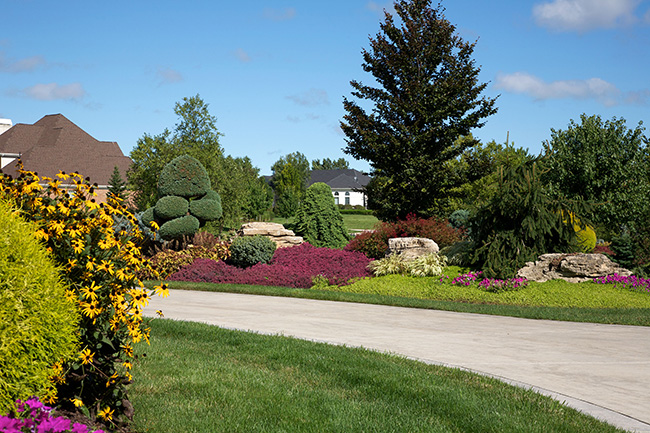 A specimen conifer will anchor a bed in winter and serve as a perfect backdrop to perennials in summer. We are always looking through our vast collection of rare and unusual specimens to choose exactly the right plant for a design. Even for us professionals find it challenging to identify a perfect fit, but the hunt is half the fun.
---
Wednesday, October 10th, 2012
---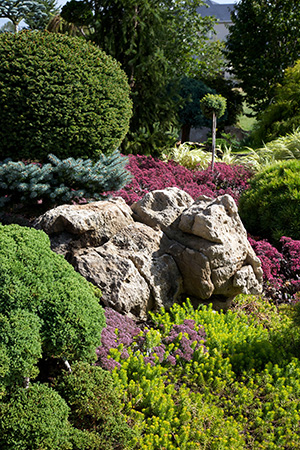 Like carpeting in a house, ground cover is the last thing to go into the landscaping. Groundcovers serve more than one purpose in the garden. Undervalued, and improperly used, groundcovers are the Cinderella of the landscape. These plants are living mulch, suppressing weeds, conserving moisture, and reducing maintenance. They are the workhorses of the plant world. Groundcovers add another dimension of color and texture by complementing and enhancing the plants they support. We use many varieties of ground cover including dozens of Sedum varieties, Mazus Reptans, Ajuga, and Pachysandra to name a few. The variation is varieties is astonishing. Virtually any color or texture can be found to balance and enhance a garden. Ground covers, when chosen well, can be as beautiful as they are useful. They give the finishing touch that elevates the landscaping to the realm of fine art.
---
Monday, August 13th, 2012
---
Who has ever heard of a pondless waterfall? They are an alternative for the water garden lover. How many times have you hemmed and hawed about getting a pond? Perhaps you have thought, "I don't want a pond because of standing water", "I have a small child and think it is too dangerous", or "I don't want to take care of fish." A pondless waterfall is a substitute for those who may be anxious about getting a pond.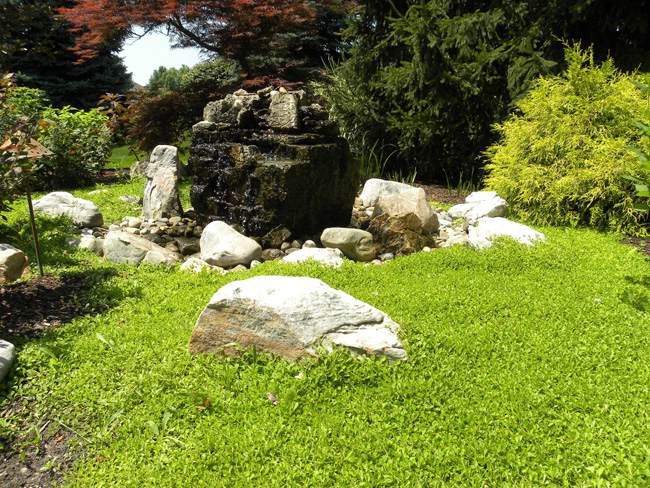 Basically, it is just another way to create a waterfall and stream without the traditional holding pond. Instead, a deep hole is dug and water cubes are installed. The cubes provide a reservoir so that the pump has enough water to pump at all times. The hole is then packed with rocks and gravel and finally filled with water. The water is then circulated from beneath the rocks and gravel by a pump that sits at the bottom of the hole, pumping it to the top to the water rock or waterfall where it is re-circulated into the reservoir. Since the water level never pools up above the level of the rocks and gravel, it gives the appearance of a pondless waterfall.
---
Monday, August 13th, 2012
---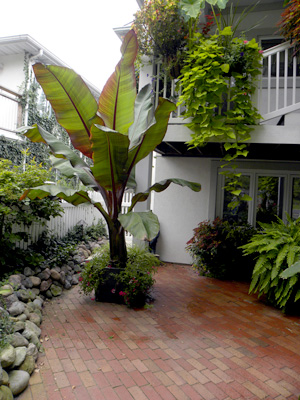 When was the last time you had your feet in the sand on a tropical beach? Remember the salty sweet ocean air, the warm breeze, and, of course, the palm trees. Those memories don't have to be limited to spring break and family vacations. You can bring that peaceful, tropical feeling to your own home and garden even here in the Midwest.
Elephant ears can help achieve that feeling in many forms. Colocasia (Taro Plant) is one of the oldest cultivated plants in the world, grown for more than 10,000 years. While we use them as a tropical accent in landscaping, they are most commonly grown as food. These plants produce long-stalked, heart shaped clumps that can tower up to 7 feet. They come in varied shades of green and even black leaves. They can be added to a landscape as a contrast or a centerpiece in a container.
Boasting many showy flowers, Mandevilla vines can climb over 20 feet and are great in containers and hanging baskets. Tropical hibiscus, with their extremely large blooms, give the appearance of a tropical island and they come in many colors. Of course, no tropical look would be complete without palm trees and banana trees. They affect more than the sense of sight. Their fronds rustling in the summer breeze can take you far from home in an instant.
The tropics are closer than you think. Just walk outside!
---
Monday, August 13th, 2012
---
Small's Landscaping in Valparaiso is focused on designing, building, and maintaining residential outdoor living spaces for the affluent. Their commitment to quality is well-suited to high-end residential clientele, people who value quality as much as their owners, Nancy and Becky. Small's moved away from competitive bid jobs because construction knowledge and quality take a back seat to a low bid. When a job is awarded based on quality and value Small's shines. You're going to win people over when you can walk onto a property and identify drainage or structural problems and authoritatively explain how you will fix them.
Small's isn't trying to be the largest, fastest or cheapest company. They are working to be the best company. They are building a name and creating an image for themselves that people will seek out and say, "I want Small's Landscaping to do my project." They offer the total package. From the minute they show up for the initial consult to the minute they finish and walk away from the project the goal is always the same, to satisfy the client and go above and beyond to surpass their every expectation. Smalls has something no one else in the area can offer. They have their design which will be structurally sound, functional, and completely unique to the property and the tastes, needs and desires of the client. Another company will not have the same skilled labor and they will not have Nancy and Becky. Their combined 60+ years of experience translate into consummate professionalism. They have seen it all and are always at the leading edge of landscape design.
The crews at Small's Landscaping are the best in the business. The culture at Small's is very special. The employees are taught to do it right. Small's has their certain way of doing things and every project is an example of that. Maintaining a positive company culture is key to hard-working employees who are invested in the work they do. Small's employees are treated with respect and that motivates them. You will see it in their attitudes. They are happy and respectful to clients. The clients are thrilled with them. They keep the jobsites clean. They like working for Small's Landscaping and they love what they do. They work very hard.
---
Monday, August 13th, 2012
---
Ingredients:
1 x 53oz can of pork and beans (preferably Campbells)
1x 13oz can of butter beans
1 x 13oz can of kidney beans
1lb bacon chopped
1.5-2lb ground chuck
1 medium to large onion chopped
1-2 cups Brown sugar
3/4-1 cup Yellow mustard
1-1 1/2 cup Heinz ketchup
Instructions:
Chop bacon and cook until just done. Leave in pan, do not drain.
Add onions, cook until slightly soft.
Add ground chuck, cook until just done.
Meanwhile:
Put pork and beans in large baking pan.
Drain and rinse kidney beans and add them to pork and beans.
Drain butter beans and add to other beans.
Add 1 cups ketchup
Add 3/4 cup yellow mustard
Add 1 cups brown sugar
Add bacon, onion, chuck mix to beans. Mix well.
Adjust flavor by adding ketchup, mustard and brown sugar. Should be tangy/sweet with deep color.
Bake at 350 degrees until bubbly and caramelized.
The recipe is a little vague but I have been making them for years and I do not measure anything anymore.
Becky
---
Saturday, July 14th, 2012
---
The rain held off until the last minute and good times were had by all. Thank you all for coming.
---